Oak Ridge National Laboratory has showcased the potential of large scale 3D printing with this fully functional excavator build.
Digging up a pile of dirt is usually no cause for pause. However, Oak Ridge National Laboratory (ORNL), Tennessee, and its partners on Project AME bucked this trend with a successful first public demo of the excavator in fully operational state.
This is a big deal. First-time showings like this pave the way to acceptance. With a demonstration tearing chunks of the ground out for all to see, the possibilities of such manufacturing techniques for use in construction are clear.
ORNL teamed up with numerous universities, manufacturers and other organizations on the project. Among them, the US Department of Energy.
The aim of it all? To demonstrate the wide range of industrial applications 3D printing can fulfill in an industry environment.
Project AME's design makes use of 3 large format 3D prints in its construction: the stick, the cab and the heat exchanger. Students, with the assistance of ORNL researchers, designed these parts.
Making The 3D Printed Excavator
The Department of Energy's Manufacturing Demonstration Facility, a part of ORNL's campus of research unit, handled the 3 large prints.
Abbreviated to MDF, you probably won't find any wood there. However, you will find a treasure trove of advanced materials and the testing of manufacturing techniques.
A Wolf Robotics' Wolf Pack printer printed the stick — the long, hydraulically operated arm of the excavator. The machine printed a 7-foot-long stick from low-cost steel over the course of 5 days. The low-cost steel is a big takeaway from Project AME, too. A cheap, familiar material used in a rapid and proven method can only be a good thing.
In addition, 3D printing is used for the excavator's cab, too. Cincinnati Incorporated's Big Area Additive Manufacturing system printed it from carbon fiber reinforced ABS. The entire print took only 5 hours.
The aluminum heat exchanger, weighing 13lbs, was printed in its entirety on a Concept Laser X-line 1000 powder bed machine.
Source: Oak Ridge National Laboratory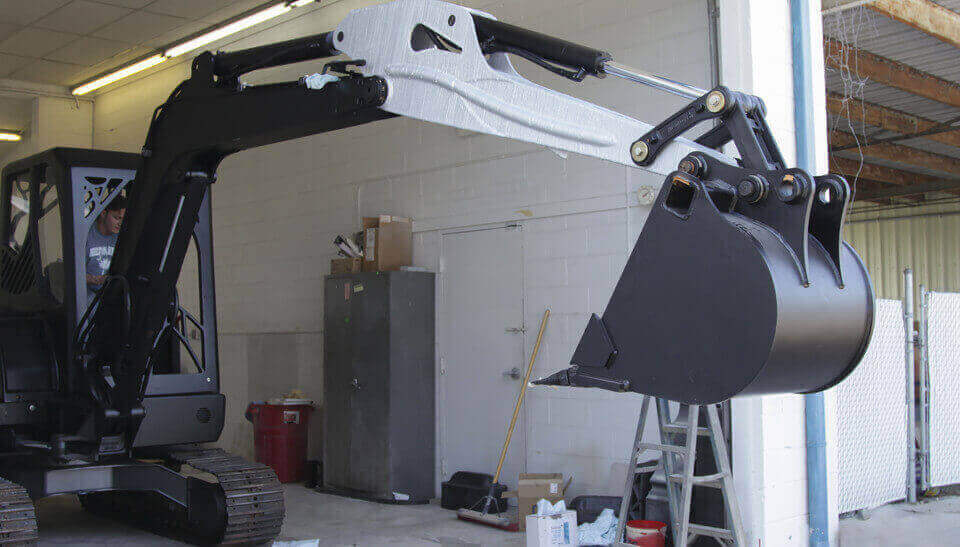 License: The text of "Project AME: Fully Operational Excavator with 3D Printed Parts" by All3DP is licensed under a Creative Commons Attribution 4.0 International License.
Subscribe to updates from All3DP
You are subscribed to updates from All3DP
Subscribe
You can't subscribe to updates from All3DP. Learn more…