The creator of the OctoPrint web interface for 3D printing requests support via Patreon to continue development of open source software.
OctoPrint is a snappy web interface for your 3D printer, allowing you to control and monitor your machine from any browser on your network.
The software is incredibly versatile — it can run on anything from a Raspberry Pi to your gaming PC — and can be easily extended thanks to a powerful plugin system. And perhaps most importantly, it's open source, so the entire 3D printing community can benefit.
But development of this vital 3D printing tool doesn't take place in a vacuum. Software lead Gina Häußge has requested financial support to continue her work, and to this end she's opened up a new Patreon page.
In a statement on Google Plus, she said:

You've seen what I've been able to do over the past couple of years. I promise you that if I'm able to continue working at this level of involvement, more awesome things are going to happen. If you love OctoPrint and believe in its potential and my skills to get it there, please consider supporting me on Patreon.
Häußge is no flash-in-the-pan amateur. She's one of the most important and influential women in 3D printing, and her credentials are second-to-none. Check out her Patreon launch video below:
OctoPrint on Patreon
What is Patreon? It's a crowdfunding platform to enable creators of every stripe to earn a sustainable income for their work. It's a clever extension of Kickstarter, except that backers are not investing in a product or a thing, they're investing in a person.
Up to this point, OctoPrint had been supported by Spanish technology company BQ, but for undisclosed reasons they are withdrawing from the 3D printing industry — which has left the future of this particular project looking uncertain.
Pledge levels for the OctoPrint Patreon start from $1 a month, which entitles you to regular development updates, all the way to $20 dollars a month, and the opportunity to have your name in lights on the "about" page.
If you're a regular user of the OctoPrint software, or if you're supporter of the open source movement in 3D printing in general, you should definitely consider giving this Patreon your undivided attention.
And for those folks who haven't experienced the software for themselves, check out this in-depth tutorial on getting started with OctoPrint on a Raspberry Pi. Trust us, you won't regret it!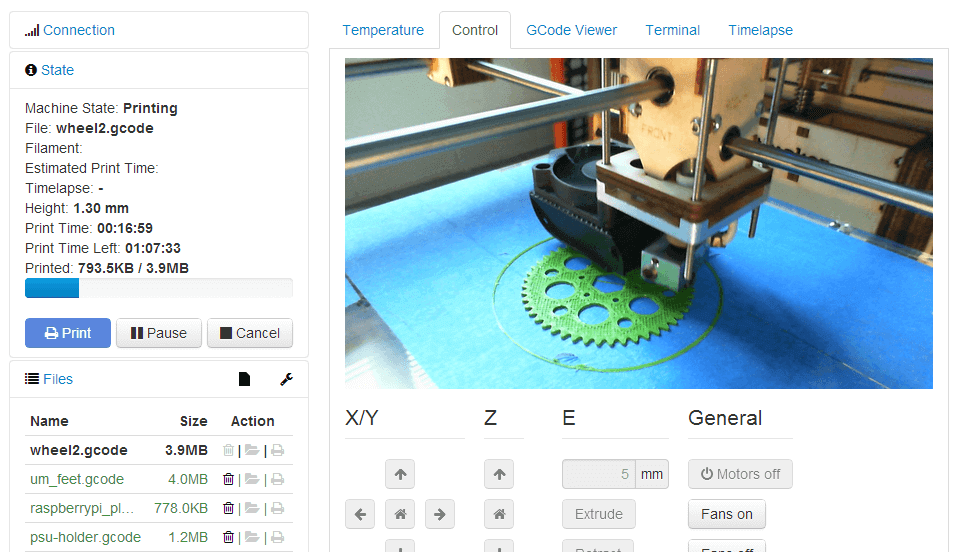 License: The text of "OctoPrint Creator sets up Patreon to Continue Development" by All3DP is licensed under a Creative Commons Attribution 4.0 International License.
Subscribe to updates from All3DP
You are subscribed to updates from All3DP
Subscribe
You can't subscribe to updates from All3DP. Learn more…