Making games like Legend of Zelda: Breath of the Wild more accessible, this is a 3D printed Nintendo Joy-Con adapter for one-handed players.
Don't Miss: 52 Fantastic Nintendo Switch Mods to 3D Print
One of the greatest strengths of the Nintendo Switch and its Joy-Con controllers is versatility. Sure, the console is designed to be played in a variety of situations; but enterprising makers can devise their own mods for it, too.
Case in point is Julio Vazquez, a mechatronics engineer by profession. He's designed a 3D printed Joy-Con adapter for disabled gamers limited to the use of one hand. And he had a simple motivation for this project — friendship.
As Vazquez explains:
"This adapter was developed by request of my friend Rami Wehbe, who wanted a way to playZelda: Breath of the Wildusing only his left hand; as he lost the ability to control his right hand due to a cerebrovascular accident."
Vazquez actually made two designs for the Joy-Con controllers. The first looks like Nintendo's standard Joy-Con grip, but it pushes the controller halves together to make it easy to reach across to the other side. It also adds two extended bumpers for the shoulder buttons.
The second is a slotted adapter that positions the two halves of the Joy-Con at right angles to one another. It allows you to use your thumb on the left side, while your fingertips can still reach the buttons on the right Joy-Con.
Single Hand Joy-Con Adapter Works for Playing Zelda
As can be seen from the pictures, both items were fabricated on an Ultimaker 2 Go 3D printer. Of the testing process, Vazquez says:
"This current design was the result of almost a week of research and lots of failed prototypes, as I had to ensure that it would be easy to print, lightweight and practical. After testing that it works properly, we decided to share it, so that it can be of help to other gamers in a similar situation."
Combined with the motion controls on the Switch (and some practice), the adapters are a great solution to playing Zelda one-handed. And he's continuing to tinker and improve the designs, based on feedback from his friend Wehbe.
Vazquez has made the files for both versions available on Thingverse. There, you can either print one out for yourself or have made with a professional 3D printing service.
Via: AbleGamers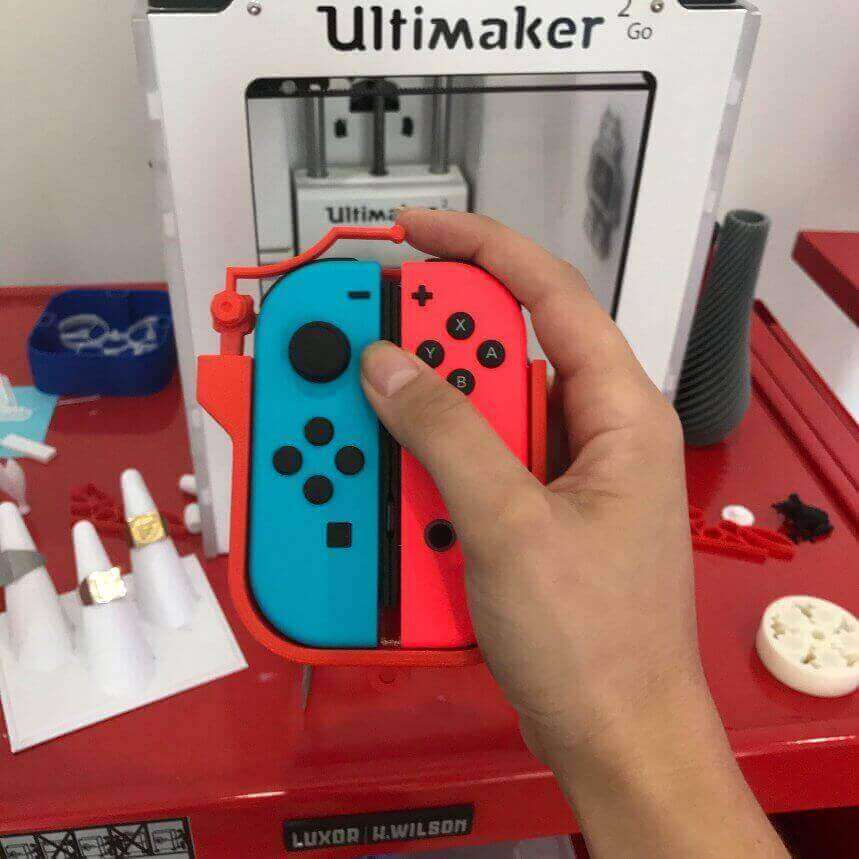 License: The text of "3D Printed Nintendo Joy-Con Adapter for One-Handed Gamers" by All3DP is licensed under a Creative Commons Attribution 4.0 International License.
Subscribe to updates from All3DP
You are subscribed to updates from All3DP
Subscribe
You can't subscribe to updates from All3DP. Learn more…