This ingenious 3D printing technique shows you how to replicate the lustrous, golden mane of a hairy lion on your models. Totally ROAR-some!
We can all agree that 3D printed trinkets and doodads are very annoying. Not to mention utterly useless. But sometimes a unique design can really capture the imagination. Something like the Hairy Lion.
Essentially, the hairy lion is a model where loose strands of filament can be shaped to resemble a furry mane. There's no real practical purpose to the object, other than a clever demonstration of what desktop 3D printing is currently capable of.
So how does it work? Designer _primoz_ remixed someone else's model of a lion by adding a sacrificial wall around the lion's head. When printing, individual strands of filament are extended from the lion's "scalp" to the wall.
After printing is finished and carefully removing the wall, what's left is a silky and shiny head of plastic strands. Thereafter, some application of heat (like from a hair dryer) allows it to be molded.
Hairy Lion can be Dual Extruded, Too
The neat thing about the hairy lion is the numerous experiments that it has inspired.
Celebrity YouTuber Thomas Sanladerer had a go at making a hairy lion of his own, which you can see in the video above. He printed the model in both woodfill filament and in layers of color. Either provides a striking effect.
But the best interpretation we've seen is the dual extrusion version of the model, also designed by _primoz_. It's still a work in progress, so the final design may be different from the beta version currently available. But printing with two contrasting colors is guaranteed to make your lion the pride of your desktop.
So what do you think? Tempted to make a hairy lion of your own? It'd be the purr-fect gift for Valentine's Day! If you do plan to print one, don't forget to tip the designer. Great 3D printing ideas deserve your support.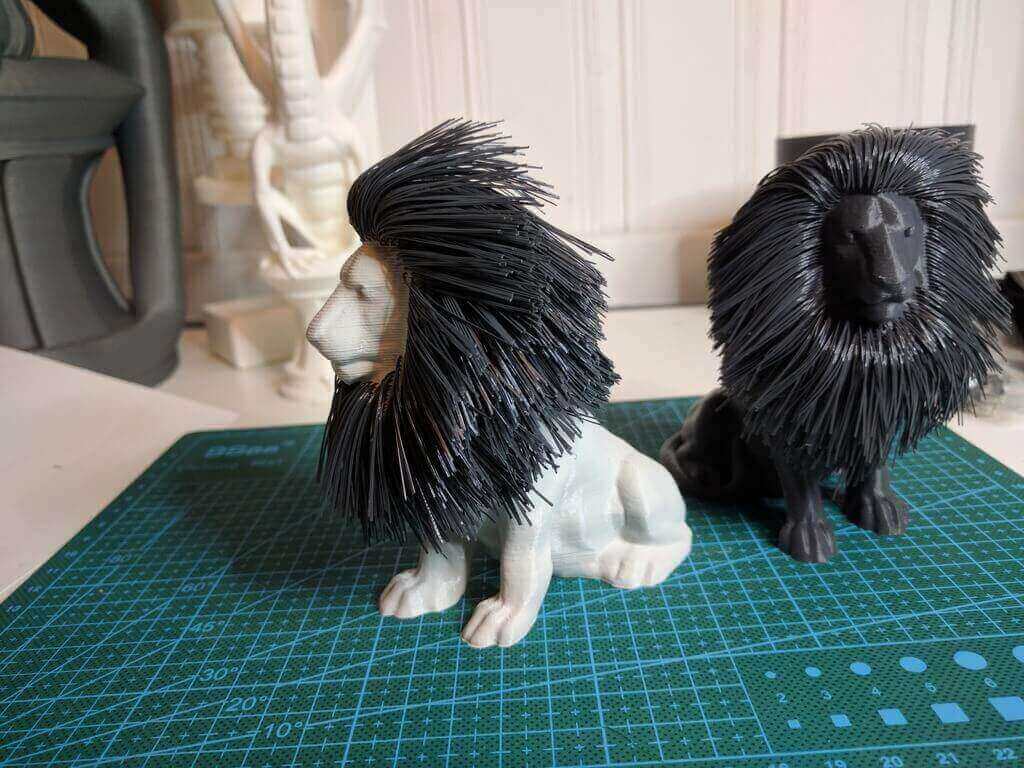 License: The text of "Mane of the Hairy Lion is the Pride of 3D Printing" by All3DP is licensed under a Creative Commons Attribution 4.0 International License.
Subscribe to updates from All3DP
You are subscribed to updates from All3DP
Subscribe
You can't subscribe to updates from All3DP. Learn more…