Luxury carmaker Bugatti has unveiled a 3D printed brake caliper made from super-strong titanium alloy for their Bugatti Chiron supercar.
French luxury carmaker Bugatti has made a titanium brake caliper with metal 3D printing. They claim that it's the world's largest functional component produced from titanium using additive manufacturing. Vehicle trials for the titanium brake caliper in series production are due to start in the first half of 2018.
The milestone was achieved in cooperation with Laser Zentrum Nord of Hamburg. With this world debut, Bugatti hopes to cement their "lighthouse" status for 3D printing within the Volkswagen Group, and its role as an innovation driver in the international automotive industry.
"Vehicle development is a never-ending process. This is particularly true at Bugatti," says Frank Götzke, Head of New Technologies in the Technical Development Department of Bugatti Automobiles. "In our continuing development efforts, we are always considering how new materials and processes can be used to make our current model even better and how future vehicles of our brand could be designed."
Bugatti already uses the most powerful brakes in the world on their Chiron supercar. These are forged from a block of high-strength aluminium alloy. For the new 3D printed brake caliper, Bugatti is adopting a titanium alloy chiefly used in the aerospace industry.
A component 3D printed with this titanium alloy has a tensile strength of 1,250 N/mm2. This means that a force of just over 125 kg be applied to a square millimetre of the material without rupturing.
The new titanium brake caliper is 41 cm long, 21 cm wide, 13.6 cm high, and weighs only 2.9 kg. Compared to the aluminum component currently used, which weighs 4.9 kg, Bugatti managed to reduce the weight of the brake caliper by 40% while still ensuring even higher strength.
But the challenge presented by titanium alloy is that it's extremely difficult to mill or forge components from a titanium block. This is because of the extremely high strength of the material.
The problem was solved using a high-performance 3D printer, which now makes it possible to generate even more complex structures which are significantly stiffer and stronger than would be possible with any conventional production process. Götzke found the selective laser melting units required in Hamburg, at Laser Zentrum Nord.
"Laser Zentrum Nord is one of many scientific institutes with which we have developed very good cooperation over the years," he explains. "Thanks to the large number of projects completed, mainly for the aviation industry, the institute has comprehensive know-how especially in the field of titanium processing and offers mature technology."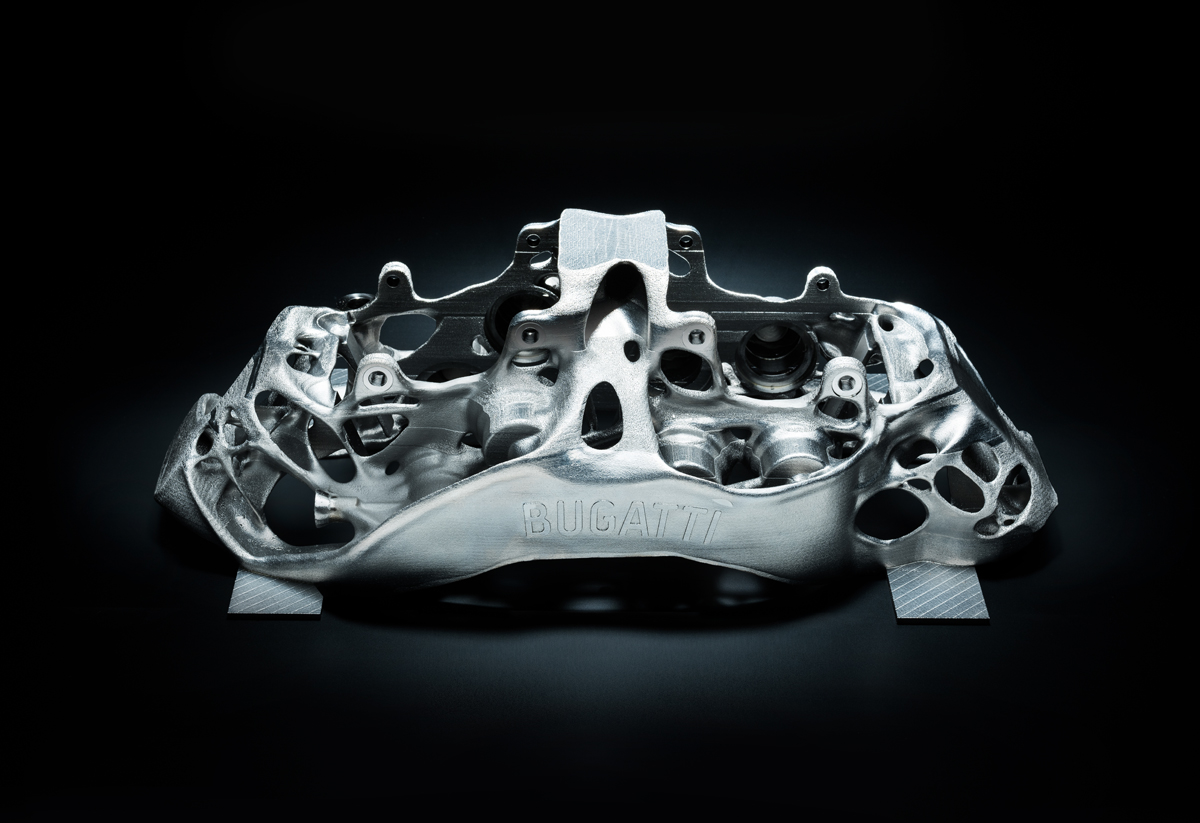 Bugatti is Very Happy with their 3D Printed Brake Caliper
The development time for the 3D printed titanium brake caliper was very short. From the first idea to the first printed component, it took about three months.
The basic concept, plus strength and stiffness simulations, calculations, and the design drawings were sent to Laser Zentrum Nord by Bugatti as a complete data package. The institute then carried out process simulation, the design of the supporting structures, actual printing and the treatment of the component. Bugatti were responsible for finishing.
The special 3D printer at Laser Zentrum Nord is equipped with four 400-watt lasers. It takes a total of 45 hours to print a brake caliper. During this time, titanium powder is deposited layer by layer. With each layer, the four lasers melt the titanium powder into the shape defined for the brake caliper. The material cools immediately and the brake caliper take shape.
The total number of layers required is 2,213. Following the completion of the final layer, the remaining titanium powder which had not melted is removed from the chamber, cleaned and preserved for reuse in a closed loop.
What remains in the chamber is a brake caliper complete with supporting structure, which maintains this shape until it has received stabilizing heat treatment and reached its final strength.
Heat treatment is carried out in a furnace where the brake caliper is exposed to an initial temperature of 700°C, falling to 100°C in the course of the process, in order to eliminate residual stress and to ensure dimensional stability. Finally, the supporting structures are removed and the component is separated from the tray.
In the next production stage, the surface is smoothed in a combined mechanical, physical and chemical process which drastically improves its fatigue strength, i.e. the long-term durability of the component in later vehicle operation. Finally, the contours of functional surfaces, such as the piston contact surfaces or threads, are machined in a five-axis milling machine which takes another 11 hours to complete its work.
The result is a delicately shaped component with wall thicknesses between a minimum of only one millimetre and a maximum of four millimetres.
"It was a very moving moment for the team when we held our first titanium brake caliper from the 3D printer in our hands," Götzke recalls. "In terms of volume, this is the largest functional component produced from titanium by additive manufacturing methods. Everyone who looks at the part is surprised at how light it is – despite its large size. Technically, this is an extremely impressive brake caliper, and it also looks great."
Source: Bugatti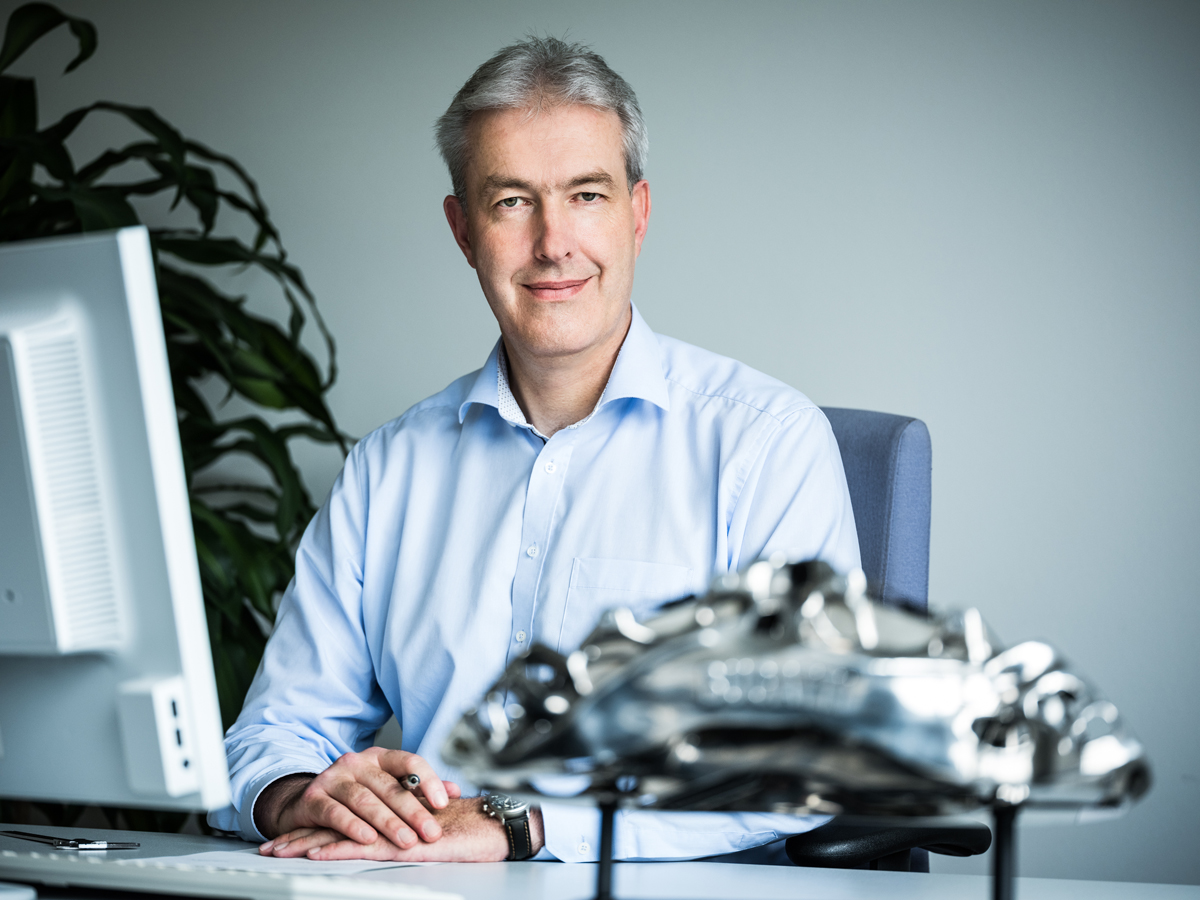 License: The text of "Bugatti Chiron Testing a 3D Printed Titanium Brake Caliper" by All3DP is licensed under a Creative Commons Attribution 4.0 International License.
Subscribe to updates from All3DP
You are subscribed to updates from All3DP
Subscribe
You can't subscribe to updates from All3DP. Learn more…