Fully paid up supporters of premium slicing solution Simplify3D can dip their toes in a swathe of new features and improvements, as the company bumps the software up to Version 4.1.
The result of some 5 years of continuous development, Simplify3D has piped all of its technical know-how into the new release, which focuses on flexibility and improved results for the professional user.
Speaking of the release, Simplify3D CEO Clayton Webster said: "Version 4.1 will provide professional users with the control they need to tackle more complex projects, while also providing greater intelligence to streamline the preparation process and ensure high-quality results."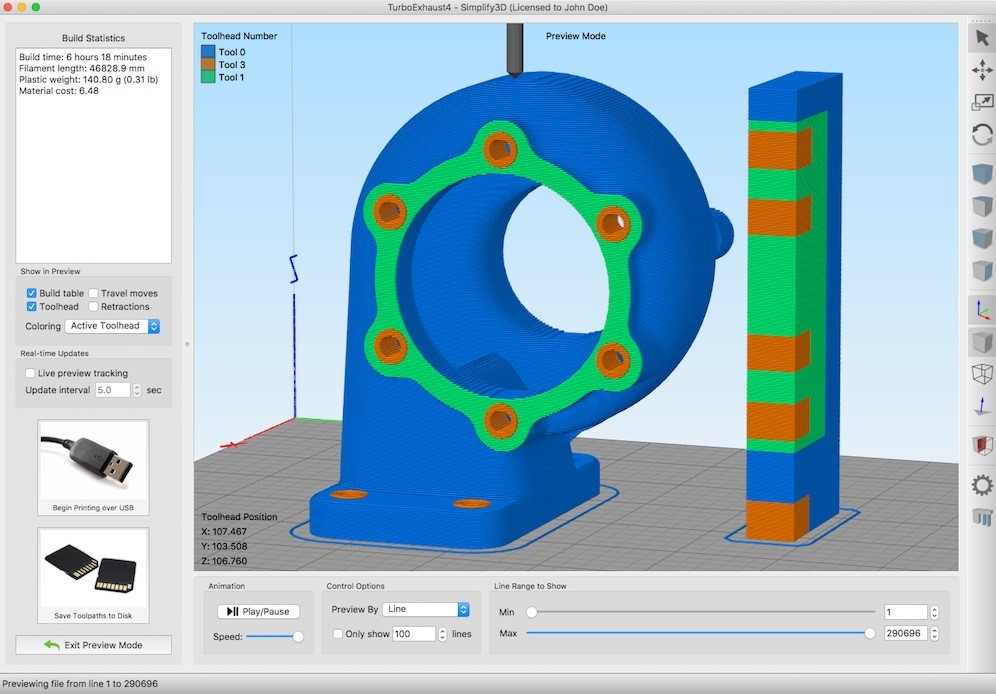 Simplify3D: What's New?
In all, there's a staggering number of new features, improvements, and fixes populating Simplify3D 4.1. Topline features include support for six extruders in the same print job, which is further improved by purge tower and ooze shielding optimization. Overall you can expect cleaner transitions between materials.
Those printing multiple objects will find greater flexibility in how they configure the printing of each part. The addition of sequential raft construction separates the printing of rafts to immediately before their respective object, rather than all at once before the parts. This, the company claims, leads to improved adhesion and print reliability.
Further multi-material multi-part print improvements come in intelligent collision avoidance, with Simplify3D now detecting potential collisions and adjusting the toolpath to accommodate.
The clockwatchers among you should take solace in the company rejigging its print estimation algorithm, too. Following extensive real-world testing with a wide variety of printers, the program is said to now simulate your printer's firmware when generating a print estimate, resulting in times that are closer to reality.
In addition to all of the above (and much more – check the release notes here) some 50 new printers have been added to the program's configuration assistant, allowing you to print better stuff on a wider variety of popular printers.
At the time of release it would appear that the Simplify3D website suffered from the hug of death, with possible server issues persisting in preventing current users of 4.0.1 from downloading the update.
Indeed, at the time of publishing this article our own company copy of Simplify3D still sits at version 4.0.1, happily chirping that everything is "Up to date."
Source: Press release