US-based Beam3D just launched a Kickstarter funding campaign for an affordable LCD resin printer: the Prism. It appears to be aimed towards resin printing novices but is claimed to be on par with resin printers costing up to $1000.
At first glance, the machine looks solid. The all-metal chassis goes a long way towards making this machine look premium – and it's even more surprising at the price point of $350 (retail). But it doesn't just look good: the final machine will reportedly include auto-leveling, resin calibration, and wireless functionality. Most importantly, it packs a 2K LCD screen and a dual linear rail motion system, which should provide comparable print quality and stability to the Anycubic Photon. It is published that the Prism can achieve a 25-micron accuracy in the Z-axis.
It's also compatible with a wide range of short cure 405nm resins and slicers, such as Slic3r and Autodesk's Print Studio. This would make it quite forgiving for a beginner, who might need to experiment with materials and workflows at the start to find the right groove.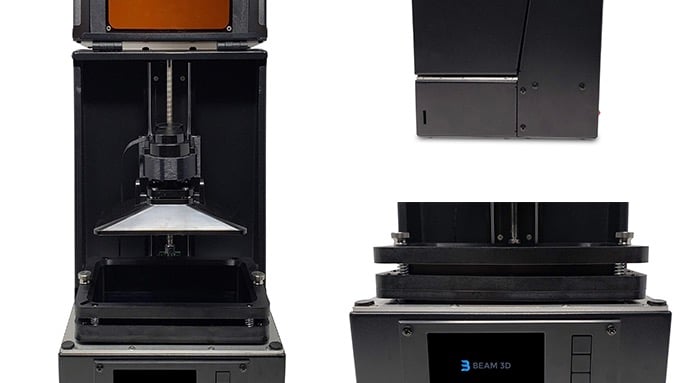 Same Same, But Different.
The machine seems quite similar to an existing resin printer: the Malyan S100. According to Beam3D, the Prism is indeed based on this machine but massively improved.
The LCD array is upgraded, the Z-height is increased — bringing the print volume to a total of 120 x 70 x 150 mm — and the software on the machine is easier to use, for starters.
The heart of the machine is a powerful UV paraLED light source. And when it's complemented by resin calibration and on-the-fly cure adjustment, the Prism should become quite the improvement over its Malyan ancestor. Thus the two printers may look visually similar, but the Prism is truly an advanced evolution of its predecessor, according to Beam3D.
Another way Beam3D plans to differentiate itself is by releasing educational content for the community, as they revealed in a conversation with us. This content strategy would align quite nicely with the target audience of the machine. After all, the price-to-performance ratio would make it an attractive option for beginners, who would benefit from tutorial-style content.
As always, however, Kickstarter campaigns aren't a guarantee. One thing that would give the first experience with resin printing a bitter taste in the mouth is paying a few hundred dollars for a machine that proves to be underwhelming when scaled to mass production – or worse, never materializes at all.
As promising as the offering sounds, interested buyers should only pledge money they can afford to lose towards Kickstarter campaigns such as this one. Nevertheless, if Beam3D delivers, a small group of lucky people will have a unique little resin printer on their hands.
Beam3D were confident enough in their machine to send us a hand-assembled unit to tinker with ahead of the campaign's launch. And our firsthand experience has shown that the print results are as surprising as the build quality. The detail that this machine can produce, as far as our initial tests have shown, is impressive, and while not as feature rich as the proposed production units (the WiFi capabilities of our preview unit are a bit spotty), the advertised features such as true auto-leveling work and work well.
Stay tuned for an update to this post with our detailed first impressions of our hand-assembled pre-production Prism. Coming soon.