British expat receives the first fully 3D printed prosthetic leg in the UAE, an innovation that will reduce cost of conventional prosthesis.
Don't Miss: Open Bionics Samantha Payne Helps Disabled Kids Become Superheroes
A British expat who lost her leg in a horse-riding accident 10 years ago is the first person in the United Arab Emirates to receive a fully 3D printed prosthetic leg.
Belinda Gatland has volunteered to trial the 3D printed leg, which could revolutionise the sports prosthetics industry. They offer an affordable and comfortable alternative for thousands of amputees.
According to Gatland:
"I've only been wearing this 3D printed limb for a few days but it's amazing. It is very comfortable. I could put it on straight out of the machine, rather than go through casting, a test socket and the many different consultations that are needed. There isn't much I can't do with this leg."
Just like trying on a new pair of shoes, a new prosthetic leg takes time to adjust to. In the case of sports blades, they can weigh half the 2.5 kilos of general-use limbs.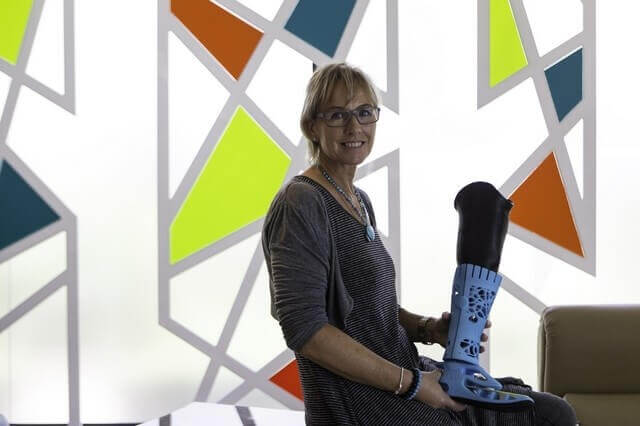 Cost of Prosthetic Limbs Tumbling with 3D Printing
A standard prosthetic leg costs in the region of $3,000 dollars. The belief is that alternatives made with 3D printing could bring down costs to a fraction of the price.
Previously, Gatland had support from a fund for injured jockeys in the UK. She had the cost of a prosthetic covered by the National Health Service. But artificial limbs for running, cycling and other exercise such as riding can cost up to $14,000.
"I've been involved in a project to encourage children who have lost a leg to wear blades, and this 3D development could have a similar impact as they are aesthetically more appealing, and colourful," Gatland says. "I wear my blades for running, but also with a high heel if I am dressing up for an event."
Dubai Health Authority and Arab Health facilitated the project and donation of the prosthesis. They partnered up with medical firms Prosfit (Bulgaria), Mecuris (Germany) and Mediclinic (UAE). The initiative is part of the 3D Khair initiative, in line with the Year of Giving 2017.
"We are keen to bring in the latest technology in medicine to further bolster patient-centric care and improve the lives of our patients," said DHA director general Humaid Al Qatami.
"We consider the private sector to be our partner in our endeavours and such collaborative efforts go a long way in bringing modern excellence to Dubai."
Source: The National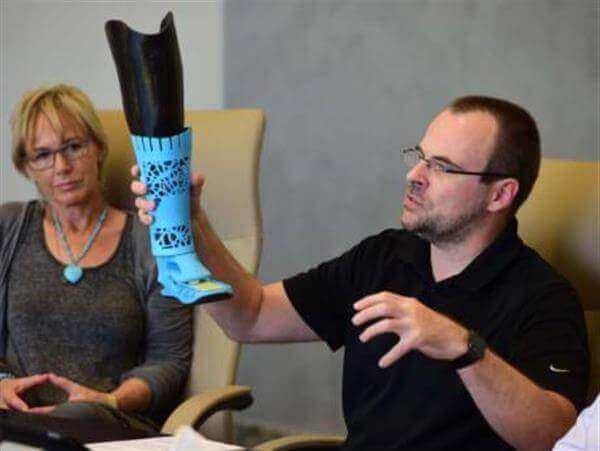 License: The text of "This is the First 3D Printed Prosthetic Leg in the UAE" by All3DP is licensed under a Creative Commons Attribution 4.0 International License.
Subscribe to updates from All3DP
You are subscribed to updates from All3DP
Subscribe
You can't subscribe to updates from All3DP. Learn more…