A team at the Eindhoven University of Technology has 3D printed concrete, earning them fans and backers.
Concrete is a big deal. Unwieldy, hard to transport, it is no easy business. However, it's usefulness and durability make it almost impossible to replace. To this end, a group at the University of Technology at Eindhoven (TU/e) in the Netherlands has begun not only studying concrete but 3D printing it on a special printer designed by Dutch company ROHACO.
The aptly named 3D Concrete Printing (3DCP) has already received 650,000€ in funding from multiple companies, as well as the university.
This year's Dutch Design Week even featured an event hosted at the TU/e about concrete printing. With more than 400 companies already registered to visit, the event even has a waitlist – that's how interested businesses are.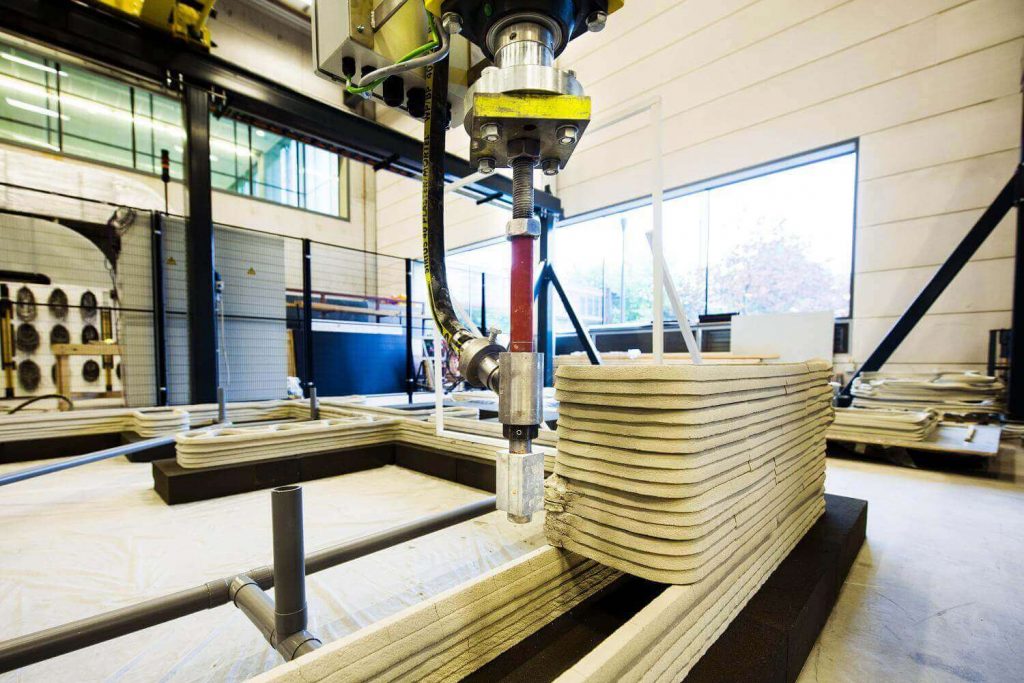 3DCP has outlined three major ways their printer and methods can change concrete.
The details: rather than just dumping 3D printed concrete out, designers can create details as "small as a pea." Whether it's for practical or artistic reasons, who wouldn't want more control of the creation process?
Mix-and-match: 3D printing allows for multiple colors and types of material to be printed together as a single unit. Rather than making a wall step-by-step it can be printed as a single, complete object.
Building smart: As printing is far more precise, it seems any set-up you can design can be printed. As a result, important wires and sensors can be easily integrated at the exact right spot rather than shoved in at the last minute.
Of course, the team still has plenty to work through. Specifically, adding new layers of concrete has proved incredibly complicated. The underlying layer must be simultaneously solid and ready to bear heavy loads, but also moist enough to fully adhere to the new layer.
3DCP is not in a rush to crank out 3D printed walls. Instead, they will focus on safety on creating truly stable designs. They expect to have their first products available in five years time.
If you are interested in further benefits of 3D printed concrete, you should check this article on 3D printed concrete blocks, which reduce CO2 emissions by 50 percent.
License: The text of "3D Printed Concrete at Eindhoven University of Technology" by All3DP is licensed under a Creative Commons Attribution 4.0 International License.
Subscribe to updates from All3DP
You are subscribed to updates from All3DP
Subscribe
You can't subscribe to updates from All3DP. Learn more…