Founded in 2014, ELEGOO has been specializing in the production of 3D printer parts and electronic components for a fair amount of time. However, the introduction of the ELEGOO Mars marked a new milestone for the Chinese manufacturer, as it's their very first 3D printer that utilizes UV photocuring technology.
Marketed as an apt introductory machine for those interested in the sticky world of resin 3D printing, the ELEGOO Mars is suitable for beginners and expert-level makers who want a user-friendly experience without sacrificing print quality. According to the manufacturer, the machine takes just five minutes to put together and start printing, certainly fast enough for us to classify it as a plug-and-play 3D printer.
Not to be confused with similar 3D printing technologies like SLA and DLP, the ELEGOO Mars utilizes an array of UV LCDs as a light source. The light from the flat LCD panels shines directly onto the build area in a parallel fashion, solidifying the UV resin material layer-by-layer until the 3D object is complete.
Learn more: LCD vs DLP – 3D Printing Technologies Compared
The manufacturer claims that the ELEGOO Mars is able to provide highly accurate prints with an XY axis resolution of 0.00185 inches (0.047mm).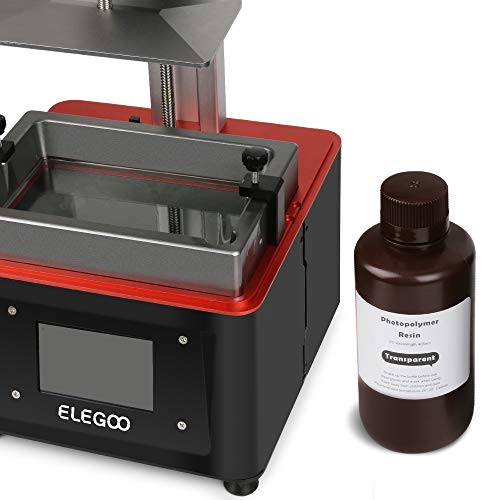 Like the Anycubic Photon, the Mars is equipped with a 2560×1440 2K HD masking LCD screen. It offers a slightly larger build volume of 120 x 68 x 155 mm (however, the Photon is nearly identical at 115 x 65 x 155 mm). The most notable advantage that the ELEGOO Mars has over its popular counterpart is the 40W UV light source, a considerable improvement over the 25W UV light that is featured in the Photon.
Aside from usability, the ELEGOO Mars also boasts an industrial-grade design that includes a sturdy frame and 3.5″ full-color touchscreen that enables users to quickly adjust settings and print offline. The build platform is equipped with an internal steel ball balancing structure, making the assembly and calibration process as simple as possible.
Another noteworthy attribute of the ELEGOO Mars is the easy-to-use and speedy ChiTu Box slicing software that comes packaged with the 3D printer. This slicer only takes around one minute to slice a 30mb .stl model, and also allows users to hollow out the model to save resin during the printing process.
The ELEGOO Mars is compatible with 405NM UV resins, giving the user some flexibility when it comes to selecting third-party resins. The manufacturer also provides a one-year warranty for the machine, however, this does not cover the LCD or FEP film.
While we haven't had the opportunity to review the ELEGOO Mars in the All3DP office just yet, the 3D printer has received a lot of positive feedback from users. For instance, on Amazon, the machine has received glowing praise for its consistent and high-resolution prints, easy-to-comprehend instruction manual, and responsive customer service.