Different Types of Photogrammetry
The way photogrammetry software usually works is the following. First, the program automatically registers the shared points between every image and then calculates the distances between them in 3D space. The result is a point cloud that you can transform into a 3D mesh. Some more advanced programs also provide tools for cleaning up the point cloud to enhance the overall quality.
In order for photogrammetry software tools to work properly they need sufficient data within the images. The structure from motion technique makes use of natural features like bark of a tree and other dense textures. Other programs use coded markers. These are useful to scan objects that are poor in features to process or have a reflective and/or transparent surface. If applied correctly, coded markers can yield a higher accuracy than the structure from motion technique.
Most photogrammetry software is strictly designed to generate a high-quality 3D mesh or point cloud. However, some programs also provide their own analysis tools within the workspace to allow the user to perform measurements, annotate the map, or enrich the data. Solutions like this are often used by infrastructure companies, forestry, coast-line management and similar agencies.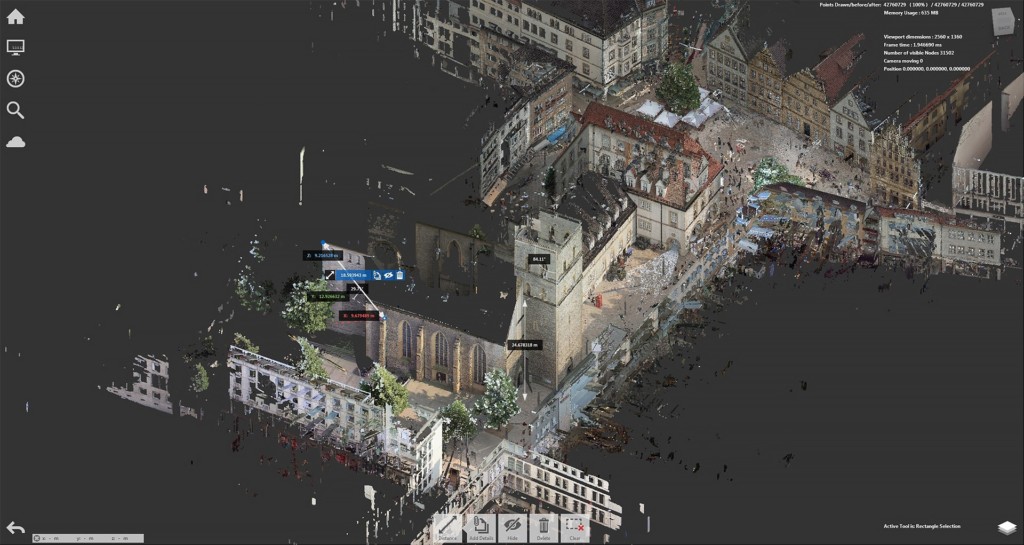 Close-range photogrammetry v Aerial photogrammetry
The default setup of photogrammetry is a camera that is held by a photographer in his hands or mounted on a tripod for extra image stability. It is also known as terrestrial photogrammetry, as the imagery is usually taken from street level. Using a close-range photogrammetry setup is suitable for scanning small-scale objects. In theory, larger structures can also be scanned with close-range photogrammetry. However, often features like roofs are inacessible from the street level. In these cases it's wise to complement close-range photogrammetry with aerial photogrammetry.
As the names suggests, for aerial photogrammetry you mount a camera on an aircraft to photograph larger structures (buildings, mountains, cities) to transform this data into a 3D model. For decades aerial photogrammetry was only an option for companies and institutions with pockets deep enough to lease an airplane or a helicopter. Aerial photogrammetry is slowly becoming within reach of smaller businesses in many industries as the prices of camera drones have decreased.
As in close-range photogrammetry, the camera takes hundreds, if not thousands of images to reconstruct the object later in the computer. In order to achieve a high-quality 3D model the pictures need to overlap by 80% to 90%. Seasoned pilots and drone-operators are able to adjust their flight-paths and speed accordingly. However, if you intend to use a drone, we recommend purchase a model with waypoint navigation software. This technology allows you to plan the exact route and its speed of your drone ahead of the flight and ensure consistent image quality.
Applications of photogrammetry software
Building design and renovation
When existing buildings are renovated, there are often no plans that can be used as a reference for planners. In these cases, photogrammetry software is a cost-effective method to create accurate plans and measurements that can be imported into CAD and BIM software to kickstart the project. Photogrammetry software is equally useful in surveying the surrounding area and creating elevation drawings.
Digital preservation
Other exciting fields that make use of photogrammetry software are archeology and cultural heritage preservation. In the past, archeologists measured and then traced buildings and other structures on maps and plans as elevations, facades and contours. The recent wave of photogrammetry software has made opened new avenues of recording the monuments of past generations and allowed future generations to study and interpret them.
Geology and Mining
Disciplines like geology, mining, and quarrying also provide numerous applications for photogrammetry software. Compared to traditional surveying methods, this technology is an affordable method to generate point clouds and elevation maps. Professional photogrammetry software solutions provide comprehensive analytical tools to measure stockpiles and pits in a snap!