Fresh for 2019, the Anycubic Photon S is one of a clutch of new printers from the Shenzhen, China, based company. Sporting a new shell available in either black or white, the fundamental shape of the machine has stayed the same. The differences lie inside.
Retailing for approximately $420 — somewhat close to the original Photon's launch price — the Anycubic Photon S is claimed to offer a few improvements over its forebear.
For one, the company addresses stability issues with the doubling up of linear rails either side of the lead screw. Z-wobble was a common complaint of the original, so such an addition should go some way to securing the travel through the Z-axis.
Another common user complaint with the previous Photon was the pokey touchscreen and overly compact UI. Best handled with a makeshift stylus, it wasn't ideal. From what we can see from the renders in the Photon S' store listing, we see a chunky new UI scheme with large buttons.
It's not entirely clear to us from the information currently available, but the Photon S is stated to be capable of offline printing, something the original Photon could also handle.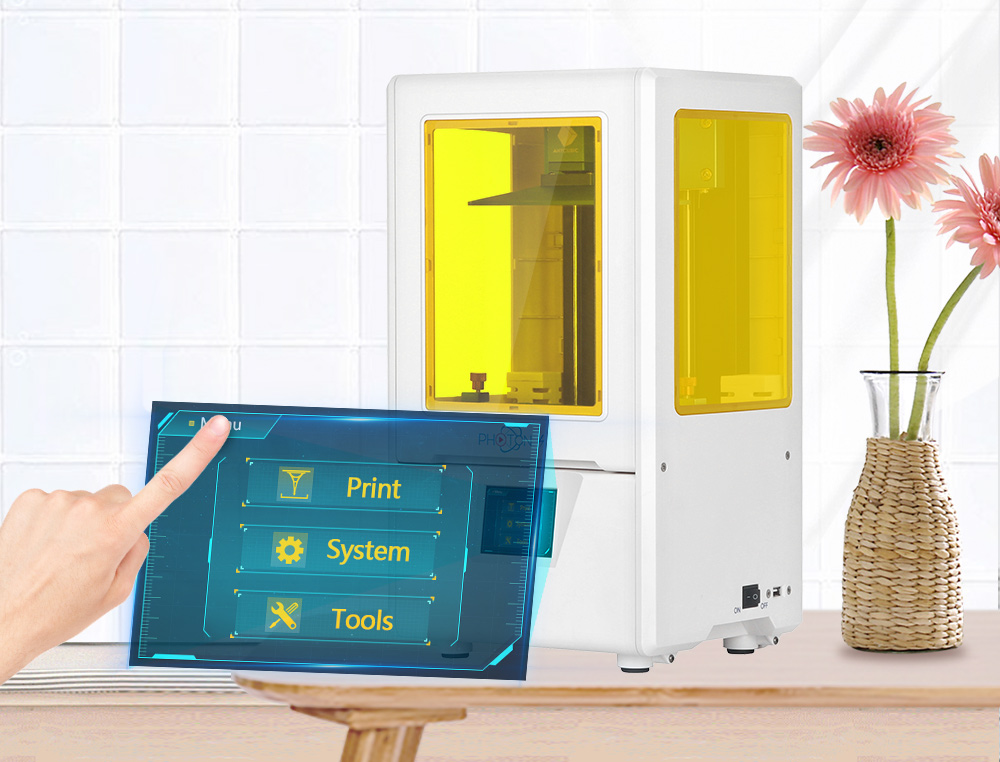 The essence (we think – don't hold us to it) is that you can print from USB sticks; if that's all, ho hum. Hopefully, it really means that the Photon S can handle onboard slicing, as the Phrozen Shuffle does through its NanoDLP getup.
It's certainly a possibility since Anycubic's bundled Photons Workshop software is a reskin of ChiTu DLP slicer and, presumably, the mainboard inside is running the ChiTu host. We'll have to wait and see when we get our grubby paws on one for a review.
On the plus side, an activated charcoal air filter finds its way onto the Photon S, which should go some way to eliminate the noxious stench of liquid resin while you print.
As with the Photon before, a 2K LCD screen serves as a mask for the slices of your models, meaning that the new Photon S also prints with a 47-micron X- and Y- resolution. No dip (or improvement) in print quality, just enhancements elsewhere.
The print volume gets a small bump, with 10 mm added to the Z-axis, bringing it to a total of 115 x 65 x 165 mm.
Resin compatibility also looks to be the same, with 405nm resins still the medium for fine prints here.
Retailing for little more than the first generation Photon currently sells for, the Photon S seems to be a modest step in the right direction. Until we go hands-on, we couldn't say if the changes pay off but, on paper, it certainly looks better than the OG Photon.