Researchers from Boston University and TU Delft are using 3D printing and infrared technology to create comfortable, custom orthopedic casts.
Have you ever broken a bone and had to deal with bulky, uncomfortable orthopedic casts? In these casts, skin becomes irritated and hot and taking a shower becomes a nightmare.
However, there may be a better solution which will keep you clean, even when you break a bone. TU Delft and Boston University researchers are working together to improve orthopedic casts. The researchers claim that the 3D printed designs are highly personalized, easier to apply and offer the same level of support and protection.
They claim to have developed a new way to create 3D printed, personalized casts. Better yet, the designs now account for both thermal comfort and mechanical stability. This means no more scratching itchy skin under your cast using a ruler.
3D Printing Making Breaking Bones Less Unpleasant
Traditional gypsum bonds are large, bulky, difficult to apply and often overheat. However, with the researcher's new design, the 3D printed orthopedic cast will be suitable for water while offering the same support and protection.
"I think this is the first result in this area that takes thermal comfort into account… These personalized plaster connections from the 3D printer provide much more natural support, which offers patients more comfort through optimal air circulation. This can also help the healing process. However, we are still in the prototype phase, testing in a medical environment must still happen," said Professor Charlie Wang of the faculty of IDE.
This process begins with scanning the body part which needs to be fixed. Next, the researchers analyze an individual's skin heat sensitivity by using an infrared camera.
Finally, the data is processed into a 3D printable structure. Depending on the material stress and thermal levels, the collected data then determines where air holes will be placed and how large they will be. This is directly affected by skin sensitivity in different areas of the patient's limb.
The cast is finely tuned to personal requirements, meaning areas with high heat sensitivity results in large air holes and a slightly thicker print. This ensures the cast is strong all over.
Overall, the researchers claim that the design is lightweight, comfortable, and waterproof. The prototype will be presented at the 2017 ACM Symposium on User Interface Software and Technology in Quebec City.
Source: TU Delft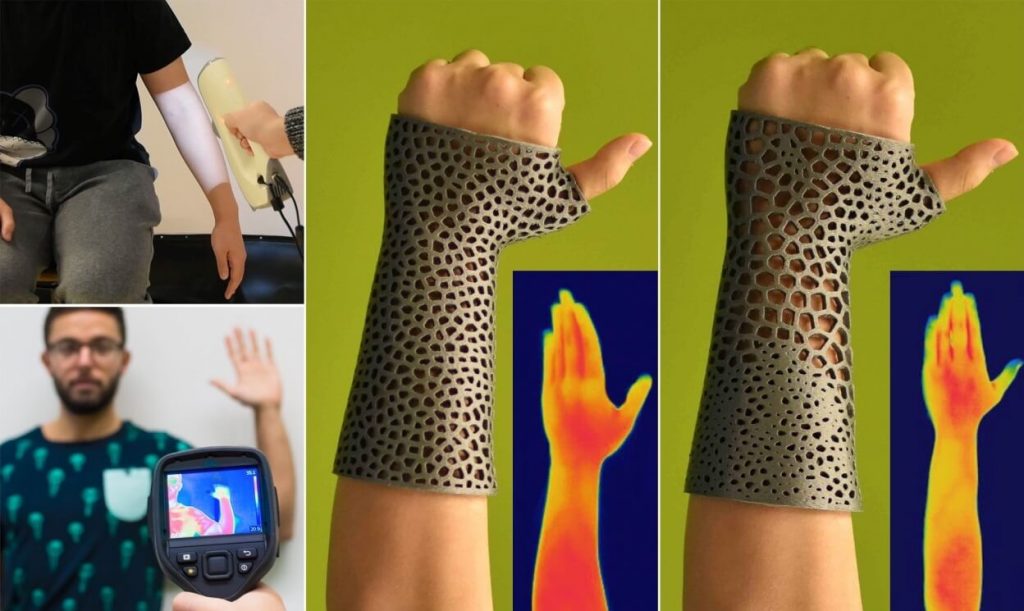 License: The text of "3D Printed Orthopedic Casts Offer Custom Thermal-Comfort Design" by All3DP is licensed under a Creative Commons Attribution 4.0 International License.
Subscribe to updates from All3DP
You are subscribed to updates from All3DP
Subscribe
You can't subscribe to updates from All3DP. Learn more…