College student Nicholas Unis is developing a 3D printed sneaker under the name UnisBrands. His target consumers are those who buy and trade footwear. Better yet, the company will offer the possibility to recycle shoes for a discount.
Ever heard of a "sneakerhead"? Imagine that friend who is always buying the latest shoe, collecting rare designs and trading them online or with other sneakerheads. The term perfectly describes the target audience for UnisBrands LLC, a small business being built by Nicholas Unis, a junior in the Smeal College of Business.
Unis is developing customized 3D printed sneakers. Although still in the prototype stage, he hopes that his shoes will be fully recyclable. That means sneakerheads will one day be able to send a shoe back and receive a discount on their next order.
Unis decided on such a project due to his interest in footwear. Not only does he like fashion, he also has an interest in the sneaker market, how shoes are made and the materials used to create them.
His idea is to offer a fresh perspective on the sneaker industry, which has a global worth of $55 billion, largely due to sneakerheads, according to Business Insider.
As well as having an interest in shoes, Unis is also learning about how to build a business during his time at college. He's enrolled at Penn State on a 2+2 Plan. That means he'll spend two years at Penn State Altoona before finishing at University Park.
Building his business while in college comes with a nice perk: University resources and connections only help Unis to pursue his love of footwear.
3D Printed Sneakers Fit Perfectly Every Time
One reason Unis turned to 3D printing is that it can provide customers with the perfect fit, every time. As a former part-time sales associate in a shoe store, he has firsthand experience of the struggle.
"As people were coming in and not finding exactly what they wanted in size or look, I got the idea to fully customize a pair of shoes… I actually had a customer who would buy two pairs of shoes because his feet were two different sizes," Unis explains.
The job taught him that customized shoes would not only help to find the right shoe but to make the purchasing experience that much more personable.
Unis therefore crafted a business plan and started entering competitions to receive feedback. This helped him develop his ideas further. After receiving some useful constructive criticism, he decided it was time to buy a 3D printer.
While large-scale printers were out of his price range, small-scale printers were possible to build on his own. To do this, he went to a manufacturer and developed a patent-pending printer. He explains: "I designed the printer to be optimized to print shoes… If you print this material with any normal 3D printer, it's going to jam."
Nevertheless, the printing process is the same as with any other printer. He models a design using CAD software, slices it, creates a tool path, exports this path to an SD card and then prints the shoe. Voila!
Thanks to his time at university, Unis has had a number of opportunities to grow his business further. The benefits include funding, an incubator space and mentors. Other tasks still remain, like developing his website further as well as producing a marketing strategy. Check out his website to find out more.
Source: Penn State News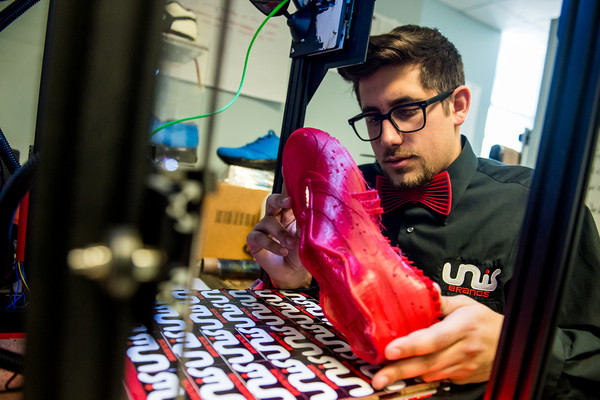 License: The text of "Student Develops Customizable 3D Printed Sneakers" by All3DP is licensed under a Creative Commons Attribution 4.0 International License.
Subscribe to updates from All3DP
You are subscribed to updates from All3DP
Subscribe
You can't subscribe to updates from All3DP. Learn more…