As the post-show blues set in take solace in this story out of Formlabs and Aaron Sims Creative, that Stranger Things' Season One antagonist, the Demogorgon, was prototyped the old fashioned way on a Formlabs Form 2.
Whether you've binged all of season two or you're a newcomer to the Upside Down world of Stranger Things, this fascinating peek behind the scenes on the internet's hottest show casts new light on the gruesome Demogorgon.
Against the ever-faster pace of television production cycles Aaron Sims Creative, the Burbank studio responsible for the design of much of Stranger Things' look, sought to sell its idea for the series' monster with an old-fashioned sculpture.
The one difference from the clay-hewn maquettes of old? This monster pitch used Formlabs Form 2 SLA 3D printers to render the Demogorgon to vivid, detailed life.
Originally tasked with creating an entirely practical effect for the toothy, petal-headed monster, ASC convinced Stranger Things' creators the Duffer brothers to consider a blend of digital and practical.
Steffan Reichstadt, Creative Director at ASC, explains the reasoning behind this:
"The fire, we shot real fire. The slime in the mouth on the creature, we digitally simulated slime." There are some things that a person in a suit can't do. "He's not going to move fast. He's not going to run after people in a forest. It's just not going to work."
But before a guy could climb in a suit to not run in a forest, the had to first convince the Duffer brothers of their vision for the Demogorgon.
So Many Teeth: Bringing the Demogorgon to Life
As is common on modern big-budget productions, the descriptions of the series' main monster were thin on the ground. With the brief that it must be a "guy-in-a-suit kind of thing", old-school, have no face but be able to eat people, ASC got to work on its interpretation of the Demogorgon.
Unusually for such a production, the studio collaborated closely with the production team from an early stage, informing the show's course as it developed. In fact this isn't the only trend-bucking thing they did. In another nod to traditional practices and Sim's background in practical effects, ASC created maquettes of the monster to discuss its design.
But rather than sculpting them from clay, the studio opted for the modern day equivalent: digitally sculpting, and then 3D printing a high resolution model.
The studio's first prints on its own small bank of Form 2 3D printers, it would prove a pivotal moment for some. Reinstadt continues:
"Before that, we had always outsourced printing. So to be able to grow it in-house, and see a design that we helped create from the very beginning printed right in front of us, was kind of an amazing thing. It was like going back to the days of when we used to sculpt with clay."
After a few small test prints to iron out flaws and undesirable quirks, the studio prints a large one-off to fully post-process and paint. A monster master to present to the Stranger Things creators.
"As soon as you can hold something in your hand and turn it around and run your thumb over the surface texture of it, it feels more real," adds Aaron Sims, founder of the eponymous studio.
If you haven't caught up with the latest creepy goings-on in Hawkins yet, what are you waiting for? Head on over to Netflix and get your binge on.
Source: Formlabs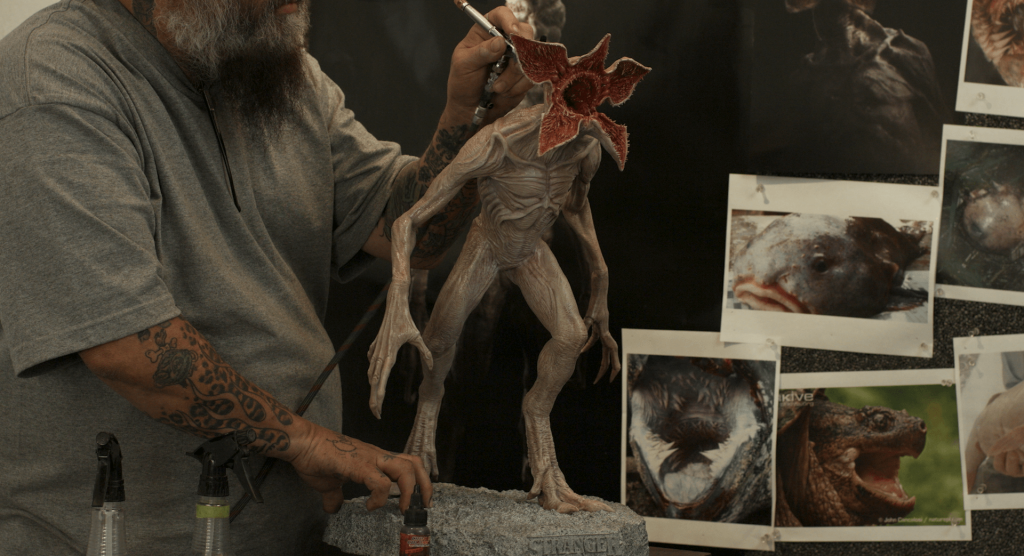 License: The text of "VFX Studio Prototyped Stranger Things Demogorgon with a Form 2" by All3DP is licensed under a Creative Commons Attribution 4.0 International License.
Subscribe to updates from All3DP
You are subscribed to updates from All3DP
Subscribe
You can't subscribe to updates from All3DP. Learn more…