The global tech giant Siemens has used 3D printing to create the first operational nuclear power plant part. They've also optimized gas turbines with 3D printed blades.
Known as the largest manufacturing and electronics company in Europe, the German conglomerate Siemens has emerged as a 3D printing pioneer. Last year, they unveiled spider-like robot 3D printers, developed to work together to construct complex structures and surfaces.
Now, the global tech giant is using 3D printing to revolutionize several major sources of energy, namely nuclear and wind power. Siemens engineers recently created the first-ever 3D printed part for use in a nuclear power plant. In addition, they've also unveiled functional gas turbine blades that are entirely made using metal additive manufacturing.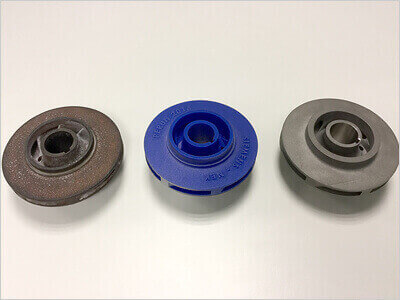 The First-Ever 3D Printed Part For Nuclear Power Plant Operations
Last week, Siemens announced the first-ever 3D printed part for use in a nuclear power plant. The replacement component is a 108mm diameter impeller for a fire protection pump that is constantly in operation.
Produced for the nuclear power plant in Krško, Slovenia, the part has passed stringent safety and reliability requirements. The metallic impeller is the first 3D printed component to be installed and also operate within a nuclear power plant.
The manufacturer that produced the original part is no longer in business. So, the Siemens team reverse-engineered that component to create a so-called "digital twin." They then used Selective Laser Melting to produce the replacement impeller, which has been in operation since January.
Siemens use of 3D printing not only helps to recreate a part that is now obsolete, it also reduces lead time and eliminates the need for tooling. The Krško plant will continue to research the use of 3D printing to create lightweight structures with optimized cooling patterns.

Siemens Creates Fully 3D Printed Gas Turbine Blades
Siemens engineers from the UK, Germany, and Sweden recently teamed up with Materials Solutions' experts to optimize gas turbines. Using metal 3D printing, the team was able to produce gas turbine blades able to withstand extreme conditions.
Printed in a powdered polycrystalline nickel-based superalloy, the blades improve internal cooling geometry. This high-temperature resistant material is also able to withstand high pressures and centrifugal forces that occur during turbine operation.
This is the first time that additively manufactured blades have successfully been full-load tested, making this endeavor a major breakthrough. By using metal 3D printing technology, the engineering team was able to reduce the production process from two years to just two months.
According to Willi Meixner, CEO of Siemens Power and Gas Division:
"This is a groundbreaking success for the use of additive manufacturing in the field of power generation, one of the most demanding areas of application for this technology."
All in all, the global manufacturing and electronics company continues to pave the way for industrial 3D printing applications. Both projects prove that Siemens is spearheading innovation with this emerging technology, one energy source at a time.

License: The text of "Siemens Making 3D Printed Gas Turbines & Parts for Nuclear Power Stations" by All3DP is licensed under a Creative Commons Attribution 4.0 International License.
Subscribe to updates from All3DP
You are subscribed to updates from All3DP
Subscribe
You can't subscribe to updates from All3DP. Learn more…