Shira (a.k.a. Sonia Verdú) who posted the plans for this dreamy anachronism on Thingiverse just a few short days before the end of 2014. As you can see here and on Thingiverse.com, Robotica is a ball-jointed doll that can be posed in any number of positions thanks to elastic cords incorporated into its assembly (see website for video).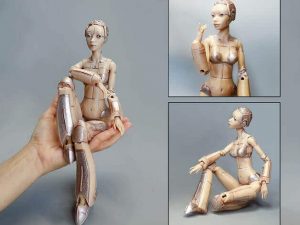 I don't know them personally but I'm sure Fritz Lang and Thea von Harbou (not to mention the character Rotwang) would be nothing less than pleased with this beautiful 3D-printed robot woman that is more sculpture than mere plastic bauble. "Why," you ask, "do I reference two long-dead German artists and a fictional character when referencing a thoroughly modern work of art?" For the simple reason that a mere brief glimpse at this sculpture in plastic conjures images of Lang and Harbou's creation Maschinenmensch from the 1927 sci-fi classic Metropolis while at the same time pushing perception forward into an as yet unseen future. It's a fine line to straddle and a strange place to occupy – the past and the future simultaneously – but Robotica does it well.
And if the time dichotomy previously mentioned wasn't enough, Ms. Verdú's creation expertly juxtaposes the cold, impersonal impression of metal with the warm, sensuous curves of the female figure (Is it by chance that the word "Robotica" is so similar to the word "erotica"? I think not.).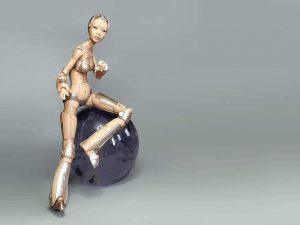 There's just something about this work of art – I refuse to call it a toy or a doll any longer – that makes me want to examine it in more detail, not to mention stand up and applaud the skill and vision of Ms. Verdú (consider this brief bit of text my encore). Even the raw plastic version without decoration inspires wonder and admiration. I could go on and on but I've already exceeded my character limit (think word count) three fold. Get over to Thingiverse.com now and see for yourself what the future (or is it the past?) has in store for you.
If you print nothing else this year, print this incredible piece of art as the highlight of your collection (and be sure to send me one – I'm just a starving writer after all). If you don't own a 3D printer, you can download the files and order the pieces – i.e. at Shapeways, iMaterialise or Sculpteo.
License: The text of "3D Printed Robotica" by All3DP is licensed under a Creative Commons Attribution 4.0 International License.
Subscribe to updates from All3DP
You are subscribed to updates from All3DP
Subscribe
You can't subscribe to updates from All3DP. Learn more…