Jonathan Swift, the Irish writer best known for "Gulliver's Travels" looked like at the time of his death.
Swift died at the age of 77 years. His muse, Esther 'Stella' Johnson who was only 47 years at the age of her own death has also been immortalized as part of the new project. The pair's relationship has been subject to much speculation and many rumors over the years.
The project has been led by forensic anthropologists at the Human Remains Services Ireland (HRSI).
The researchers used Swift's death mask and skull cast to reconstruct his face. For Johnson, only the skull cast existed.
Dr. Christopher Rynn, craniofacial anthropologist and forensic artist at the University of Dundee carried out the reconstruction using computed tomography scans of the masks.
The team developed the portraits of the pair by combining forensic anthropology, forensics as well as diagnostic imaging, 3D facial reconstruction, and 3D printing.
Swift and Stella – a Modern Post-Mortem
The models were supposed to be revealed at the Jonathan Swift Festival in November 2017. However, the reconstructions took longer than expected. Now, they are finally being revealed as part of the "Swift and Stella – a Modern Post-Mortem" project.
Dr René Gapert, consultant forensic anthropologist with the HRSI, explained:
"We wanted to demonstrate the range of forensic techniques we use in actual cases. A goodly portion of HRSI's work involves the identification of unknown human remains – and sometimes live subjects also."
The two skull casts are currently on display in Dublin at St Patrick's Cathedral (Swift's cast) and the Archbishop Marsh's Library (Johnson's).
Although portraits of Swift during his lifetime do exist, they are in stark contrast to the final models.
"While we have portraits and busts of Swift, this is the first time it has been possible to show what Stella may actually have looked like," says Gapert.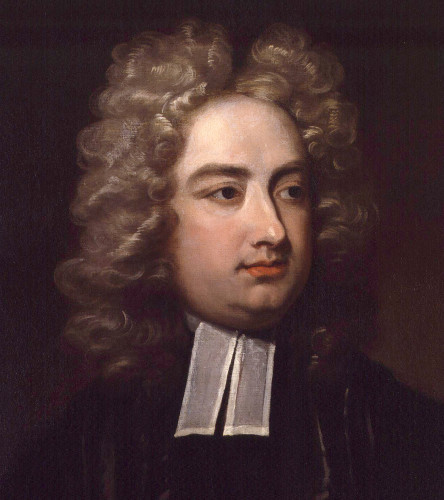 Portrait of Swift by Charles Jervas (1770). (Image: Wikimedia Commons)
License: The text of "Researchers 3D Reconstruct Face Of Famous Irish Writer Jonathan Swift And His Muse Johnson" by All3DP is licensed under a Creative Commons Attribution 4.0 International License.
Subscribe to updates from All3DP
You are subscribed to updates from All3DP
Subscribe
You can't subscribe to updates from All3DP. Learn more…