Footwear production is making a comeback in the US thanks to Reebok's 'Liquid Factory' which '3D draws' its shoes.
Reebok is opening its futuristic Liquid Factory at the beginning of next year in Rhode Island. The factory will use robots, instead of molds, to make footwear.
With its proprietary liquid material, 3D printers will 'draw' lattices which wrap around the outside of the shoe. It's said that the design allows for more flexibility as the wearer moves.
The Reebok Liquid Speed, designed for running, is the first shoe to be released so far. There are only 300 pairs available, each priced at $189.50. The entire process from design to assembly was completed in the US.
Bill McInnis, head of Future at Reebok, told Fortune about the benefits of bringing production. He said: "Getting faster and closer to the consumer is 100% what we are after. If you can take out shipping and molds that take time to formulate, it moves you closer to the consumer."
Liquid Factory Breaks the Mold
The former NASA engineer also is trying to incorporate the use of technology to improve the industry. He explained: "The footwear industry hasn't changed dramatically from a manufacturing standpoint over the past 30 years."
The Liquid Factory certainly breaks the traditional mold approach.
A team of prototype experts, engineers and designers focused on quality, rather than creating as many new designs as possible. Their long-term approach revolved around asking the question: "If you were to start a shoe company tomorrow, how would you do it?"
They came up with 3D 'drawing'. The focus is on replacing expensive and wasteful molds used in Asian factories with an urethane-based liquid developed by BASF, the chemicals manufacturing corporation.
We've already seen companies such as New Balance using 3D printing to create an entire shoe. However, this time it's different. McInnis explained: "Liquid drawing is our idea of taking 3D printing to a different place."
He is hoping that the Liquid Factory can be used on a grander scale than simply offering a one-time limited addition.
Another benefit of the factory is that companies can easily cater to the market and manufacture exactly what the consumer wants in a shorter amount of time. McInnis explains: "It isn't just about the U.S., it is local-for-local globally."
Source: Fortune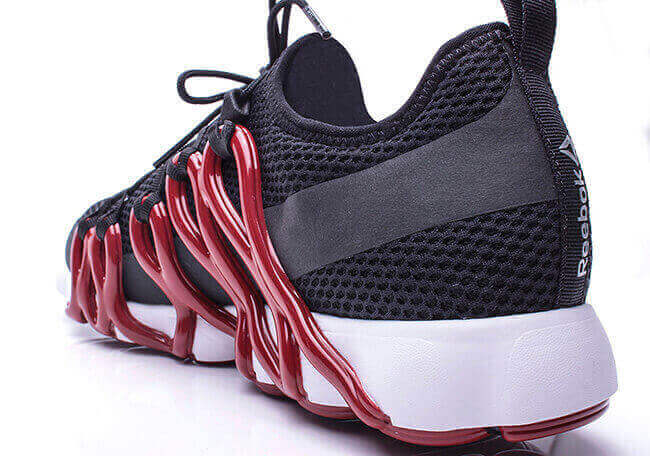 License: The text of "Reebok's Liquid Speed Running Shoes Use 3D Drawing Process" by All3DP is licensed under a Creative Commons Attribution 4.0 International License.
Subscribe to updates from All3DP
You are subscribed to updates from All3DP
Subscribe
You can't subscribe to updates from All3DP. Learn more…