UFO or "Unidentified Fabulous Objects" is the latest and most successful set of creations from Pussykrew, an artists duo from Berlin, that has been among the first to successfully integrate 3D printing into their work. The set was built using the popular Ultimaker 2 (read our review here) and a lot of imagination. The artists used glossy filaments of various colors to achieve "blobs" and abstract forms from which human faces emerge, seemingly coming from within those masses.
To make the result realistic enough, the art pieces are printed at low speeds, using Ultimaker's highest possible resolution and with great focus on the surface finish. Some are even painted with glossy paint sprays to become even more striking to the eye. Most heads look clean-cut while others are following a material dripping approach that gives a more abstract and liquidizing style along with a deeper artistic symbolism.
3D Printing a New Artistic Vision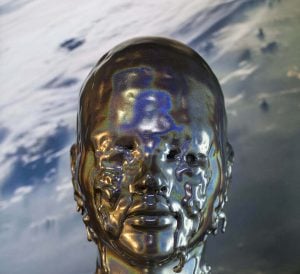 3D printers are constantly gaining ground as the ideal method for conveying an artist's creative vision, allowing sculptors that were previously limited by traditional techniques and materials to freely express themselves through whatever form they wish. Pussykrew is one of the most active and recognizable artists in this field, having already participated in various events and exhibits such as the most recent Fabcon event in Erfurt, the Materia gallery in Warsaw, Poland, and the latest 3D print show in Berlin.
Although the Ultimakers used are kept at low speed/high res settings when creating, the pieces of art require between 16 and 48 hours to complete, which is considerably fast when compared to sculpting by conventional means and processes.
Materialising a Simulation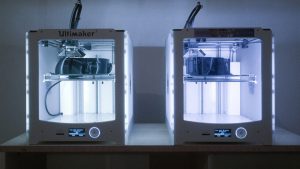 What I find to be the most captivating element of the UFO set is the astonishing finishing that makes all objects look as if they were made of silk. This of course is the result of quite some time spent on experimentation and trials, as is made evident by the appearance of Pussykrew's earliest creations, which tend to resemble "blobs" with somewhat less refined edges.
One of the duo's ways to create their sculptures is to first build an accurate 3D model of a head and then use a 3D collision simulation (simulating what would happen if the head were dropped to the floor) to give it its final appearance. The melting heads, on the other side, are created by a different technique that involves additional outer layers of liquid flowing on top of the head. This is also achieved through intense computer simulations.
The materials and tools used by Pussykrew include a wide variety of colorFabb's filaments, two Ultimaker 2 3D printers, two computers and a lot of minor polishing and gluing tools. This doesn't sound at all like a sculptor's set and it is indicative of how fundamentally things have changed for art too, in just a few years time. This also makes me presume that 3D printing basics courses – just like for any other creative tool – will be an indispensable part of Art schools curricula in the not-so-far future.
License: The text of "Pussykrew's UFO's invade the 3D printed art scene" by All3DP is licensed under a Creative Commons Attribution 4.0 International License.
Subscribe to updates from All3DP
You are subscribed to updates from All3DP
Subscribe
You can't subscribe to updates from All3DP. Learn more…