Protoprint is a social enterprise empowering waste pickers in urban India and turning recycled plastic into filament for your 3D printer.
A point of concern with 3D printing and fused filament fabrication (FFF) is producing enough plastic filament to meet growing demand, without having a negative impact on the environment.
Elsewhere, it is estimated that 15 million people around the world are making money by collecting waste plastic. Many of these people make less than a dollar a day.
Addressing these two issues, Protoprint is a social enterprise with a radical solution. Firstly, they want to empower waste pickers by addressing their poor working conditions and the pollution from plastic waste. Secondly, they want to reduce the environmental impact of 3D printing with recycled filament.
Sidhant Pai and his parents launched Protoprint in 2012. Pai was inspired after visiting a local rubbish dump in his home city of Pune, India. He says that a key problem for the workers is that they only receive a small amount of money for their hard work.
As Pai explains, initially their focus was on "looking into different ways to add value to the waste, we were agnostic about the specific product."
But then he and his parents settled on making plastic filament for 3D printing. "It added a tremendous amount of value to the waste plastic while still being relatively simple to manufacture at the dump," he says.
Protoprint & SWaCH Establish Production Facility at Rubbish Dump
So far, Protoprint and its partner cooperative SWaCH — owned solely by waste pickers — have set up a low-cost filament production facility. This is run at a rubbish dump in Pune operated by SWaCH.
Here, waste pickers convert high-density polyethylene (HPDE) plastic into 3D printing filament. This will then be sold to 3D printing companies across the globe.
Protoprint is addressing the low wages of the workers by paying SwaCH 300 rupees per kg of plastic. This is opposed to the 19 rupees paid by local scrap merchants.
Some market analysts predict that the market for filament will grow by 266% in the next five years. Currently, the majority of the materials are made from virgin plastic. Production and export costs also drive the price of filament upwards. However, ethical and recycled filament will be cheaper to buy.
The current issue with this seemingly fantastic plan is the quality of the filament produced."We have not yet started commercial operations and are working on improving our filament quality before we do so," say Pai. But this challenge is one facing the whole 3D printing industry, not just Protoprint.
Already Protoprint has a pilot unit which is producing filament. But due to problems with warping, it is not yet ready to sell. Polymer scientists from the National Chemical Laboratory are on the case, however, thanks to a government grant. They are currently developing an additive to remedy any issues when printing.
The company is already popular. So far, Protoprint has 4,000kg of pre-orders from smaller distributors in India, Germany, the UK and the US. Let's hope testing goes well.
Source: The Guardian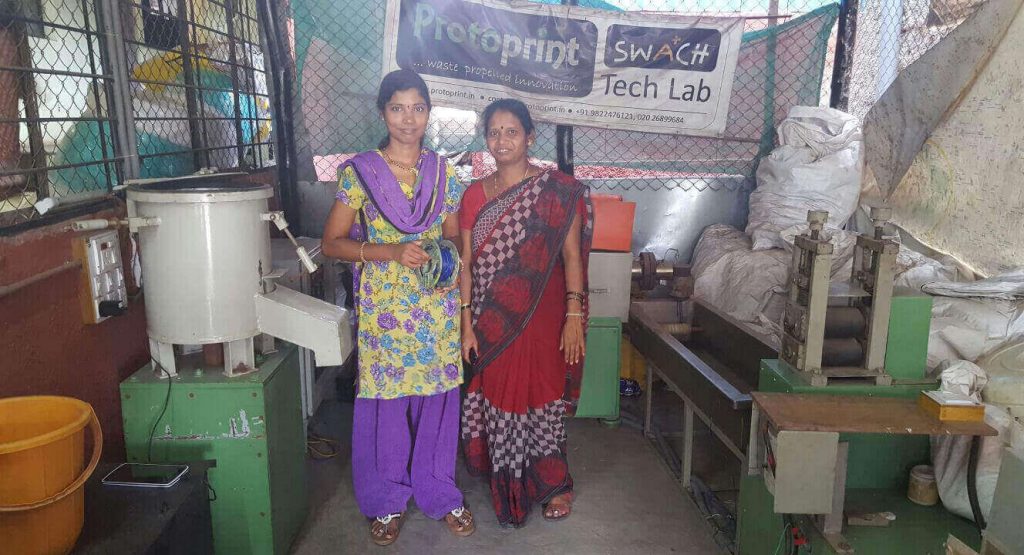 License: The text of "Protoprint Tackles Poverty & Pollution with Recycled Plastic Filament" by All3DP is licensed under a Creative Commons Attribution 4.0 International License.
Subscribe to updates from All3DP
You are subscribed to updates from All3DP
Subscribe
You can't subscribe to updates from All3DP. Learn more…