When Paul Curry was diagnosed with cancer he turned to "busywork" to cope, 3D printing his own skeleton from PET/CAT scan data.
While everyone deals with tragic news differently, most certainly don't choose to 3D print a mini replica of their own skeleton. However, when Paul Curry was diagnosed with a rare type of blood cancer called mycosis fungoides, this is exactly what he did.
As a programmer, Curry explains that when faced with a problem, he quickly moves on to how to start solving it. This analytical character trait however was forced to wait when, after his diagnosis, Curry had to wait for some time to see specialists. Powerless to fix the problem in that moment, Curry was without a plan or a way to cope.
However, it wasn't long before he had his "butt under a radiotherapy machine". As one of his many appointments, Currry underwent a full-body PET/CT scan.
Curry explains that as a "data dork" he asked to keep the medical imaging data. "Of course, I 3D printed three copies of my skeleton out, at 10% scale. Reactions to this have been mixed. My counsellor thinks it's goddamned creepy. I think it's totally rad. My radiologist was super impressed. It's even been noted in my medical record that I've done this, which is the closest thing to a school "permanent record" that you get as an adult, so I'm quite proud of that," he explains.

Coming to Terms with Cancer
Curry explains his dabbling in 3D printing as: "a good distraction from having to actually absorb the news. I tend to cope through busywork, and this was good busywork, but now it's complete, I'm focusing on the counselling to actually deal with my grief."
Although mycosis fungoides is incurable, it is low-risk. Curry explains that his treatments are not intensive but he'll have to manage it for the rest of his life. He also adds that he's remaining positive and optimistic but, of course, sometimes this can be a challenge.
If you want to find out more about his experience, read his insightful article for Buzzfeed. He describes his diagnosis and what he's learned since predominantly for the reason of better explaining to his friends and family.
Also, if you'd like to support Curry and send him well wishes, make sure to follow him on Twitter where you can also find more fun imagery of his 3D printed skeleton.
Source: Buzzfeed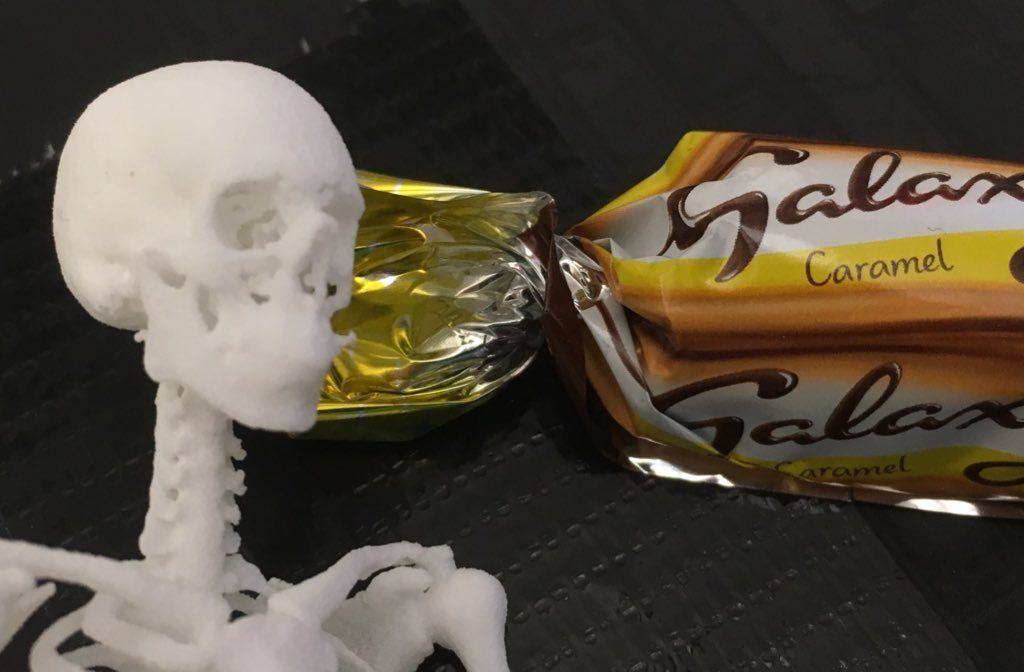 License: The text of "Programmer 3D Prints own Skeleton to Help Cope with Cancer" by All3DP is licensed under a Creative Commons Attribution 4.0 International License.
Subscribe to updates from All3DP
You are subscribed to updates from All3DP
Subscribe
You can't subscribe to updates from All3DP. Learn more…