Italian start-up 3DRap is launching their first 3D printer on Kickstarter. What makes it stand out from the crowd is its claim to be up-cycled and biodegradable.
3DRap is an Italian start-up, launching their "Poly" 3D printer on Kickstarter this week. The founders claim it's the first biodegradable, battery-powered multi-tool 3D printer in the world.
The crowdfunding campaign will be launched this week, on November 23, with a starting Early Bird reward of $299 for the Poly printer.
There are four points that make Poly stand out from the crowd:
The frame is fully printed with PHA, which makes most parts of the printer biodegradable.
The printer can run on battery power.
It's a multitool printer that can also be used as a laser engraver, plotter, and a chocolate 3D printer. Toolheads can be changed by a magnetic mechanism.
It uses the micro-stepper motors of old DVD players to transport the tool heads.
From what we can see, there are also some drawbacks. One of the most obvious is Poly's small printing area: If your model is bigger than 6cm x 6cm x 6cm, you will have to print in parts. Also, the plastic frame might lack the rigidity that a metal frame can provide – that might reflect in the print results.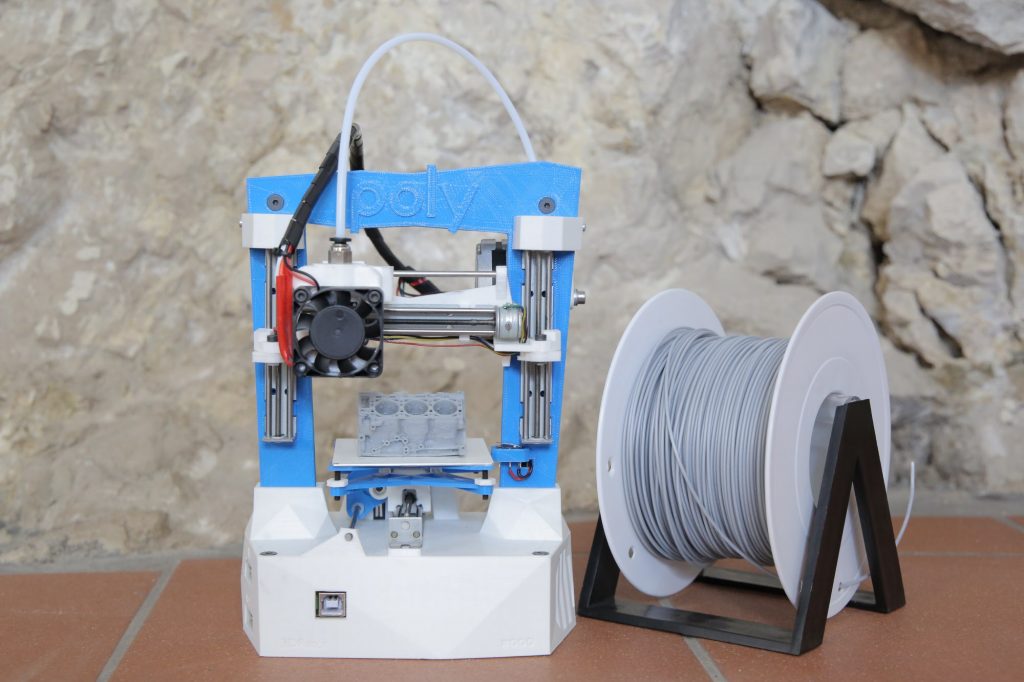 Open-Sourcing and Up-Cycling Eco-Friendly Poly
3DRap is the work of four engineering students, a designer, and a web developer from Campania, Italy. "3DRap is much more than a 3D prototyping and engineering company; 3DRap is a team of brains working in tandem, exchanging ideas and sharing tasks, in the creative hive that is their lab," explains a press release.
The team explains that "everything started with Arduino" and the "unstoppable vibe" of the open-source community. From here, 3DRap were able to create their own 3D printers.
However, in order to impress at industry fairs, 3DRap began taking their self-produced 3D printer prototype with them to "show not tell". The team explains that they received enthusiastic attention.
As a result, the team is launching a Kickstarter campaign. However, they explain that in order to continue up-cycling the Poly, they required a scavenger hunt for pieces such as old DVD players, 2D printers, and old computers.
Make sure to check out the Kickstarter campaign later this week. Also, follow 3DRap on Facebook, if you want to stay up to date with the start-up.
We'll keep you updated on this printer on our Kickstarter 3D printer page.

License: The text of "Poly Is A Battery-Powered, Biodegradable, Up-Cycled 3D Printer" by All3DP is licensed under a Creative Commons Attribution 4.0 International License.
Subscribe to updates from All3DP
You are subscribed to updates from All3DP
Subscribe
You can't subscribe to updates from All3DP. Learn more…