Every once in a while, you get a 3D printable design that is simple yet genius. This 3D printed Pokeball storage box looks like it sprang right out of Minecraft.
Sometimes it's like in a soccer game: The round thing must go into the square thing. In our case, we're talking about a 3D printable Pokeball (round) storage solution (square).
The Pokebox is a 3D design made by Italian maker Marco Fazzalari, also known as Markus96. He just published his first design on Thingiverse, but this one's already a hit with Pokemon fans. Marco writes: "So for the ones who were sick of their Pokeballs rollin' away, here's the Pokebox! Use it to hold what you want! Maybe a Pokeball would look approximately like this in Minecraft…"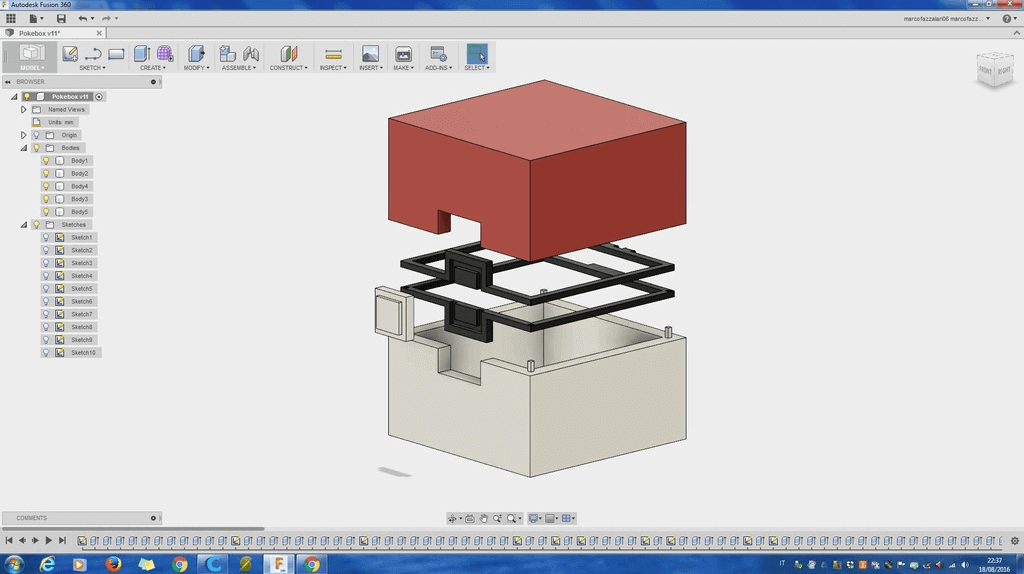 Marco used Autodesk Fusion 360 to design the five parts you need to 3D print. You can download the files at Thingiverse for free. 3D printing the Pokeball storage box is no big deal. Marco suggests printing the bigger white and red parts with 1.2mm shell/top/bottom thickness and 0% infill. All the other parts should be 3D printed with 0.8 shell thickness and 100% infill. You have to use supports only for the button.
If you don't have a 3D printer available, you can have the Pokebox 3D printed by a pro. Just consult 3DHubs.com or a professional service (price comparison service here).
Remixing the Pokebox
Inspired by Markus96, maker Flounder1664 already did a remix of the Pokebox. Both were printed with a .6 nozzle ("obviously", Flounder writes, "you can get a better finish"). The smaller box one was scaled to 50 percent. Take a look at these Pokebox beauties:
"I liked the ideal of a Pokeball storage box but wanted thin walls and more robust hinges so ended up making a new one from scratch". He also offers to make the "123D files available if anyone want to remix this."
You can download the designs from Thingiverse for free.
License: The text of "Store your Loot in This Wonderful 3D Printed Pokebox" by All3DP is licensed under a Creative Commons Attribution 4.0 International License.
Subscribe to updates from All3DP
You are subscribed to updates from All3DP
Subscribe
You can't subscribe to updates from All3DP. Learn more…