Looking for information on Pinshape? We've accumulated the most important facts in this company profile. 
11 Facts on Pinshape
1. Full Name
Pinshape.
2. Company Information
Providing further opportunities for consumers to engage with 3D printing via a web-based platform, Pinshape is an online community and marketplace which showcases the work of 3D designers. Users set their own prices for the design file, and can also choose which license to offer their work under. The company is backed by 500 Startups, with offices in Vancouver, Canada and San Francisco, California.
3. History
Pinshape was founded in 2013 as a place for community collaboration within the 3D printing industry. Programming, engineering and making all play key parts in the structure of the site, which in itself is an archive of available content. If permitted by the creator, designs can either be downloaded or sent directly to a user's 3D printer via an effective browser-to-printer system. This process removes the need to access the design source file itself, and is enjoyed by many because of the increased intellectual property security that it offers.
It is the core structural values within the team of enthusiastic employees, which give the site its individual character amongst the variety of online 3D printing community options. By allowing users to explore, share, download and order 3D prints through their professional service, the platform enables community curation. Particular uploaded models can be prioritised for each user based on behaviour, social interaction, relevance, quality and popularity – and after a number of seed investments and successful funding rounds, its clear that there is a future for this kind of online interaction.
4. Products
With a clear focus on community, exploration, design, and creativity, the company (like many other web-based platforms driving the 3D printing community worldwide) does not offer any material / hardware products. However, the key services and options available to its users stand as essential offerings, providing value in ways beyond simple product suggestions. The site markets the following as its three key uses:
Download 3D Printing Files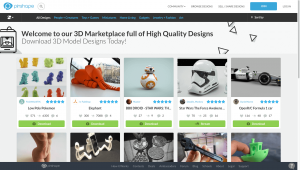 Split into seven categories, from Toys and Games to Home Living, the company provides both free and premium files for 3D printing enthusiasts looking for something interesting to make at home.
Sell Your Designs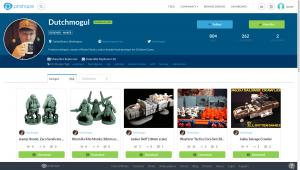 Providing the opportunity to build a user's portfolio and brand in sync with their 3D printing and design skills, the service enables users to make money selling 3D models – or just share them for free.
Pinshape Blog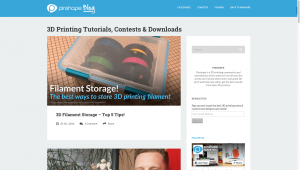 Essentially, this blog on their website is about knowledge sharing and support drive the user group of consumers / enthusiasts logged on to Pinshape. With this in mind, a Blog section informs you to engage further into 3D printing. Staff picks, competitions, materials guides are also interesting.
5. Founders
Lucas Matheson, Nick Schwinghamer, and Andre Yanes, 2013
6. CEO
7. Employees
11 – 50
8. Headquarters And Address
Pinshape
210 128 West Hastings Street Vancouver, British Columbia V6B1G8 Canada
Vancouver, British Columbia
V6B1G8 Canada
9. Contact & Telephone
Email: [email protected]
Telephone: +1-(866)-822-9243
10. Website
11. Facebook & Social Media
License: The text of "Pinshape: Company Profile in 11 Facts" by All3DP is licensed under a Creative Commons Attribution 4.0 International License.
Subscribe to updates from All3DP
You are subscribed to updates from All3DP
Subscribe
You can't subscribe to updates from All3DP. Learn more…