Israeli manufacturer Nano Dimension releases the DragonFly 2020 Pro 3D Printer. It delivers PCB 3D printing for industrial environments.
Nano Dimension is updating and repackaging their unique Dragonfly 2020 3D printer. It's specialty: It can build whole electronic circuit boards in one go. The printer will allow for professional PCB and electronics prototyping on site.
Prototyping of circuit boards takes weeks before they are sent back for testing. Any design revision will take another cycle, which can turn weeks to months. A dedicated machine that prints circuit boards can bring that time down to hours. It also helps companies avoid the risk of exposing their intellectual property to outsiders.
The Pro has been through beta testing to improve upon the original DragonFly 2020 design, released two years ago. It's now ready for commercial release and the Nano Dimension team has scaled up both its size and capabilities.
The company hopes the printer can reshape electronics development as it can 3D print complete circuit boards. The company adds on their website:
"Nano Dimension has developed a PCB 3D printer and a suite of nanotechnology conductive and dielectric inks specifically for PCB professionals, enabling the ability to take full control of PCB development and shortening time to market."
There are many new features which are worth considering, especially the larger size, making the design a floor standing printer, rather than a desktop.
DragonFly 2020 Pro 3D Printer: Capable of Producing Sophisticated Boards
During the beta testing, the company focused on providing a printer which could benefit the projects which customers were working on. The final Pro design offers rapid prototyping qualities and hopes to remove the irritating need for customers to print offsite.
The Dragonfly 2020 Pro's printhead deposits 2-micron height of silver nano-material. It prints 90 Micron (3.5 Mil) trace and pitch and is capable of handling dielectric layers. It even handles non-planar designs. The build volume is 20 cm x 20 cm x 0.3 cm.
Nano Dimension boasts its versatile inkjet deposition and curing system. But, they also offer higher resolution, easier servicing — thanks to higher-end components — and potential for quick upgrades. Nano Dimension explain:
"The DragonFly 2020 3D Printer represents an evolution unlike anything the industry has seen before. The innovative hardware, dedicated nano-inks and novel software offers virtually limitless design flexibility to a wide range of research and development, prototyping and custom manufacturing projects."
By printing onsite, companies can develop circuit boards in part or whole, test them out then redesign and iterate as needed. Not only does the DragonFly 2020 3D Printer hope to make working more streamlined, it could help save money spent on outsourcing printing.
If you'd like to find out more about the printer, visit the company website, here. Or, the company will also be at the TCT Show, later this month, and formnext in November. Put your name down for a brochure, here.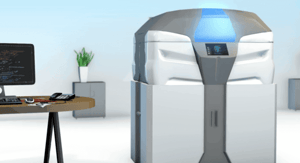 License: The text of "Nano Dimension Unveils Industrial "DragonFly 2020 Pro", an PCB and Electronics 3D Printer" by All3DP is licensed under a Creative Commons Attribution 4.0 International License.
Stay informed with notifications from All3DP.
You get a notification when a new article is published.