Read our big metal 3D printer guide about metal 3D printing at home & industrial, metal 3D printers, technologies, applications and more.
In the last few years, metal 3D printing has become increasingly popular. And rightly so: each material offers a unique combination of practical and aesthetic properties to suit a variety of products, be it prototypes, miniatures, jewelry, functional parts or even kitchenware.
The reason metal 3D printing is so hot is that parts will be serially 3D printed for mass adoption. In fact, some 3D printed parts are already just as good, if not better, than those manufactured by traditional methods.
In traditional manufacturing, making metal and plastic objects can be a wasteful process. Lot's of chunky parts and a lot of surplus material are used. When aircraft makers manufacture metal parts, up to 90% of the material is being cut away. 3D printing metal parts uses less energy and reduces waste to a minimum. Especially, as the finished 3D printed product can be up to 60% lighter compared to the machined part. The aviation industry alone saves billions of dollars through this weight reduction, mainly on fuel.
So, what do you have to know about metal 3D printing? Here's more:
Metal 3D Printer Guide 2017 – All About Metal 3D Printing
1. Metal 3D Printing At Home
What can you do if you want to 3D print metal at home? As extremely high temperatures are needed for metal 3D printing, you cannot use a regular FDM 3D printer for it.
Simply put: There's no way you'll gonna 3D print pure metal at home this decade. And you probably won't have a dedicated metal 3D printer standing in your home until 2020. But in some years, as nanotechnology evolves, we might to see a substantial growth in new applications. Like conductive 3D printable silver that can be ink jetted using a system very similar to the 2D graphic printer, you have at home. Even mixing different materials, like plastics and metals into the same object, is going to be possible.
These are Materials for Home Metal 3D Printing
Even if you can't 3D print metal objects at home, you can still resort to plastic filament with added metal powders. ColorFabb, ProtoPasta or TreeD Filaments offer interesting composite metal-PLA filaments. These are filaments that contain a significant percentage of metal powders but provide enough plastic to be printed at low temperature (200 to 300 degree Celsius) with just about any 3D printer. At the same time, they contain enough metal to look, feel and even weight of a metallic object. The iron-based filaments even form rust in certain conditions.
But you can go even further. Usually, metal 3D printer filament has 50 percent metal powder added. Dutch 3D printer filament company Formfutura claims they have ramped the ratio up to 85 percent metal powder and 15 percent PLA. The metal 3D printer filaments are called MetalFil Ancient Bronze and Metalfil Classic Copper. You can even print it at "moderate" temperatures of 190 to 200 degree Celsius.
These are the key facts of metal 3D printer filament for home use
Unique metallic finish and appearance
Ideal for jewelry, statues, home hardware, or artifact replicas
High durability
Low flexibility, depends on structural design
Not soluble
Not considered food safe
General print temperature range is 195°C – 220°C
Very little shrinkage during cooling
Heated bed not required
Printing difficulty is high, requires fine-tuning of nozzle temperature, flow rate, and post-processing
Prepare your Home 3D Printer for Metal 3D Printing
As metal 3D prints are usually more difficult to achieve, you also might want to upgrade your 3D printer nozzle, especially if you are using a beginner's 3D printer. Metal 3D printer filament tends to it wear off quickly. There are durable printer hotends (E3D's V6 Hotend, for example), which are made from metal itself, withstand high temperatures and which you can mount on most 3D printers. Be prepared you will have to replace the 3D printer nozzles more often, as the metal 3D printer filament can be very abrasive.
Also, you should be aware you'll probably need a proper finishing process (brushing, sand grinding, greasing, waxing or coating) of your metal 3D print to make it really "shine".
What's the price of metal 3D printer filament?
So, what's the metal 3D printer filament price? Here are some examples:
You find some metal 3D printer filaments for home use right here.
2. Industrial Metal 3D Printing

But what if you want better results or even full metal 3D prints? Should you buy a metal 3D printer for your business? We wouldn't advise it unless you want to 3D print metal every day. The price for a pro metal printer is high: a professional metal 3D printer from EOS or Stratasys will set your business back from $100.000 to $500.000. Also, the costs will rise as you need someone to operate and maintain the machine and also to finalize the print (i.e. polishing).
Simply put: Right now, there is no affordable metal 3D printer.
Lower the costs of metal 3D printing
Unless you want to start a 3D printing metal business and you need a professional part 3D printed in metal, you should better use a 3D printing service to suit your needs. 3D printing services like Shapeways, Sculpteo, and iMaterialise offer direct metal 3D printed parts.
Currently, their offer consists of these 3D printing metal materials:
aluminum / aluminium
steel
brass
copper
bronze
sterling silver
gold
platinum
titanium
If you're a goldsmith, you can also order wax models for casting special metals.
Speaking of wax models: They offer most 3d printed metals (including gold and silver) through a lost wax casting process. Not everything is 3D printed at their factories directly. They generally turn to other services that are specialized in metal 3D printing to carry out the order. But the number of "metal 3D printing services" is growing rapidly all over the world. Also, the metal 3D printers get more common at 3D printing services.
The reason big companies like it so much is that it can be used to build fully automated factories which can produce "topologically optimized" parts. This means it's now possible to perfectly distribute the material in a component in order to make it thicker only where it needs to withstand more stresses, thus drastically reducing the weight without sacrificing structural integrity. However, this is not the only technology out there. Some are significantly more affordable and even accessible to any user.
Please be aware that 3D printing metal needs special CAD Design. Shapeways offers dedicated 3D printing metal guidelines that's worth a look. For even more advanced information, take a look at Statasys' information on metal 3D printers and the nuances of metal 3D printing.
Here are some examples of 3D printing metal prices of the common Benchy test model:
Metallic Plastic : $22.44 (former "Alumide", PLA with aluminum)
Stainless Steel: $83.75 (plated, polished)
Bronze: $299.91 (solid, polished)
Silver: $713.47 (solid, mirror polished)
Gold: $87,75 (gold plated, polished)
Gold: $12,540 (solid 18k gold)
Platinum: $27,314 (solid, polished)
As to be expected, the prices for solid metal 3D printing go up quite high.
3. Metal 3D Printing for Engineers and 3D Designers
So, what do engineers and designers have to know about 3D printing metal?
Metal 3D Printing Technologies
First of all, there three different metal 3D printing methods you should know about.
DED metal 3D printing. This 3D printing technology sends a highly concentrated metal powder stream through an extruder nozzle. The powder is then molten by a laser which solidifies it. DED (Directed Energy Deposition) is great for printing large objects that don't have too many intricate details. DED metal 3D printing also can be used to repair broken parts. There's also the possibility to use wire instead of powder, but it's less accurate.
Metal Binder Jetting applies a liquid binding resin onto a powdered metal material. This 3D printing metal technology is fast, relatively cheap, and can also be used to create large structures. The drawback lies within the process: the objects' strengths and density can't be compared to the real thing. You can post-process binder-jetted parts to make them stronger, but this will cost you some additional time.
Powder bed fusion is currently the most popular metal 3D printing process. A laser melts the material in a powder bed, thus creating the object layer by layer. The process is slow, also, it requires more careful design approach. But the results pay off: The results usually are strong and durable.
You can find more on the metal 3D printing technologies here.
Things you should consider when 3D printing with metal
There are some common misconceptions when it comes to 3D metal printing.
Every metal 3D printing material has certain properties you have to consider of in the designing process. You can get the specifications from the manufacturer or the metal 3D printing service directly.
Most 3D designs can't be just 3D printed in metal without additional design changes. So you just can't a part that was designed for plastic 3D printing and start printing away in metal.
Also, most 3D objects designed for CNC milling aren't compatible with metal 3D printing. CNC objects have more volume – if you just print this object in metal, it would be very costly.
Objects printed on metal 3D printers do have different properties than cast metal objects.
With that said, the benefits of 3D printing metal are great.
+ reliable with consistent results
+ can create lightweight objects, making it the darling technology of the aerospace business.
+ objects can be strong
+ creates minimal waste
+ can print unique, complex structures that can't be made with casting.
The drawbacks are
– finding the right parameters for metal 3D printing while designing can be demanding
– cannot be used for mass production
– takes a lot of time to produce
– cannot produce very big parts
4. Metal 3D Printing Services
Worldwide, there are more than 100 companies offering their services to 3D print metal objects for you. Here are the most popular metal 3D printing services for consumer use.
If you want to dig deeper, please check All3DP's overview on the Best 3D Printing Service 2017 - Top 33 Online Services
The most popular 3D printing services Shapeways & i.materialise can be accessed via ALL3DP's Best Price 3D Printing Service, where the actual prices can be compared in real-time.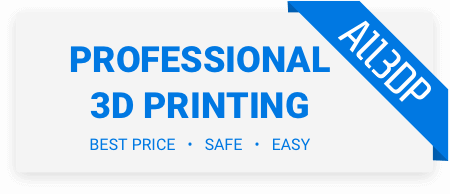 Metal 3D Printing Service #1: Shapeways
World's most popular online 3D printing service Shapeways offers two services. As a consumer, you choose from a broad array of professionally designed items, customize them and have them printed to your specifications. Similar to other 3D printing services, Shapeways offers storefronts to designers to sell and print their work. Shapeways is also suitable for rapid prototyping – customers will profit from industrial grade printers (EOS, 3D Systems) and dedicated technical support.
3D Printed Metals: Aluminum, brass, bronze, gold, platinum, precious plated metals, silver, steel. Also castable wax for jewelers.
Note: Shapeways can also be accessed via ALL3DP's Best Price 3D Printing Service, where the actual prices can be compared to i.materialise and Scuplteo in real-time.
Metal 3D Printing Service #2: Sculpteo
Like Shapeways and i.materialise, Sculpteo is an online 3D printing service that allows anyone to upload 3D models and have them fabricated in a wide variety of materials. In keeping with its competitors, Sculpteo also allows individuals and professionals to open up an online storefront and sell their designs to the public. Sculpteo's stable of printers includes high-end machines by 3D Systems, EOS, Stratasys, and ZCorp. Its extensive technical documentation will help you detect design flaws and choose the right material for your project.
3D Printed Metals: Alumide (plastic added with aluminum particles), brass, silver.
Note: Sculpteo can also be accessed via ALL3DP's 3D Printing Service, where the actual prices can be compared to i.materialise and Shapeways in real-time.
Metal 3D Printing Service #3: i.materialise
Materialise is a company that works with industrial clients to produce prototypes and 3D printed products. But for the general public and individual designers, Materialise offers an online 3D printing service called i.materialise. Like Shapeways, the online 3D printing service allows anyone to upload their 3D designs and have them printed out. Once an object has been uploaded and successfully printed, a designer can offer it for sale either via the gallery on the i.materalise online store, or embedded on their website.
3D Printed Metals: Alumide (plastic with added aluminum powder), brass, bronze, copper, gold, silver, steel, titanium.
Note: i.materialise can also be accessed via ALL3DP's 3D Printing Service, where the actual prices can be compared to Shapeways and Sculpteo in real-time.
Metal 3D Printing Service #4: 3D Hubs
Via the 3D Hubs, you can search for individuals and businesses that offer 3D printing services in your area, upload your STL file for an instant estimate, and connect with them directly to get the job done. The online 3D printing service also allows you to filter by materials, by user rating, by distance, and multiple other factors. Regardless of the type of item you want to have printed, there's likely someone in your vicinity who can print it for you. A considerable number of materials can be printed in industrial quality, these are marked as »HD« in the search field.
3D Printed Metals: Aluminum, bronze, cobalt chromium, stainless steel, titanium.
5. Metal 3D Printing Applications
There are some industrial sectors that already use metal 3D printers for everyday objects – you may not even know they are 3D printed.
The most common ones are medical and dental implants, which are already considered the best available option for the patients. The reason: They can be adapted to the individual needs.
The second section is jewelry. Here, most of the manufacturers are switching from resin 3D printing and lost wax casting to direct metal 3D printing.
Also, the aerospace industry is becoming more and more dependent on 3D printing metal objects. Ge-AvioAero in Italy was the first full 3D printing factory in the world. It makes components for the LEAP jet engine.
The next industry to use metal 3D printers will be in the automotive sector. BMW, Audi, FCA are already seriously considering it, not just for prototypes (where they have used 3D printing for years), but also for actual parts.
But before metal 3D printing really takes off, some hurdles will need to be overcome. Primarily it's the high cost, which can't be scaled down through molds; also the low speed of production is problematic for 3D printing metal objects.
6. Metal 3D Printing Technologies 
There are many things to say about metal 3D printers. However, the main issues are the same as with any 3D printers: software and hardware limitations, materials optimization and multi-materiality. We are not going to talk about software much, other than to say that most large publishers like Autodesk, SolidWorks and solidThinking are all working products to exploit as much as possible the fact that metal 3D printing processes can produce any shape imaginable.
In general, 3D printed metal parts can be as strong as traditionally manufactured metal components. The parts created with DMLS have mechanical properties equivalent to a cast metal part. Also, the porosity of an object made by a good metal 3D printer can reach a 99.5% density. In fact, manufacturer Stratasys claims 3D printed metals are above industry standards for density testing.
3D printed metal is available in several resolutions. At its highest resolution, the layer thickness is 0.0008" – 0.0012" and the X/Y resolution is 0.012" – 0.016". The minimum hole diameter is 0.035" – 0.045".
We will, instead, begin by taking a look at what the available metal 3D printing technologies are:
Metal 3D Printing Process #1: Powder Bed Fusion
The metal 3D printing process that most large companies are taking into consideration today is known as "powder bed fusion". This means that an energy source (a laser or another energy beam) fuses an "atomized" powder (which means it broken up into perfectly round, tiny, spheric particles) to create the layers of the objects.
There are eight major metal 3D printer producers in the world that already use this technology in their machines; more are entering the market as we speak. Most of them are located in Germany. Their technologies go by the acronym SLM (Selective Laser Melting) or DMLS (Direct Metal Laser Sintering).
Metal 3D Printing Process #2: Binder Jetting
Another professional approach, which also uses a power bed, is "binder jetting". In this case, the layers are formed by gluing together the metal particles and later sintering (or melting) them together in a high-temperature kiln, just like you would do for ceramics.
One other possibility, which is also similar to ceramics-based crafts, is to mix the metal powder into a metal paste. Using a pneumatic extrusion 3D printer (like a syringe bioprinter or a low-cost food printer) to form the 3D objects. Once you have 3D printed the desired shape, the objects are once again sintered in a kiln.
This approach is used by Mini Metal Maker, possibly the only truly affordable metal 3D printer out there.
Metal 3D Printing Process #3: Metal Deposition
You might think that the only 3D printing process "missing" from metal 3D printing is fused filament deposition but that is not entirely true. Of course, you cannot really fuse metal filament on your desktop and make something with that. However, the very large industrial metal manufacturers can. And do. There are two ways to go about "depositing metal".
One is called DED (Directed Energy Deposition) or Laser Cladding. It uses a laser beam to fuse metal powder as it is slowly released and deposited to form the layers of an object by an industrial robotic arm.
This is usually done inside a closed chamber, however, a recent MX3D project implemented a similar approach to 3D print a real size bridge. The other is called EBAM (Electron Beam Additive Manufacturing), a type of soldering process, where a very powerful electron beam is used to fuse a 3 mm thick titanium wire and the molten metal is shaped into very large metal structures. Unless you work for the US Defense department you are unlikely to run into this technology, though.
7. 3D Printing Metals
3D Printing Metal #1: Titanium
Pure titanium (Ti64 or TiAl4V) is one of the most commonly used metals for 3D printing and it is certainly one of the most versatile, as it is both strong and light. It is used both in powder bed fusion and binder jetting processes, mainly in the medical industry (to make personalized prosthetics) and the aerospace/automotive/tooling industries (to make parts and prototypes). The only catch? It is highly reactive, which means it can easily explode when it is in powder form. That is why it needs to be 3D printed in a vacuum or in an argon gas atmosphere.
3D Printing Metal #2: Stainless Steel
Stainless Steel is one of the most affordable metals in 3D printing. At the same time, it is very strong and can be used in a large variety of industrial and even artistic/design applications. This type of steel alloy, which also contains cobalt and nickel is particularly hard to break while at the same time it has very high elastic properties. It is used almost exclusively for industrial applications.
3D Printing Metal #3: Inconel

Inconel is a superalloy produced by a company called Special Metals Corporation, that registered the name. It is composed primarily of nickel and chrome and it has a high-temperature resistance. This is why it is used mainly for applications in the oil, chemical and aerospace industries (for airplane black boxes)
3D Printing Metal #4: Aluminum
Because of it lightness and versatility, Aluminum is now a very popular metal for 3D printing applications. It is used primarily as different Aluminum based alloys.
3D Printing Metal #5: Cobalt Chrome
This metal alloy has a very high specific strength (which is its strength divided by its density, which basically indicates the force required per unit area at failure). It is most commonly used to produce turbines, dental implants, and orthopedic implants: all areas where metal 3D printing is becoming the preferred manufacturing method.
3D Printing Metal #5. Copper and Bronze
Apart from some exceptions, copper and bronze are mostly used in lost wax casting processes and not so much in powder bed fusion processes. That is because they are not ideal for industrial applications and are more commonly used in arts and crafts. colorFabb offers both metals as a base for its special metal filaments.
3D Printing Metal #6: Iron
Iron – even magnetic iron – is also mostly 3D printed as an additive to PLA based filaments such as the ones produced by ProtoPasta and TreeD.
3D Printing Metal #7: Gold, Silver and Other Precious Metals
Most powder bed fusion companies can 3D print with precious metals such as gold, silver and platinum. The challenge here, along with maintaining the materials aesthetic properties, is to make sure that the precious powder management is optimized. Precious metals are 3D printed both for jewelry, medical and electronics applications.
8. Metal 3D Printers
Rest assured, a metal 3D printer will strain your budget. It will cost you at least $100.000 to $250.000. Here's a variety of metal 3D printers, some of which you can find at 3D printing services.
Metal 3D Printer #1: Sciaky EBAM 300 – Metal Filament 3D Printing
If you had to 3D print really large metal structures, your best choice would be Sciaky's EBAM technology. It's capable of offering just about any size with machines built on demand. This metal 3D printer is used mainly for the US aerospace and defense industries.
Sciaky's largest regularly available system is the EBAM 300. It has a build size envelope measuring 228" (5791 mm) width x 48" (1219 mm) depth x 48" (1219 mm) height.
The company claims that the EBAM 300 is also one of the fastest industrial 3D printers commercially available. This metal 3D printer can produce a 10-foot-long titanium aircraft structure in 48 hours at a rate of approximately 15 lbs. of metal per hour. In general, forgings that used to take 6-12 months to complete can be completed in 2 days with this metal 3D printer.
Sciaky's unique technology uses a high power electron beam gun to melt a 3 mm thick titanium filament, with standard deposition rates ranging from 7 to 20 lbs. per hour.
Metal 3D Printer #2: Fabrisonic UAM – Ultrasonic Metal 3D Printing
Another way to 3D print large metal parts is through Fabrisonic's Ultrasound Additive Manufacturing Technology (UAM). Fabrisonic's production machines are three-axis CNC mills, which have an added welding head for additive manufacturing.
In this metal 3D printer, the metal layers are first cut and then welded together using ultrasound. Fabrisonic's largest 3D printer, the 7200, has a build volume of 6″ x 6″ x 3″ (2 x 2 x 1.5 meters).
Metal 3D Printer #3: Concept Laser XLine 1000 – Powder Metal 3D Printing
The largest powder metal 3D printer currently on the market is Concept Laser's XLine 1000. It has a build volume of 630 x 400 x 500 mm, and is as large as a single story house.
The German company, which is one of the primary 3D printer suppliers of huge aerospace companies such as Airbus, has recently introduced a new printer, the Xline 2000.
The 2000 has two lasers and even larger build volume of 800 x 400 x 500 mm. This metal 3D printer, which uses Concept Laser's LaserCUSING (a type of selective laser melting) technology, can 3D print objects in alloys of steel, aluminum, nickel, titanium, precious metals, and even some pure materials (titanium and high-grade steels.)