For the latest installment of its Design Series a MakerBot industrial designer reverse engineered a micro drone, using 3D printing to create a new outer shell for the motors, electronic boards and battery.
If you have your own micro drone and feel little underwhelmed by its aesthetics and durability, why not try redesigning and printing your own outer shell? This is exactly what Felipe Castañeda  over at MakerBot did, documenting the process in one of the company's design case studies: the MakerBot Design Series.
Castañeda is an industrial designer MakerBot. Turning his talents to the inner workings of a micro drone, he opted to reverse engineer the micro machine to iterative on its design, improving it using 3D printing.
MakerBot explain in a press release: "Reverse engineering is one of the best ways to learn how a product works, while also sharpening other design and engineering skills in the process."
Castañeda began by disassembling the original drone to expose the components and learn about how they interact. There was a main board, an image board, a battery and four motors for the rotors.
He wanted to change the overall structure and make his redesign more durable "because crashing drones is fun". However, its weight needed to be close to the original.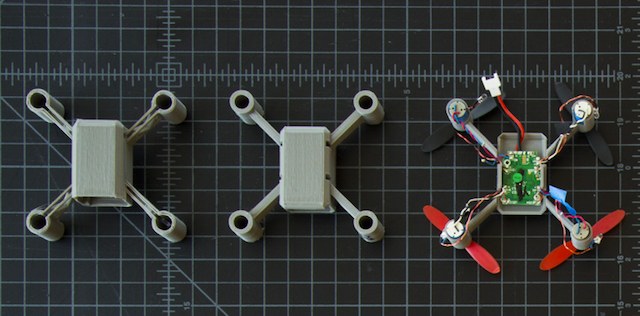 Back to the Drawing Board: Redesigning a Micro Drone
Castañeda explains that calipers are a must for this project. He took all of the measurements needed and designed blind solids in CAD. It's important get your dimensions down to at least 100 micrometers.
The blind solids work as placeholders for the drone's fixed constraints and helped Castañeda understand the spatial relationships better. From these, he was able to decide what to change.
For example, he improved on the arm structure to improve cable routing and durability. Explaining the decision to do so, he claims the new hull design is more "kid friendly". Using MakerBot's own Replicator+ 3D printer Castañeda printed five different fixture schemes of the drone's body.
Castañeda made sure to label everything before taking it off the build plate to make assembly easier. However, after all of this work, he adds that assembly was where he learned the most. This step resulted in Castañeda going back to the drawing board to perfect the arms and component layouts.
However, he didn't give up. He explains that through reverse engineering, you learn "about the intentionality of design and manufacturing decisions and get to play a bit of forensics with why and how things are laid out the way they are. In this case, it was about hunting for opportunities for improvement, and the incremental improvements that define the iterative design
process. Now, lets fly this thing!"
The MakerBot Design Series will be releasing a new project every month, check out this month's in full.
License: The text of "MakerBot Design Series Improves a Micro Drone using 3D Printing" by All3DP is licensed under a Creative Commons Attribution 4.0 International License.
Subscribe to updates from All3DP
You are subscribed to updates from All3DP
Subscribe
You can't subscribe to updates from All3DP. Learn more…