Couldn't attend this year's Maker Faire in Rome? Here are the best new 3D printing products, filaments and projects.
With tens of thousands of visitors over the course of three days, the latest Maker Faire Rome took place at the La Sapienza University in Rome. The show was a huge success, demonstrating the maker movement in Italy is truly thriving.
The irony of students protesting outside because they were "locked out" of their own University is just another example of how strange things in Italy can get; even when something awesome is taking place. In the end, families, children of all ages, makers and 3D printing professionals all contributed creating a truly spectacular show. Dozens of interesting new products were displayed and announced, mostly by Italian manufacturers, especially with respect to affordable 3D printing.
1. Best of the Maker Faire Rome
The biggest announcement in this sense was the official launch of the XFab SLA 3D printers by DWS, exactly two years after it was first presented. This is an SLA system which already supports ten different materials and has a cylindrical print volume of 18 cm. Although it costs €5,000, it can offer performances and reliability that rival much more expensive professional SLA systems. It is going to make DWS into a serious contender to Formlabs' current leadership in the low cost SLA market.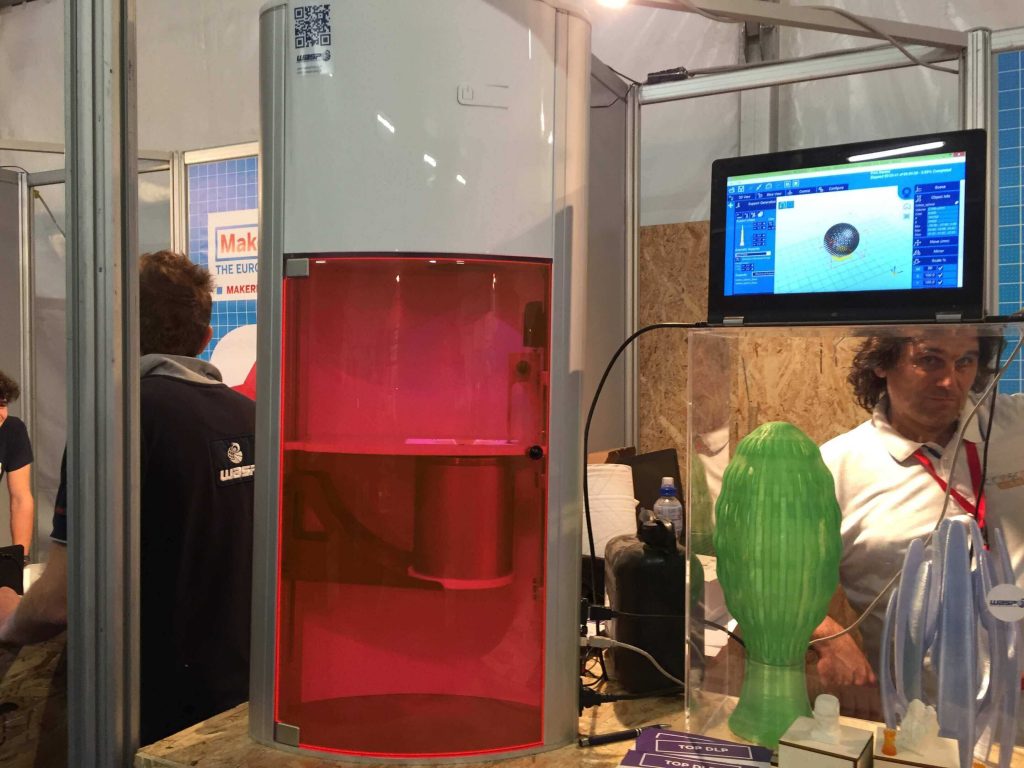 Other huge (literally) products included WASP's 12 meter tall BigDelta. It was set at the main entrance of the show, amazing the public with its cement 3D printing capabilities. At its stand, WASP also showed off its new TOP DLP 3D printer, an open source system that represents the Italian company's first venture into resin-based 3D printing.
2. Best New 3D Printers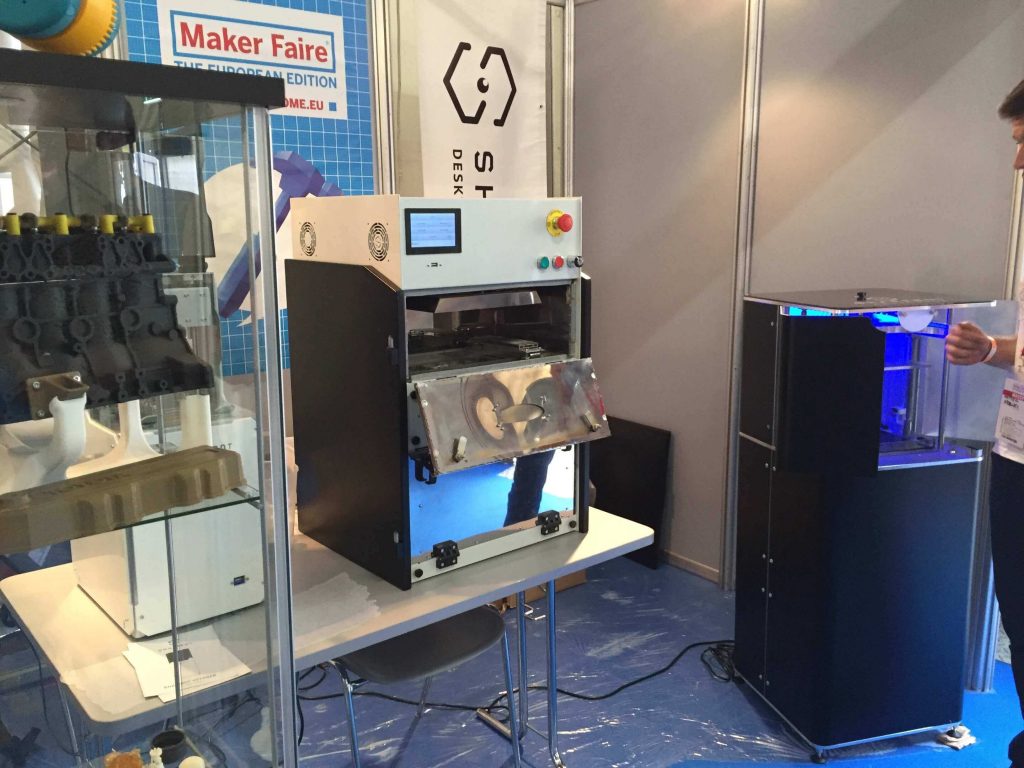 The current Italian leaders of low-cost 3D printing, Sharebot, FABtotum and Kentstrapper, all were at the show with their latest products. For Sharebot, this means primarily the SnowWhite low-cost SLS system – the only SLS 3D printer present at the Maker Faire – and the new Andromeda large size SLA 3D printer. Kentstrapper presented its newest 3D printer, the Zero, which has an enclosed print volume and self-balancing plate.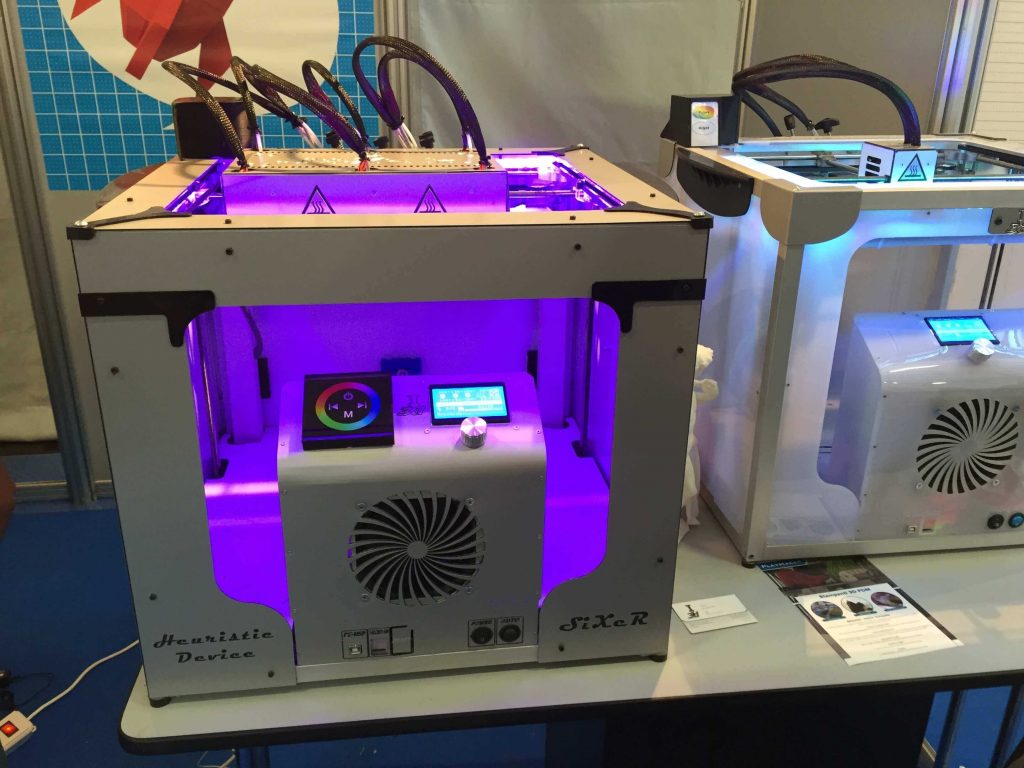 Some of the biggest news came from some less known companies. 3dprn.com presented a whole new line up with two new large size Strato models, but the most innovative large 3D printer on display was the Pivot Maker built by a company called I3D. It presented six extruders capable of printing with as many as three different materials at the same time, for real small series manufacturing.
Another "industrial" 3D printer was that shown off by 3DPRN, which presented a double head capable of both additively build and subtractively rectify the same part independently. One more interesting prototype was the "Flux Channel" by Immagina e Crea, which allows for triple color 3D printing through the same extruder.
3. Best New Filaments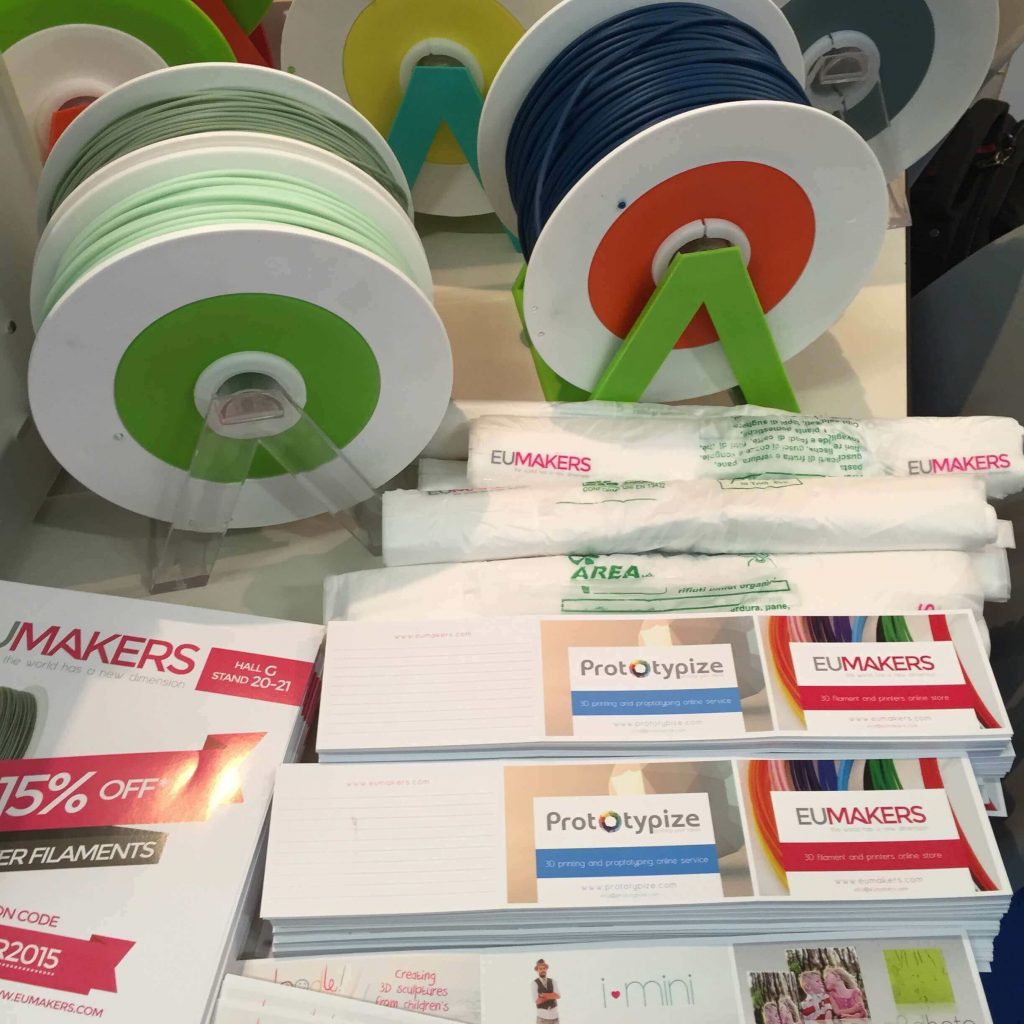 At this year's event, many filament producers focused on sustainability and thus recyclability. EUMAKERS – which already offers almost 100 different color filaments – developed an awesome looking light green PLA filament made from the industrial waste deriving from the production of plastic bags.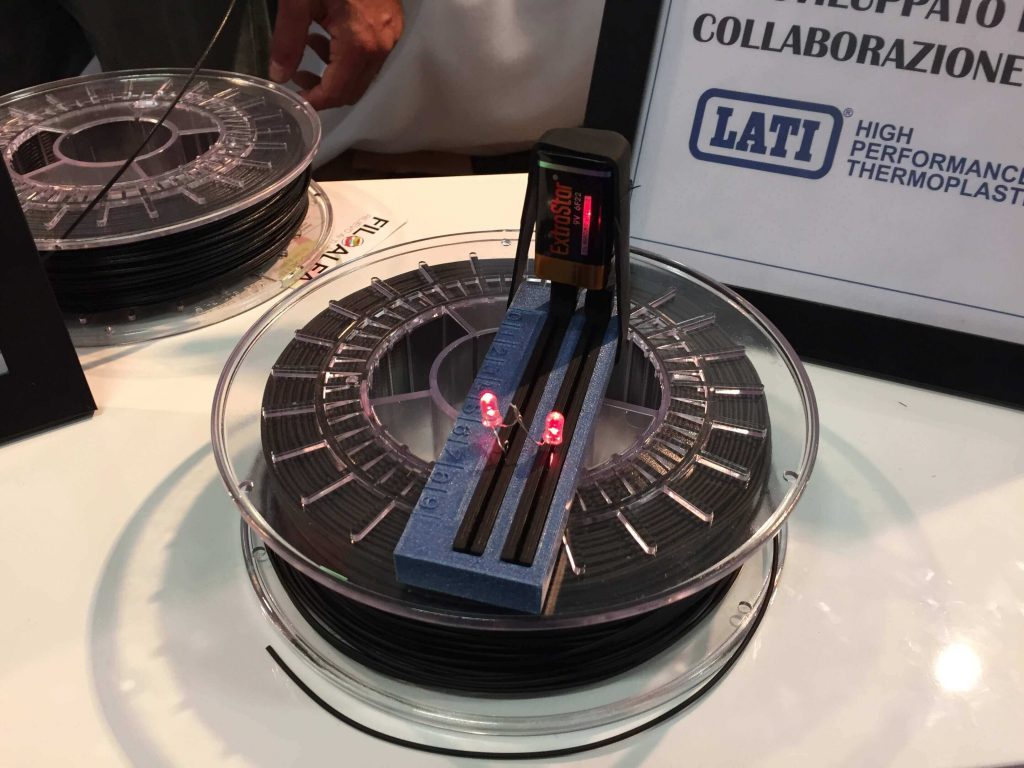 Next up is Tryeco, a 3D studio that launched project 3-eco, with pellets and filaments made from all different types of recycled plastics. FiloAlfa also launched a new recycled PLA product and also presented an amazing new highly conductive filament, capable of lighting up two LED with a small battery.
4. Best New 3D Printed Products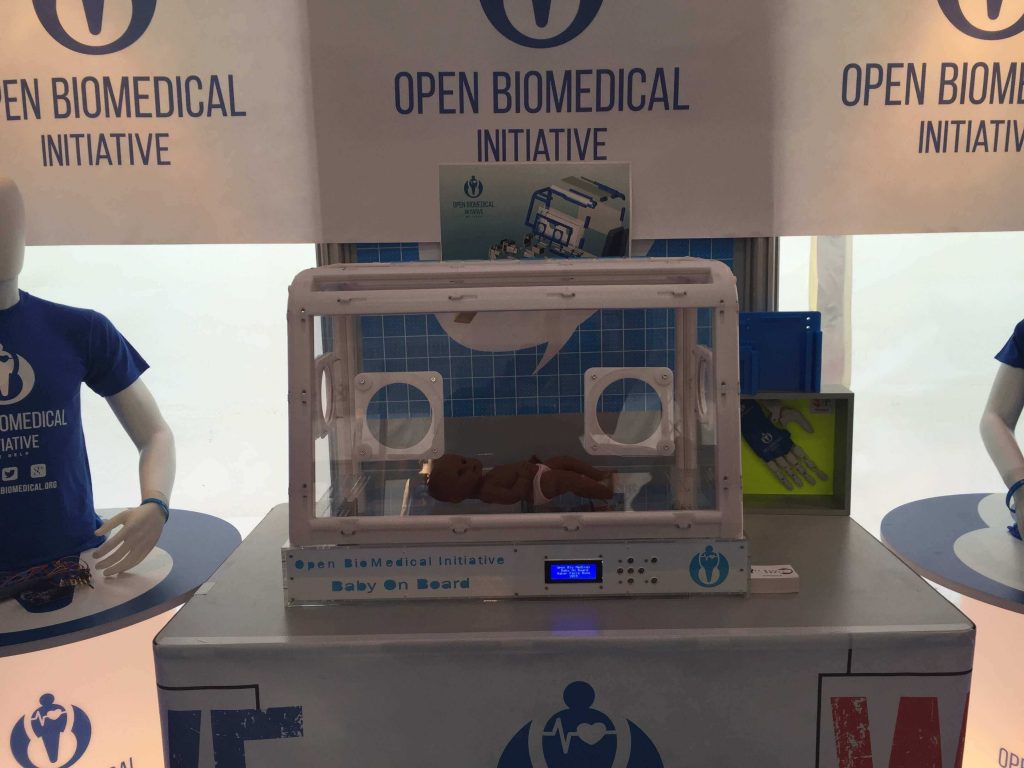 OBM, Open Biomedical Initiative, finally presented the 3D printed version of its BOB (Baby on Board) prototype. This low-cost, almost entirely 3D printed baby incubator was created for the use in developing nations. OBM also presented several other projects, including two 3D printed prosthetic hands (WIL and FABLE) and has built a network of enthusiastic volunteers who strive to use 3D printing and open source technologies to make the world a better place.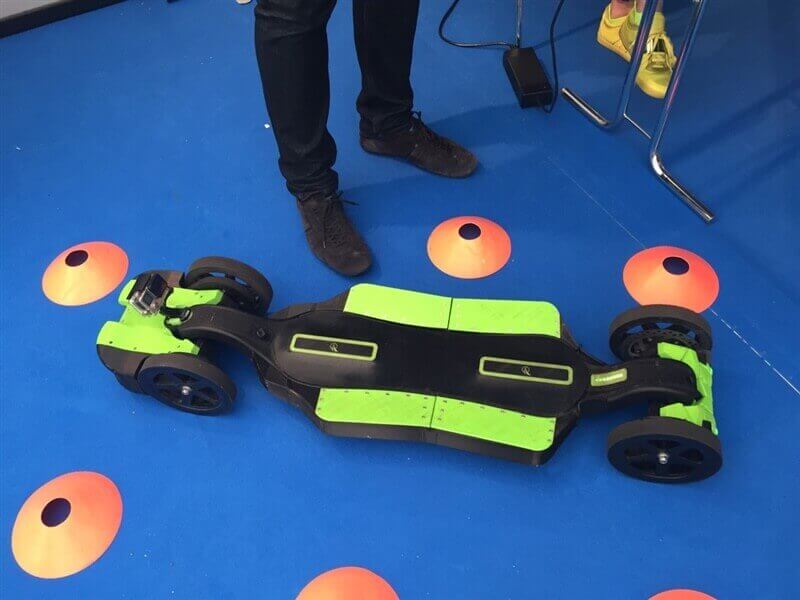 On the opposite side of the spectrum, among the many drones flying around, is Faraday Motion. That's an awesome looking electric skateboard (although calling it a skateboard is a bit limiting) that is entirely 3D printed. Its creators call it an "open hardware platform for personal mobility" and the basic model is already available to download and 3D print at home. Soon, through a partnership with 3DiTALY, Italy's main chain of 3D print shops, and Ultimaker, several different 3D models will be available as ready to assemble kits.
These are just some of the hundreds of products on display. In some prototypes – such as automatic greenhouses or drones – 3D printing was not even so apparent, but it was just the only way they could be made. This is the true revolution of this year's Maker Faire.
License: The text of "Maker Faire Rome: The Best of 3D Printing" by All3DP is licensed under a Creative Commons Attribution 4.0 International License.
Subscribe to updates from All3DP
You are subscribed to updates from All3DP
Subscribe
You can't subscribe to updates from All3DP. Learn more…