exhaustive list of 3D figurine shops from around the world. And if you are a shop owner, please drop us a line, so we can add you to our list.
Cool Figurine #1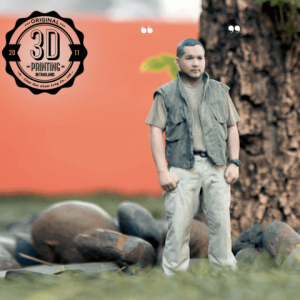 As of May 2014, Me Limited Edition is the only 3D figurine service in Bangkok, Thailand.
Cool Figurine #2
Slackers on the move: Twinkind portraits the relaxed lifestyle of Berlin, Germany.
Cool Figurine #3
Read more books (about 3D Printing): The figurines from My 3D Avatar strike a pose.
Cool Figurine #4
Not only for young urban hipsters: Businessmen in London also love to be 3D'ed from Levavo.
Cool Figurine #5
Portrait all your loved ones: Pets are also immortalized by Captured Dimensions in Dallas, USA.
Cool Figurine #6
Unfortunately, you can't let your little figurine answer your phone… might solve a lot of problems. The figurines from the French service Avatar é moi.
License: The text of "Looking good: 3D Printed Figurines around the World" by All3DP is licensed under a Creative Commons Attribution 4.0 International License.
Subscribe to updates from All3DP
You are subscribed to updates from All3DP
Subscribe
You can't subscribe to updates from All3DP. Learn more…