In short: Maurizio Casella designs 3D printable car replica, which are fun to print and easy to assemble. Each designs is just $4,99. 
For those who enjoy assembling toy models, the idea of creating even the single parts through a 3D printer is a very welcome challenge. Just imagine: instead of simply acting as an "assembly plant", 3D printing lets you take on the role of the manufacturer, taking the raw materials and shaping them into the parts to be assembled.
Based on these premises, few people in the world offer more fascinating collectibles than Maurizio Casella.
First Rounds: Ferrari 360 and Ford Cobra
After a career working in advertising in Italy, Maurizio retired very young on Egypt's Red Sea shore and there, between immersions and raising his son, he discovered 3D printing. He purchased a 3D printer and started looking for ways to put his talent to work. His talent for designing 3D printable kit models of cult cars began with some of the most cult vehicles there are: a Ferrari 360 and a Ford Cobra.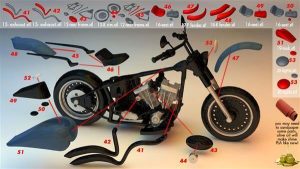 The creative process begins with Maurizio designing all the parts, which takes him from two weeks to a month. All components are then exported as STL files and divided by color into different folders. You just download the zip-file from one of the many 3D model shops that offer them, load them up into the 3D printer and print away.
Today Maurizio offers his creations on several 3D model marketplaces including 3DaGoGo, Cults3D, Pinshape, and Threeding. His collection consists of more than 15 pieces. Models are on sales for $4,99. That's not a large price to pay for something that can offer several hours of entertainment as well as collectability value.
Few things are more collectible than assembled toy models, as they inspire the "Ikea effect", where we naturally tend to assign more value to something we built. If we factor that these models are created by the user starting from a digital design, it is clear that collectors may have found their "Eldorado".
La Dolce Vita: Fiat 500 and Vespa Scooter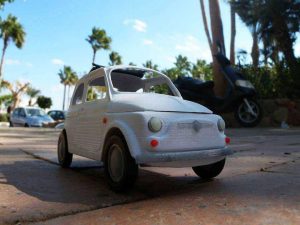 After the first two models, Maurizio understood that to build a real business he had to be able to offer a wide range of products, which could appeal to users worldwide. He thus set out to replicate more cult cars, beginning from his own Italian tradition: the original Fiat 500 (get it here from 3DaGoGo), a car which represented the Italian industrial miracle of the 60's and 70's. Manufactured between 1957 and 1975, it was a small and affordable car that just about anyone could own.
He then took short run into the world of the two wheels, which brought him to design another symbol of Italy's "La Dolce Vita" lifestyle of years past: the Vespa scooter from Piaggio (get it here from Cults 3D). Once again he chose a highly recognizable model that many people could relate with. Cult vehicles, however, are not just Italian and Maurizio felt he had to move on to the European scene.
The European Expansion: Citroën 2CV and Mini Cooper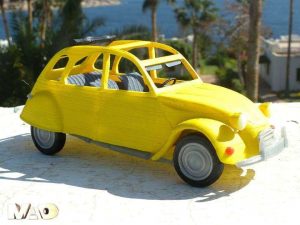 His next creations are inspired by some of the most recognizable vehicles in France, England and Germany. When thinking about Paris the first car that comes to mind is the almost "mythological" Citroën 2CV (get it here from Threeding), which was first introduced at the 1948 Paris Mondial de l'Automobile. In total 3.8 million 2CVs were produced, along with over 1.2 million small 2CV-based delivery vans known as Fourgonnettes.
Moving on to the UK, what car is more significant in our collective memories than the Mini Cooper? The Mini is one of the most customizable cars ever created and a perfect fit for 3D printing. Maurizio's model (get it here from Pinshape) is composed of 13 different parts, all neatly separated into different folders.
German "Fahrvergnügen": Volkswagen Beetle and Porsche 911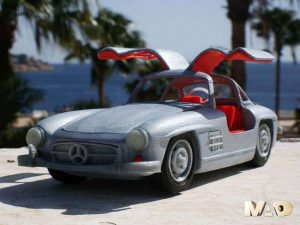 After the Fiat 500, Citroën 2CV and Mini  Cooper the only possible next car up was the Volkswagen Beetle (get it here from Threeding). The rear-engined economy car is probably the most recognizable car on the planet. At this point Maurizio decided he would dedicate his next creations to exploring, or actually, recreate, some of the most successful designs from German car manufacturing.
This led him to create two cars that have inspired a series of cars models still manufactured to this day: the original Porsche 911 Targa (get it here from 3DaGoGo) and the gorgeous 1957 Mercedes SL300 Gullwing (get it here from Cults3D). Maurizio himself described the latter as his "best model ever".
American Style: Harley Fat Boy and Jeep Wrangler
For his next set of inspirations, Maurizio returned to US cars. He first jumped back on the saddle of a motorcycle or, perhaps, what many Americans and Harley Davidson fans throughout the world consider "the" motorcycle: the Harley FatBoy (get it here from 3DWaters). It is the most challenging models he ever created, with over 75 different components – no easy task to print and assemble. Maurizio decided to post a complete set of instructions to guide the 3D printing and assembly process. Next up was the Jeep Wrangler, probably one of the most fun vehicles ever built. What will be next? Maurizio is always open to suggestions so contact him and let him know.
What will be next? Maurizio is always open to suggestions so contact him and let him know.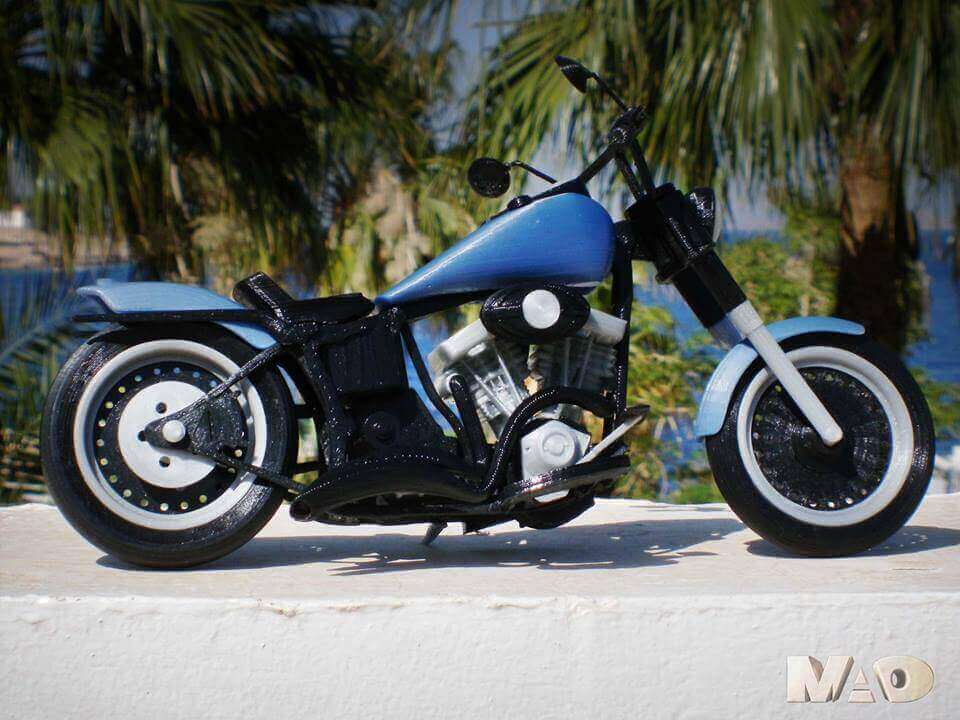 License: The text of "Stunning 3D Printed Car Replica for just $4,99" by All3DP is licensed under a Creative Commons Attribution 4.0 International License.
Subscribe to updates from All3DP
You are subscribed to updates from All3DP
Subscribe
You can't subscribe to updates from All3DP. Learn more…