Unique collaboration between La Poste, online community Cults, and software 3D Slash launches a 3D printing ecosystem to stimulate education and uptake.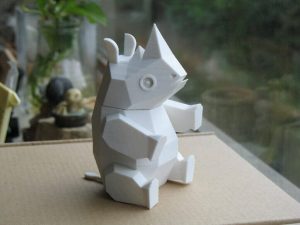 If you're based in France and its been a while since you popped down to the local post office, you may want to pay a visit soon. La Poste Group, the French national postal service, are expanding into the exciting world of 3D printing.
Via their industrial accelerator, Start'inPost, La Poste have teamed up with online community Cults and the French company 3D Slash to bring 3D printing and modeling services to their customers. The goal is to enable everyone — from amateurs to professionals — to have easier access to 3D printing.
The site is called Innovate and Create in 3D, and hosts a variety of 3D printables ranging from artistic pieces, objects for your home, toys, and even architectural models. This adorable papercraft rhino by Amao is a good place to start.
With the new online service, customers can select a model and then contact "advisors", who will respond to any questions about printing costs, technical problems, and prototyping. Or if they choose, customers can simply download the file and print the object themselves without any assistance.
The benefits of using an advisor is that they can also follow up and help throughout the project, so that everything runs smoothly from beginning to end. Plus, if you live within the vicinity of a specialized post office, you can also make an appointment to visit to meet your local 3D advisor.
La Poste provides Learning Tools, too
For those who are interested in learning more about the modeling side of 3D printing, rather than just fabricating the ready-made models, La Poste offer a solution for this too.
The site also includes the ability to create a 3D model, using the integrated 3D Slash modeling software. We're big fans of 3D Slash here at ALL3DP, as our software review and tutorials can attest. 3D models created using this software can be sent on to advisors to make the design a 3D printed reality.
Cross-platform compatibility makes it easy to visit the page from your mobile, tablet or desktop, and the languages are available in either French or English, too. If you're already a member of Cults, then your login details will also connect you to the new platform.
It has to be said, this is a brilliant and forward thinking initiative from La Poste. Here's hoping that other postal services around the world will follow in their footsteps.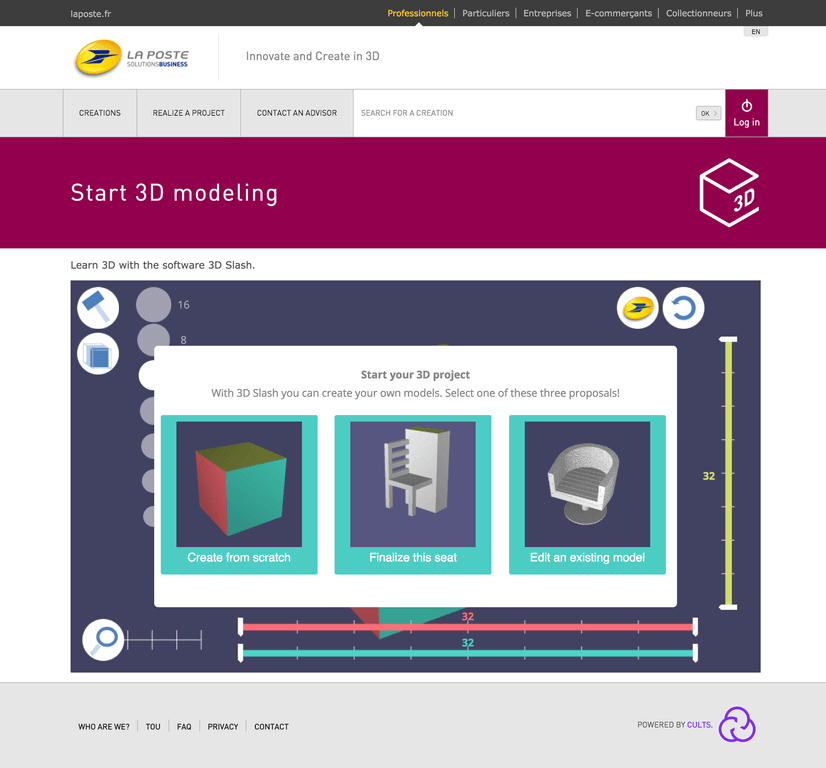 License: The text of "La Poste Launches 3D Creative Space with Cults and 3D Slash" by All3DP is licensed under a Creative Commons Attribution 4.0 International License.
Subscribe to updates from All3DP
You are subscribed to updates from All3DP
Subscribe
You can't subscribe to updates from All3DP. Learn more…