To celebrate this year's UEFA Champions League Final, Dutch brewery Heineken released a trio of 3D print files you can make at home. Is this a new form of marketing, or just a cheap gimmick?
When a major brand like Heineken, the world's third largest brewery group, adopts 3D printing for their marketing strategy, it's a major signifier of shifting public perception. After all, the UEFA Champions League is one of the most hotly-contested football competitions in the world, followed by millions of fans. What was once a technology limited to specialised industries is now very much in the mainstream.
In truth, the Champions League tie-up isn't Heineken's first experiment with 3D printers. In 2012, the group collaborated with Janne Kyttanen of Freedom Of Creation for a project called the "Heineken Ideas Brewery". Within a 48 hour period, Kyattanen's ideas were captured and made manifest in a variety of forms. An assistant used a Cube 3D printer by 3DSystems for rapid prototyping. You can see the video here.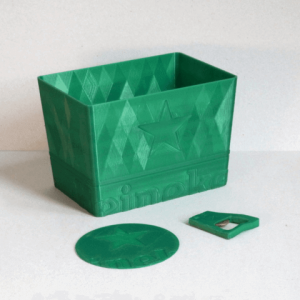 But for the 2015 Champion's League Final between Juventus Turin and FC Barcelona, Heineken unveiled a set of free downloads called the "3D Printable Match Pack". The models are exclusively available from the 3D model repository Cults3D. So what are these amazing and unique items you can 3D print, exactly?
"The brand has released a set of 3D model accessories for football fans, so they can 3D print their own Heineken 'Ice Bucket', 'Coaster' or 'Bottle Opener' to perfectly enjoy the UEFA Champions League." says Cults3D spokesman Hugo Cults. To date, the campaign has been a huge success, and the Heineken bottle opener alone is the third most downloaded item on the site.
And what does this mean for the future of 3D printing and marketing? Is there potential for 3D printable objects to attract attention in cultural spheres outside of sports?
Heineken Scores a Hat Trick
It should be noted that the primary demographic for consumer 3D printers, like football, also happens to be men. Marketing agencies have recognised the overlap and are zeroing in on their targets. Moving forward, how can other brands engage with 3D printing in a way that's innovative and clever? Asking your customers to print a 3D model of a company's logo is just clumsy.
The bottom line is this; if brands want to engage their audience with 3D printing, they have to provide value with the designs they present. The connection between the product they're selling and the physical objects themselves have to be easily made by their audience. Especially if you're asking your customers to invest time and material to 3D print your branded merchandise, and then use it in their living room on match day.
We'll admit, Heineken's marketing team has scored a veritable hat-trick with this campaign. We're keen to see what they come up with next season.
License: The text of "Heineken Refreshes 3D Printers Other Beers Cannot Reach" by All3DP is licensed under a Creative Commons Attribution 4.0 International License.
Subscribe to updates from All3DP
You are subscribed to updates from All3DP
Subscribe
You can't subscribe to updates from All3DP. Learn more…