Leroy the Great Dane has a new "leash of life" thanks to a 3D printed titanium bone implant which helped him beat cancer.
Owner Yvette Wharton knew something was up with her 6-year-old Great Dane when he began limping. She didn't waste any time in taking him to Veterinary Specialists Aukland.
The vets went to work and found a malignant tumor in Leroy's front right leg. They then had a difficult choice to make. To avoid the risk of the cancer spreading, veterinary surgeons had to decide between amputation or a risky operation to save the leg using a 3D printed implant.
The New Zealand vets decided to try the 3D printed option. They only had one shot at getting the surgery right and risked amputating the leg if the 3D printed implant did not fit perfectly. Although they had done similar implants before, Leroy's was the largest case they'd faced.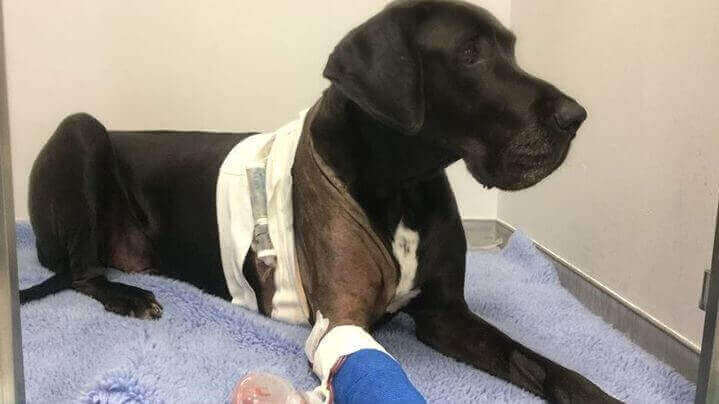 How was the Titanium Bone Implant made?
To help produce an implant which was large enough for the great dane, the services of Axia Design were called upon, an engineering company based in Napier. They began by taking a CT scan of Leroy's leg. This scan was used to design an implant using CAD software.
Surgeons then worked out how much bone needed to be removed. For Leroy's case, about 60 to 70 percent of the dog's radius bone had to go. Together with the engineers, they created an implant which could carry the large pooch's weight.
Jonathan Bray, a Massey University associate professor, oversaw the project. He said: "Leroy actually had to wait for just over three weeks for the implant to be designed and printed — it's the longest time we've actually had to wait for an implant and that was simply because of the size of it."
The implant is 350mm long and surgical grade titanium was used to make it. The print includes a honeycomb structure in the hope that Leroy's own bones will integrate with it.
The benefits provided by 3D printing, such as being able to have a patient-specific implant, are clear. Soon after his operation, Leroy was walking around again. He received chemotherapy to ensure the cancer didn't come back. After just a few weeks his cast came off and he was back to his normal self.
Source: Radio NZ

License: The text of "Give a Dog a Bone (Implant) with 3D Printing" by All3DP is licensed under a Creative Commons Attribution 4.0 International License.
Subscribe to updates from All3DP
You are subscribed to updates from All3DP
Subscribe
You can't subscribe to updates from All3DP. Learn more…