Formlabs releases Dental LT Clear, the first long-term biocompatible resin for orthodontic use, and updates their PreForm dental software.
Ever since Formlabs entered the digital dentistry market in 2016, the esteemed 3D printer manufacturer has quickly collected the largest dental 3D printer user base, growing at an annual rate of 600 percent. Now, thousands of dental professionals are using the company's desktop SLA 3D printers and resin. Therefore, Formlabs is focusing on staying ahead of the curve by keeping up with the specialized market demand.
Don't Miss: Formlabs Fuse 1 3D Printer: Review the Facts Here!
As a result, the company is, this week, launching the first long-term biocompatible resin called Dental LT Clear. The resin is engineered for dental applications on their line of Form SLA 3D printers. The new material can be used to 3D print various orthodontic devices, such as splints and retainers, in a shorter amount of time than any other Formlabs resin can currently muster. Additionally, by using stereolithography (SLA) 3D printing from Formlabs, dentists can shorten wait times and offer a clear material which polishes to high optical transparency.
The company claims that users will be able 3D print a splint on the Form 2 in less than 50 minutes. Even more impressively, dental professionals can print up to seven splints on one build platform in under two hours, shattering traditional lead times for high-quality splints. They're also a lot cheaper to make at a price of just $4 to $6 per splint.
As for software, the company is also releasing updates to their Dental SG Resin and PreForm software. These updates will speed up printing times for surgical guides by up to 50%.
"We couldn't be more excited by how quickly 3D printing is becoming part of the standard of care in dentistry."

Big Smiles for Formlabs 3D Printing Updates
The Dental LT Clear Resin offers enhanced mechanical properties such as high resistance to fracture and wear. Of course, there is also the benefit of producing cheaper and quicker prints. In fact, using traditional methods for dental products often means waiting for long turnaround times and requiring expensive machinery and materials.
A recent study on 80 splints printed with Dental LT Clear Resin on the Form 2 showed that intaglio surfaces of the splints were dimensionally accurate within ± 100 microns over 80 percent of the intaglio surfaces, and within ± 125 microns over 90 percent of the surfaces.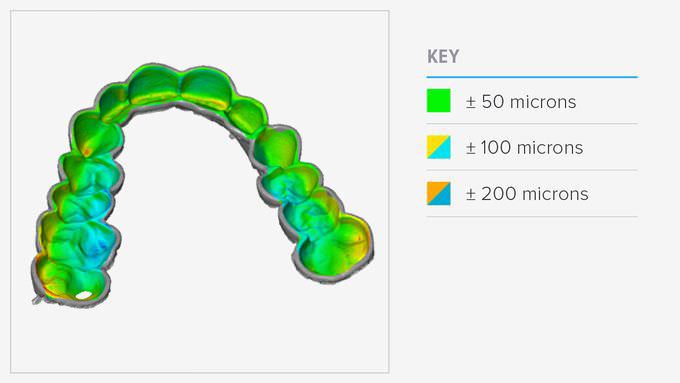 "We couldn't be more excited by how quickly 3D printing is becoming part of the standard of care in dentistry… Dental LT Clear adds yet another digital workflow to a library that offers professionals more efficient, accurate, and affordable production methods, enabling faster treatments for patients with better clinical outcomes. It's only going to continue to grow," said Gideon Balloch, Dental Product Lead at Formlabs.
In addition to the new material and software updates, Formlabs has also been busy developing the new Fuse 1 3D printer. This $10,000 industrial machine will mark their entry into the selective laser sintering market, which just so happens to also be heavily populated by dental professionals.
If you're interested in this jaw-dropping new material, you can either order Dental LT Clear directly from the Formlabs store or, alternatively, contact their in-house experts for more information.
Source: Formlabs Press Release
License: The text of "Formlabs Release New Dental LT Clear Resin; Updates PreForm Software" by All3DP is licensed under a Creative Commons Attribution 4.0 International License.
Subscribe to updates from All3DP
You are subscribed to updates from All3DP
Subscribe
You can't subscribe to updates from All3DP. Learn more…