An engineering student is creating tactile maps with braille to help visually impaired students find their way around campus.
After Tyler Wooten took a 3D printing class at the Engineering Innovation Center (EIC) at Texas A&M University, he was inspired. He began to think about ways he could use his new skills to help others.
He came up with an idea to create a three-dimensional map with raised buildings and braille for visually impaired students.
Wooten reached out to Kaitlyn Kellermeyer, a Texas A&M senior economics student. Kellermeyer lost her sight completely when she was a freshman.
She had worked on other advocacy projects on campus for the visually impaired and was happy to help Wooten.
"When I lost my sight, I lost the ability to use a map," Kellermeyer said. "This has been awesome for me to have that ability again."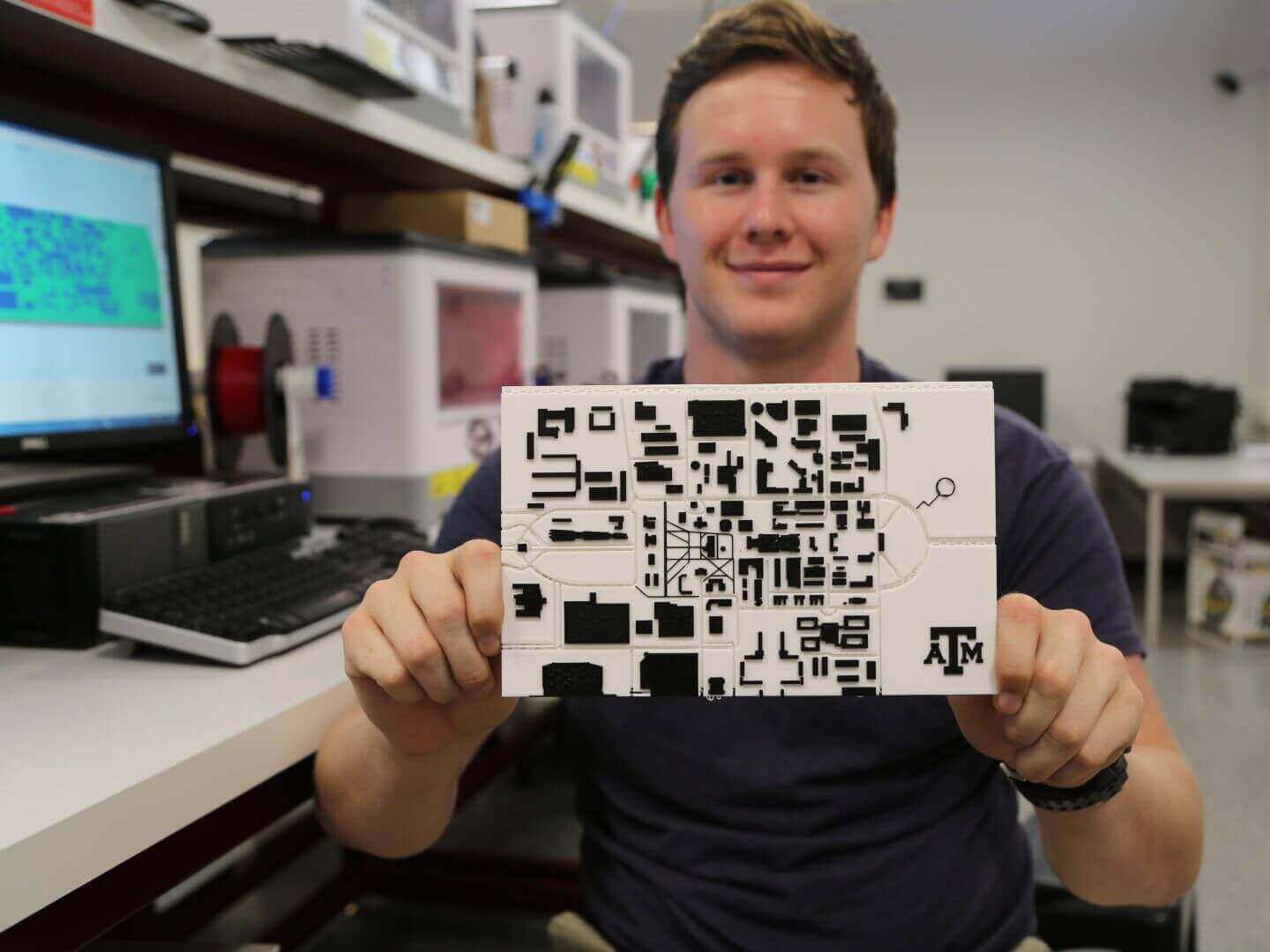 How were the Tactile Maps made?
Tracey Foreman, assistant director of disability services at Texas A&M, said: "Having access to a tactile map allows a visually impaired individual to better understand the scale, size and proximity that cannot always be gathered solely by walking around or having something verbally described to the individual."
After speaking with Kellermeyer, Wooten went home and downloaded SolidWorks and got to work right away. His first tactile map was printed that week.
"She shrieked the first time she held it," Wooten said of Kellermeyer. "It was awesome to see it transform from an idea to something that could actually help."
Each map takes around ten hours to complete. Wooten would drive to College Station twice a week over the summer, working long hours in the EIC.
However, thanks to this persistence, Kellermeyer now has more freedom to explore. She even uses the map to help her sighted friends find their way around campus.
Wooten has great plans for the future and has already taught his friend how to use Solidworks to help meet demand.
He's already working on tactile maps for Westbrook Intermediate School in League City and the Brazos Valley Center for Independent Living in Bryan.
Let us know what you think of Wooten's design in the comments. Check out some these ways 3D printing can help the blind.
(Source: Texas A&M University)
License: The text of "Engineering Student Designs Tactile Maps for Blind Students" by All3DP is licensed under a Creative Commons Attribution 4.0 International License.
Subscribe to updates from All3DP
You are subscribed to updates from All3DP
Subscribe
You can't subscribe to updates from All3DP. Learn more…