New application by Cubichain Technologies encrypts data of 3D printable parts, storing information on highly secure Blockchain networks. 
The lack of digital data security for 3D printed parts is a major problem facing the additive manufacturing industry. In case you think this is an overreaction, here are some examples.
In July, a team of NYU researchers authored a study detailing the vulnerability of additive manufacturing data to hacking on an industrial level. In October, an international team of researchers sabotaged a drone by hacking the computer controlling the 3D printer that made its parts.
3D printing technology is increasingly adopted by players in the aerospace, medical and automotive sectors. Consequently, the need for digital data security has never been greater. So what can be done about it?
One promising solution comes from California, with cybersecurity startup firm Cubichain Technologies. They've developed a unique application that uses a Blockchain network to protect and store the digital data of highly critical 3D printed parts.
What is Blockchain? Originally developed for bitcoin currency, Blockchain networks are decentralized digital ledgers that can record thousands of data transactions. These same ledgers can also prevent the data from being manipulated or stolen.
Unlike traditionally centralized security measures, Blockchain promises exceptional scalability and is virtually unbreakable. Outside of the 3D printing industry, for example, Blockchain-based platforms like Everledger have emerged as an immutable record for the certification and transaction of diamonds.
Still scratching your head? Here's a short video primer from the World Economic Forum:
How Does Cubichain Technologies Work?
The application from Cubichain Technologies is based on the open source Blockchain platform MultiChain. It's designed to encrypt digital data from additive manufacturing processes and then store it on a highly secured and private Blockchain server.
The process begins once the 3D model is created into a Digital Product Defintion (DPD). This preserves the data integrity with a unique Hash ID that is sent to the Blockchain server as though it were a bitcoin transaction.
Once validated, the network creates an immutable copy of this digital data. Before the printing process begins, manufacturers can compare and verify the digital part data hasn't been hacked or tampered with.
Aerospace 3D printing specialists CalRAM — another company based in California — has deployed Cubichain's Blockchain-based app to create a layer-wise build inscription for part identification. This digital data is used to ensure that the aerospace part's digital data remains secure and unchanged during the actual additive manufacturing process.
Shane Collins, Director of Additive Manufacturing Programs for CalRAM, is confident about the potential of Blockchain. He said:
"Both additive manufacturing and Blockchain networks are disruptive technologies … combining the two will undoubtedly revolutionize the future of manufacturing. We see the greatest threats to additive manufacturing as cyber-physical hacking and counterfeiting … the deployment of a Blockchain can combat both. It's very exciting technology."
Now that Cubichain Technologies has proven the initial value of their Blockchain app through their work with CalRAM, the next stage will focus on developing a larger closed-loop solution for the 3D printing industry.
By integrating a Blockchain network into the 3D printing industry, Cubichain Technologies should effectively secure high value or mission critical parts from being counterfeited or compromised.
Source: CalRAM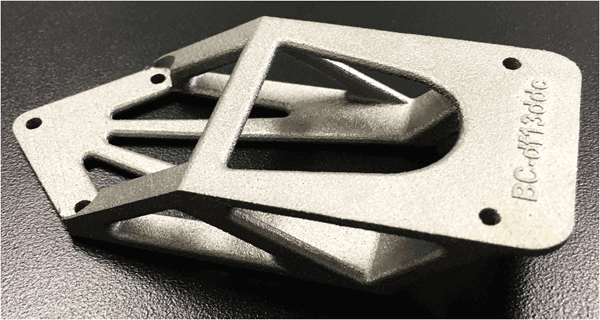 License: The text of "Cubichain Technologies Enhance 3D Printing Security with Blockchain" by All3DP is licensed under a Creative Commons Attribution 4.0 International License.
Subscribe to updates from All3DP
You are subscribed to updates from All3DP
Subscribe
You can't subscribe to updates from All3DP. Learn more…