Need an advanced and colorful challenge? Here are 35 free dual extrusion models specially designed for your dual extruder 3D printer.
Don't Miss: Why Dual Extrusion Matters: First Look at the Prometheus System
3D printing is a fun hobby, and one that you can make as simple or as complicated as you like. Making stuff in a single material, for example, is pretty much the standard option for most 3D printers and projects. But what if you wanted to print something in more than one material? This is where a dual extruder 3D printer comes in handy.
What's a dual extruder 3D printer? It's an evolution of the Fused Filament Fabrication (FFF) technology, where instead of one hot-end extruding molten thermoplastic filament, it has two hot-ends with two separate spools of filament. Therefore, it becomes possible to print off objects in two colors or two materials (or both).
It's also a useful technique for fabricating objects with complex geometry. Using a secondary dissolvable material, you can create removable supports for those tricky overhangs and bridges that single extruder 3D printers can't handle.
In software terms, "dualstrusion" works by overlaying two separate (but interlocking) models on top of each other in the same physical space, and the slicing software issues commands to the 3D printer to distinguish between them when printing the object.
Current dual extruder 3D printers on the market include the Ultimaker 3, BCN3D Sigma, Makerbot Replicator 2X, Printrbot Plus and Flashforge Creator Pro. Some manufacturers go even further, and offer machines capable of triple and even quadruple extrusion!
But let's not get too far ahead of ourselves. Here's a list of models that are just perfect for dual extruder 3D printers. Master these objects, and you are truly on the path to becoming a true 3D printing guru.
Dual Extruder 3D Printer Models #1: Low-Poly Pokemon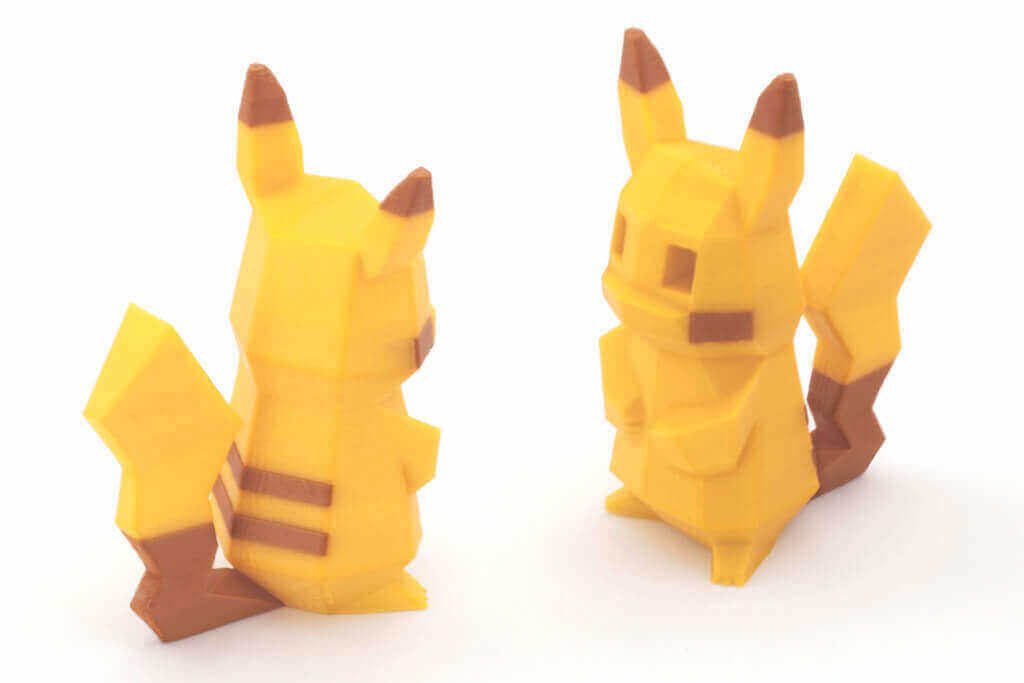 According to designer extraordinaire Flowalistik, Pokemon and 3D printing have something in common: they both evolve. The multi and dual extrusion Low-Poly Pikachu is designed to show all the possibilities of dual and multi extrusion 3D Printers. This model is more complex but easier to print, and it keeps all the features from the original design: it doesn't need support material, infill or prime tower. There are three more in the series: Squirtle, Bulbasaur, and Charmander.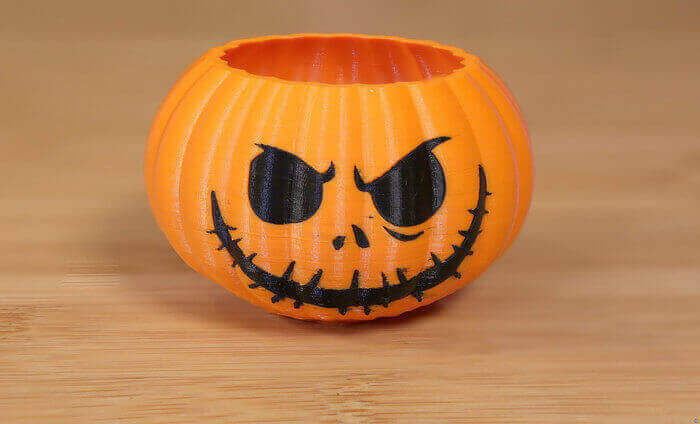 From the Brothers Ruiz at Adafruit comes this deliciously evil pumpkin head, named after (we presume) Jack from The Nightmare before Christmas. Print one off in time for Halloween, but keep those candles away — unless you like the smell of burning plastic.
Dual Extruder 3D Printer Models #3: Mini Tri-Spinner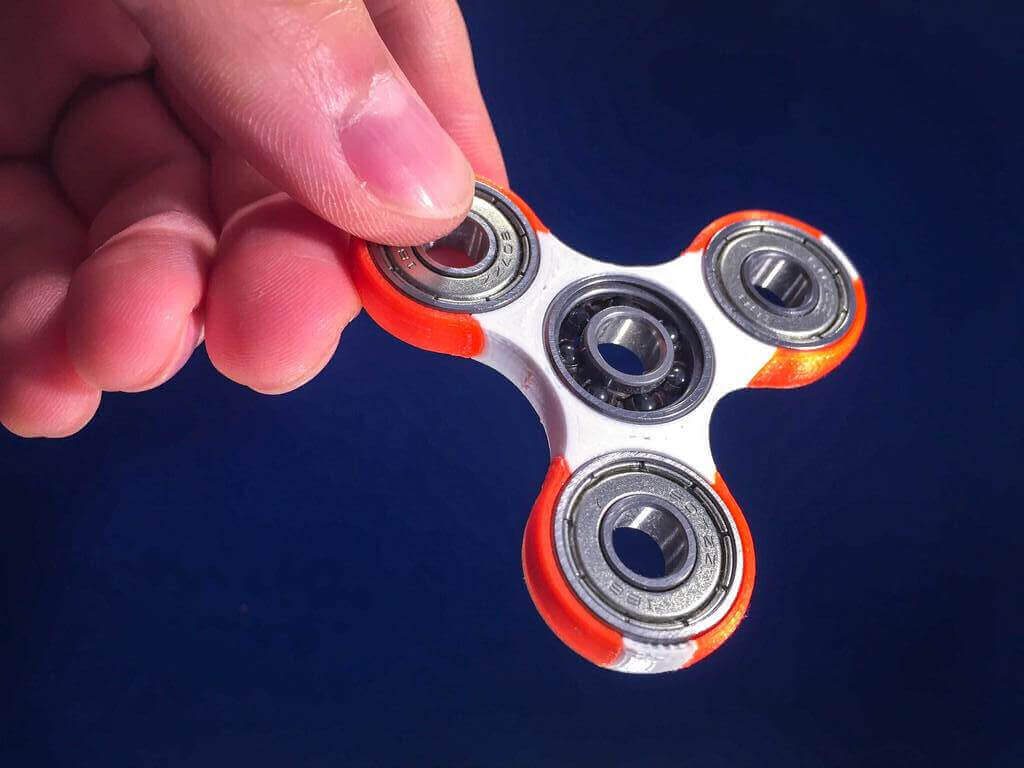 This is a sophisticated fidget toy, powered by a mini ball bearing, that spins and spins with just a flick of the fingers. The dual extrusion is just to add a bit of color and flair as it rotates.
Dual Extruder 3D Printer Models #4: Uli3ot Female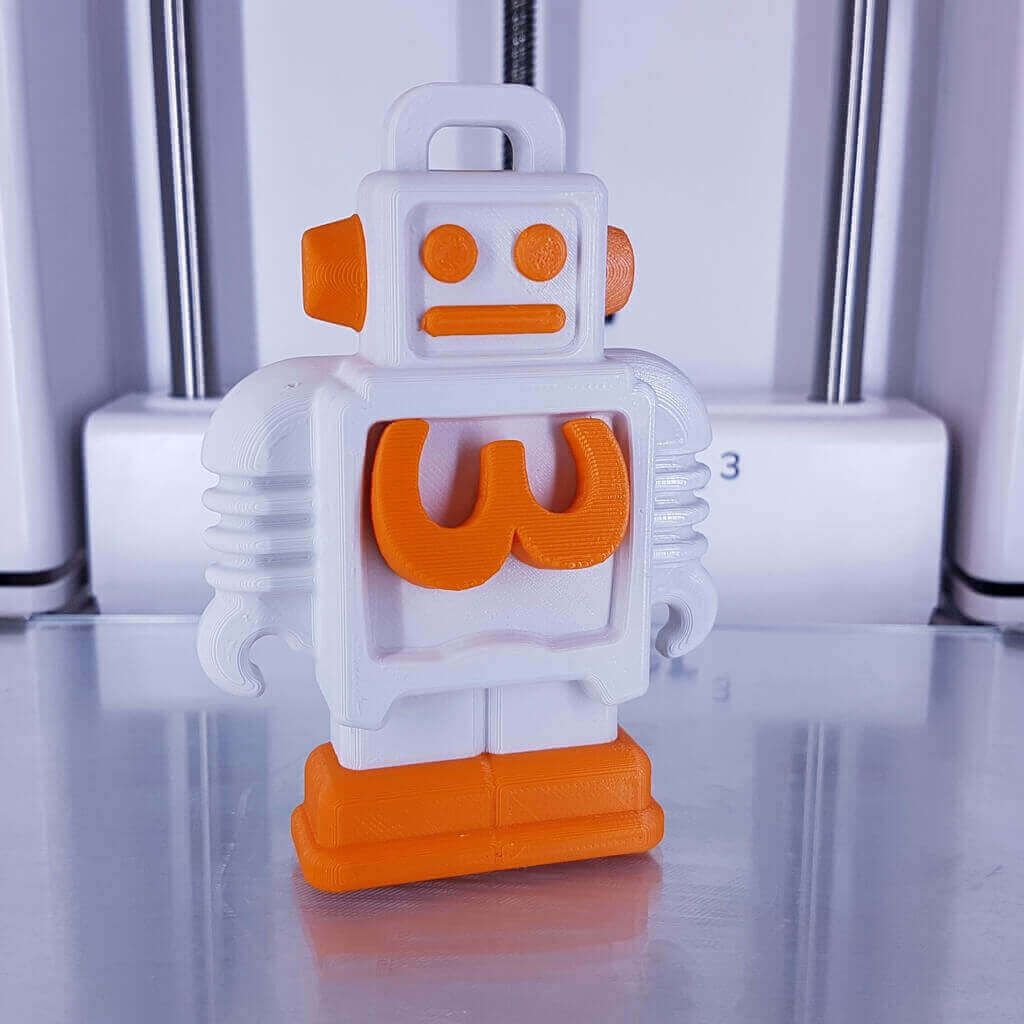 A bit of fun to celebrate the launch of the Ultimaker 3 — a dual extrusion 3D printer, if you hadn't already heard — sees the popular Ultibot mascot given a gender swap with an artfully placed number 3.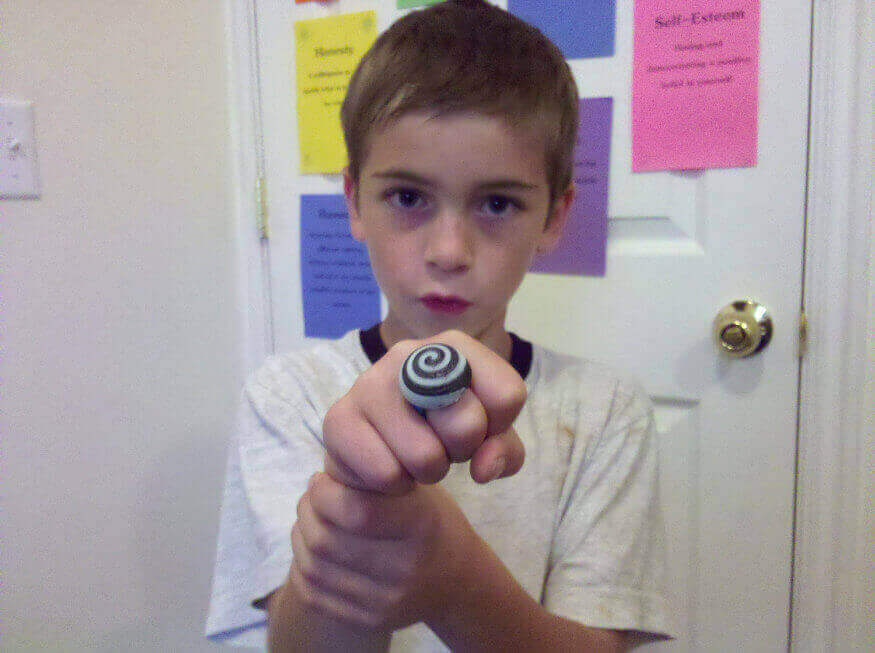 This is a cosplay prop from a kid's TV show, the Captain Underpants HypnoRing. The beauty of this design is that, if the white section is printed with glow-in-the-dark filament, it adds a nice luminous effect in low-light conditions. Perfect for beguiling your opponents!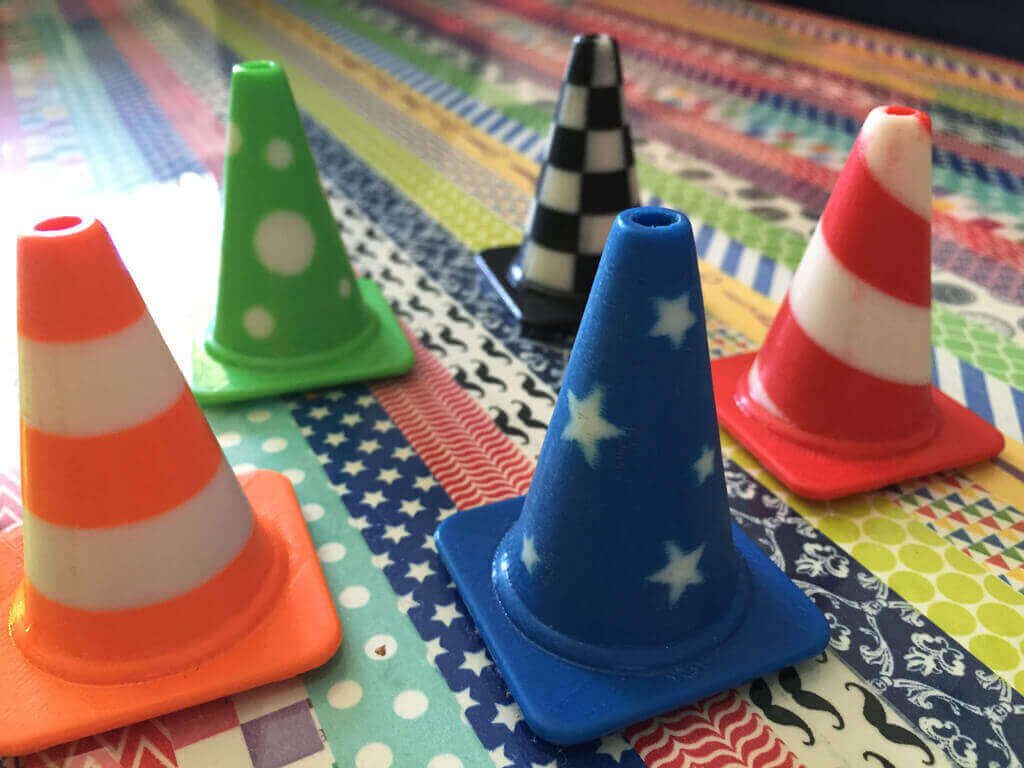 Perhaps the first thing people attempt with dual extrusion is the humble traffic cone. With two tones of orange and white, it's a simple and appealing design. This collection builds on that concept with more elaborate variations, so the printed object looks less like a traffic cone and more like a wizard's hat!
Dual Extruder 3D Printer Models #7: Two Color World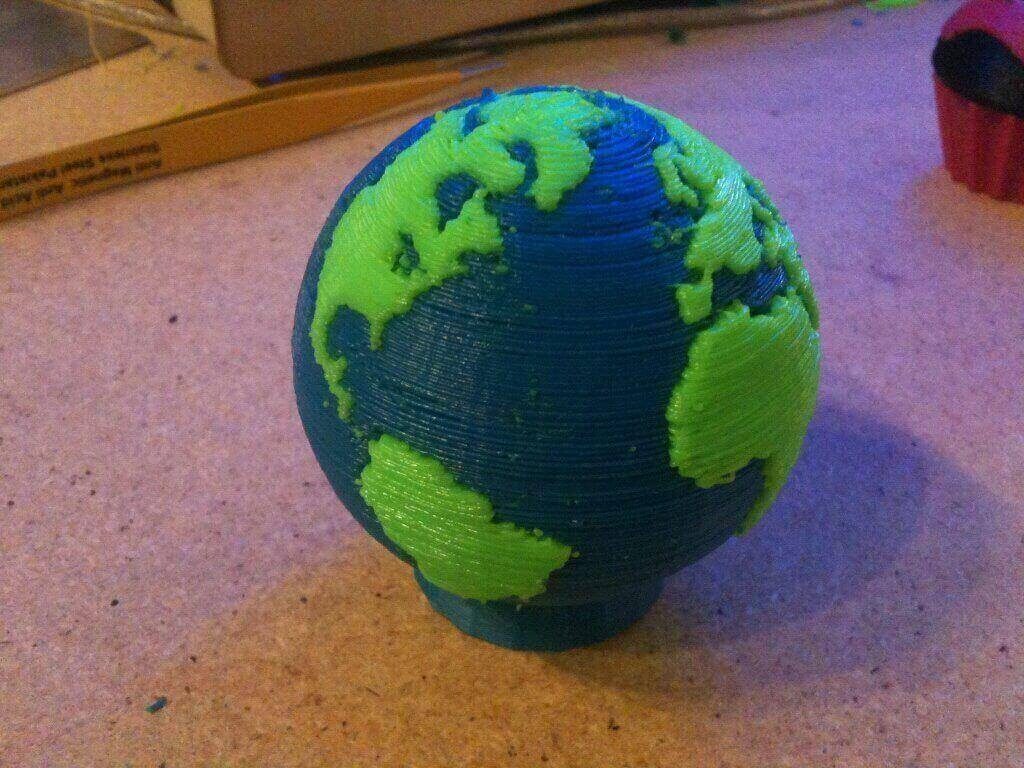 A very early proof of concept for dual extrusion — dating back to 2011 — is the two color world, with a representation of the Earth rendered in blue and green filament. A remixed version is the Giant Hollow Two Color World, which is a super-sized version for folks with bigger printers.
3DBenchy, the jolly 3D printing torture test, started out life as an open-source calibration model for FDM 3D printers. The little tugboat has proved tremendously popular, and its designers have extended the design to cover dual extrusion 3D printers too. Another version for full multi-color printing is also available, but don't run before you can walk!
Dual Extruder 3D Printer Models #9: Micro Glider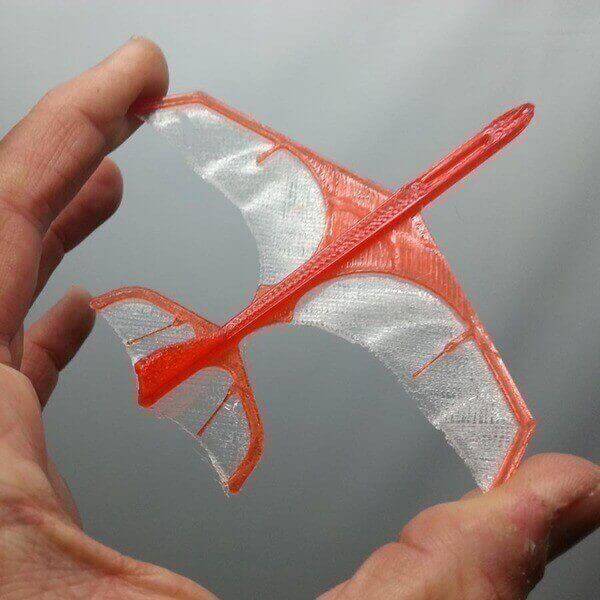 This micro glider is made by combining two different types of filament, PLA and filaflex, to form a functional object that can fly through the air with the greatest of ease. Firstly, a super fine 0.2 mm layer of filaflex is laid down, and then overlaid with PLA, to create an elastic membrane. Proof that "dualstrusion" is not just about aesthetics, but can have an engineering application, too.
The Open R/C Formula 1 project is a great initiative by maker Daniel Noree, who's shared his open source blueprints for a 3D printed radio controlled car. The most critical component of any car — radio-controlled or otherwise — are the wheels. Which is why Noree has been experimenting with printing the wheels using a dual extruder: flexible rubber for the tires, plus solid ABS for the rims. The model is still at an experimental stage, however!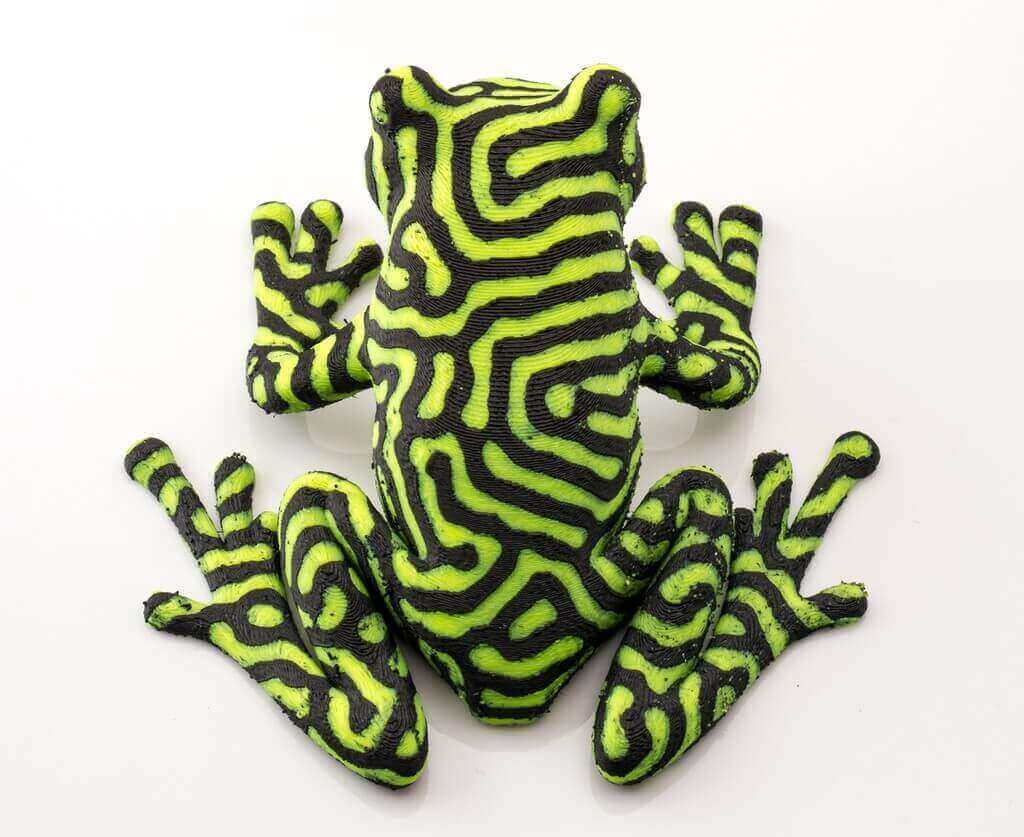 nervousystem are one of the most cutting edge designers in the 3D printing industry. When they're not dreaming up cutting edge fashion with their kinematics concept, they're punting out remarkable objects like this two-color tree frog. This funky amphibian will certainly make a top-tier challenge for dual extrusion 3D printing, but the results are surely worth the effort.
Dual Extruder 3D Printer Models #12: Two-Color Octopus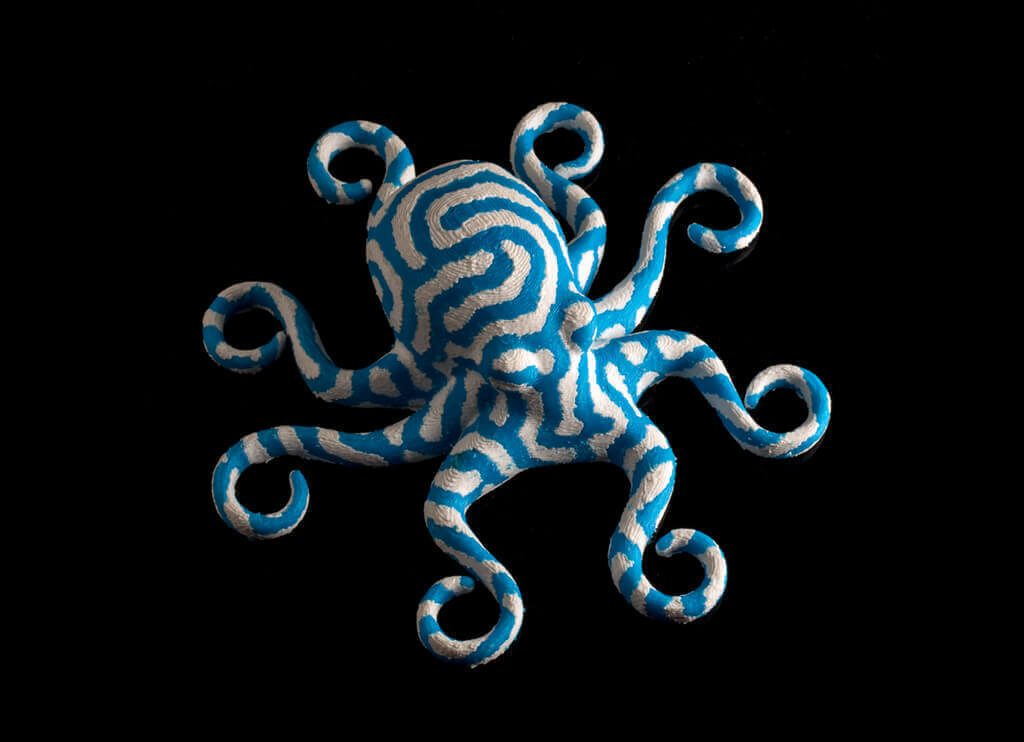 Oh hey, did you think nervoussystem would stop at a mere frog? Nope! Here's a two-color octopus…
Dual Extrusion 3D Printer Model #13: Two-Color Cat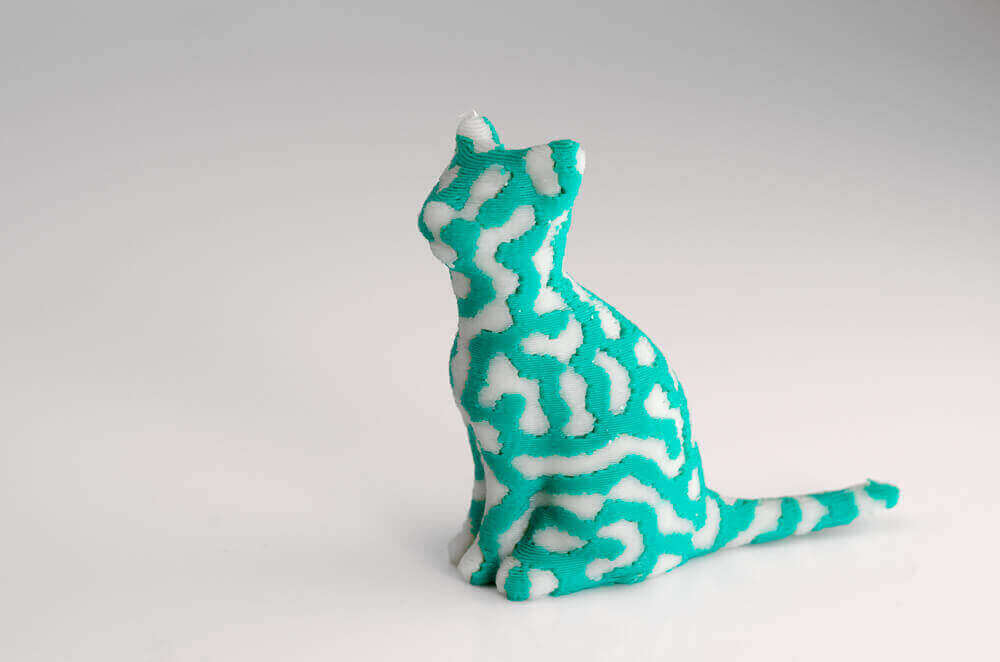 … and here's a two-color cat! This colorful feline is available in two poses: relaxed, and ultra-relaxed.
The eternal battle between lightness and darkness made literal, with a quirky dimmer switch in a yin-yang style. The design of this dimmer switch is especially appropriate for the next item on our list…
This dual extrusion project is for a lamp featuring a logo or emblem from popular culture. We picked the emblem of the Autobots from Transformers lore (because that's obviously the coolest), but also available is a Decepticons emblem, Superman and Batman shields, Android and Apple logos, Iron Man facemask, and much more. All designs are by JJPowelly, and you should definitely check out his other work.
Dual Extruder 3D Printer Models #16: Artisan Soap-Dish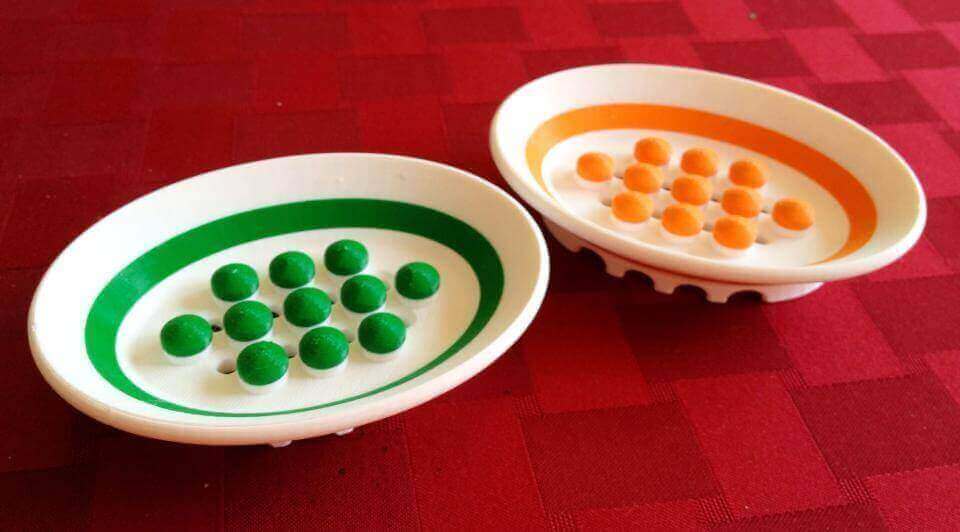 We're stumped as what qualifies this soap dish as "artisan", exactly. But hey, it comes in two tones. Pretty!
Dual Extrusion 3D Printer Model #17: Green Lantern Ring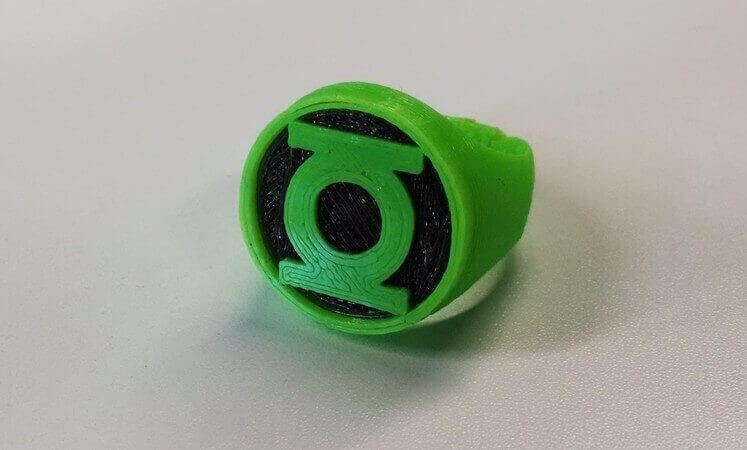 If you'd like to keep your cosplay subtle and sophisticated, then this magical Green Lantern ring should fit the bill. Green not your color? Maker Kevin Skeuse has a whole series of lantern rings for every spectrum in comic book legend: blue, red, indigo, orange, sapphire and yellow.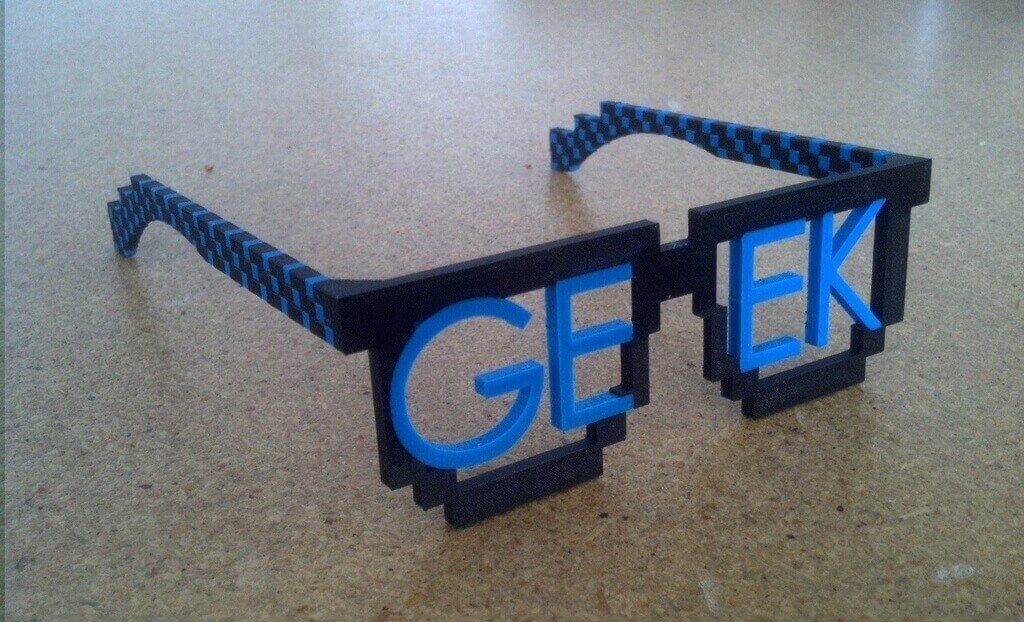 Demonstrate your boffin credentials with with these retro 8-bit geek glasses. Also available in a "nerd" variation of pixelated pride. Whose side are you on: Geek or Nerd?
Dual Extruder 3D Printer Models #19: D20 Dice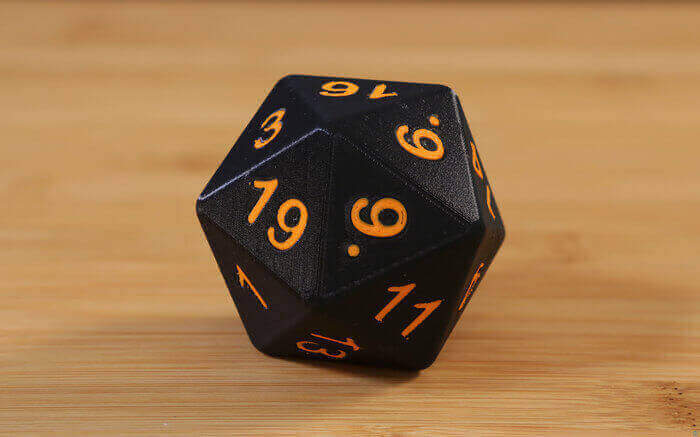 Another great application for dual extrusion is dice. This model is a 20 sided die with flush numbers, perfect for long sessions of role-playing games like Advanced Dungeons & Dragons.
Dual Extruder 3D Printer Models #20: Aria the Dragon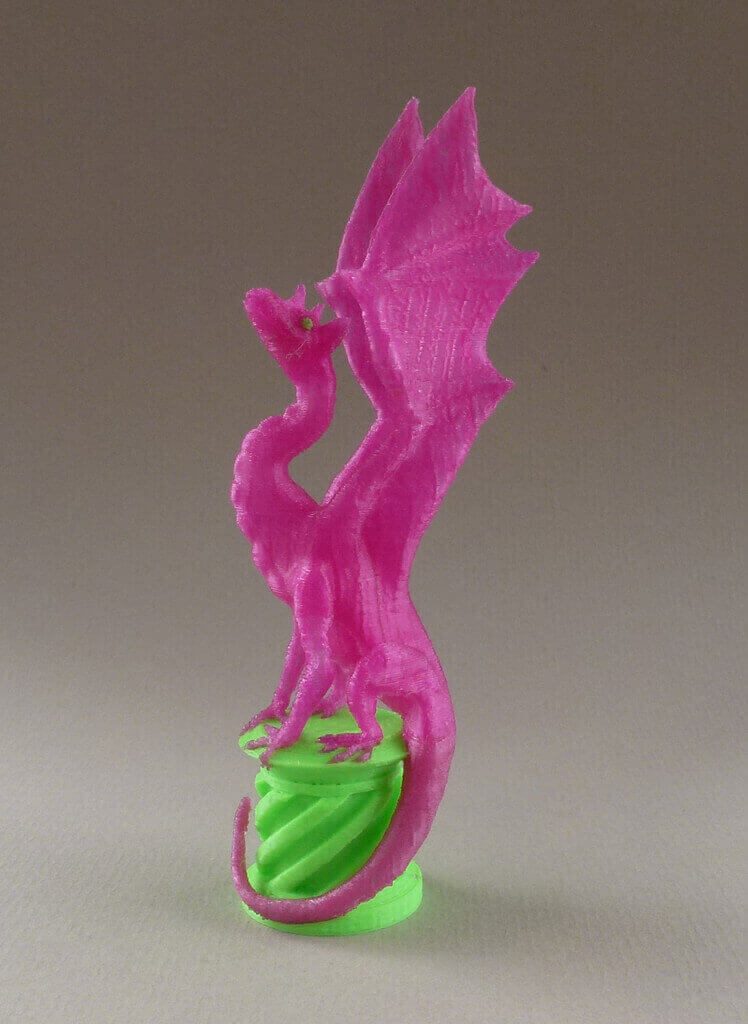 This model is actually at the centre of a major controversy on Thingiverse, where multiple designs have founded their way onto eBay as 3D printed objects in violation of Creative Commons licensing. Designer Louise Driggers first sounded the alarm when she found that her Aria the Dragon was one of over 2,000 designs being sold without maker consent or permission.
Dual Extruder 3D Printer Models #21: Panda Bear
This two-tone panda bear looks a bit shocked in this photo, as though he's perched on a particularly sharp rock…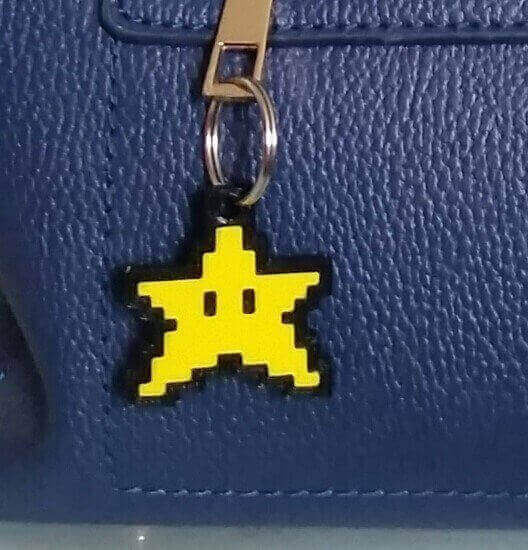 A very simple dualstrusion project here, a flat keychain in the retro style of the 16-bit star from Super Mario World. What makes it so easy is that the design is more 2D than 3D, so the complexity is kept to a minimum.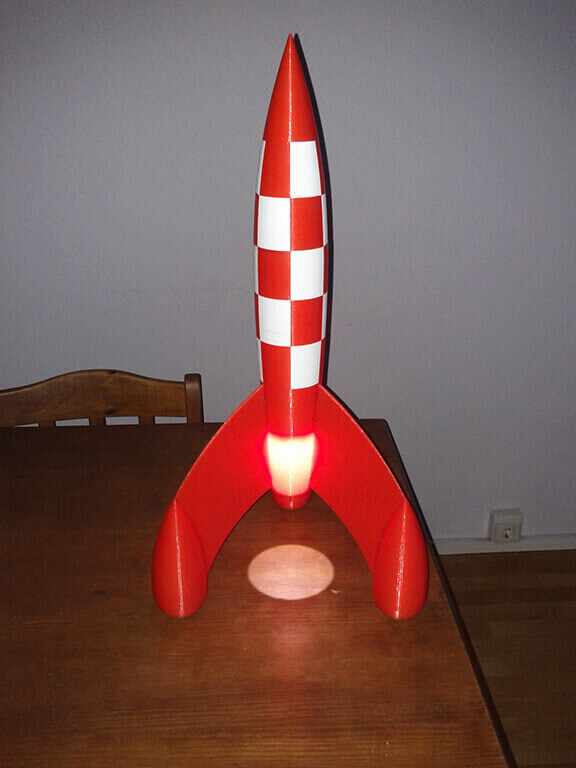 This is a loving tribute to an iconic rocket ship. The designer made space for a lamp in the base to give it the effect of propulsion. It's a pretty large project for dual extrusion, but it's been helpfully broken down into three parts to minimize the probability of error.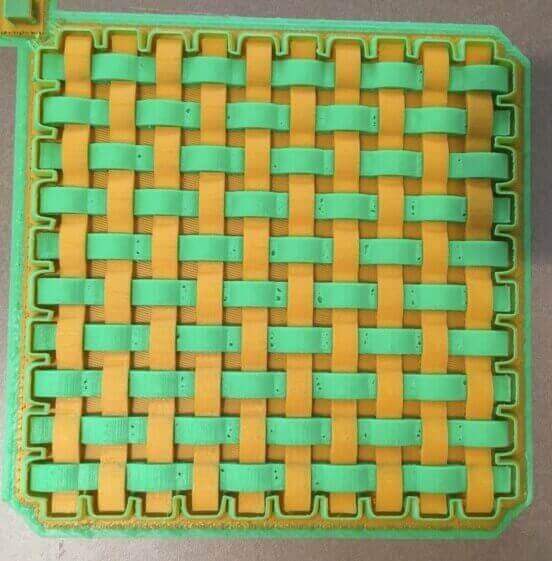 Now this is *really* clever. Extrapolating from the ability to 3D print moving ball-joints and cogs in a single print job, this model allows you to fabricate a two-tone parametric weave via dual extrusion. These different strands have been printed already interwoven, layer by layer. Perhaps a practical application is not immediately apparent, but the model can gently flex and functions as an excellent proof of concept.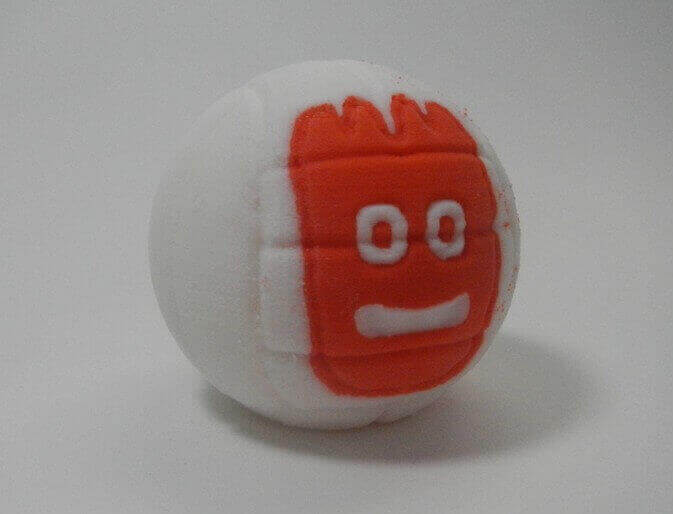 On the off-chance you are stranded on a remote island in the Pacific Ocean, and this island has running electricity, plus a fully-stocked FabLab with a dual-extruder 3D printer, then you should definitely make yourself an imaginary friend in the shape of Wilson. Alternatively, do what Tom Hanks did and splatter a volleyball with a bloody hand-print. Your call.
Dual Extruder 3D Printer Models #26: Two Color Vase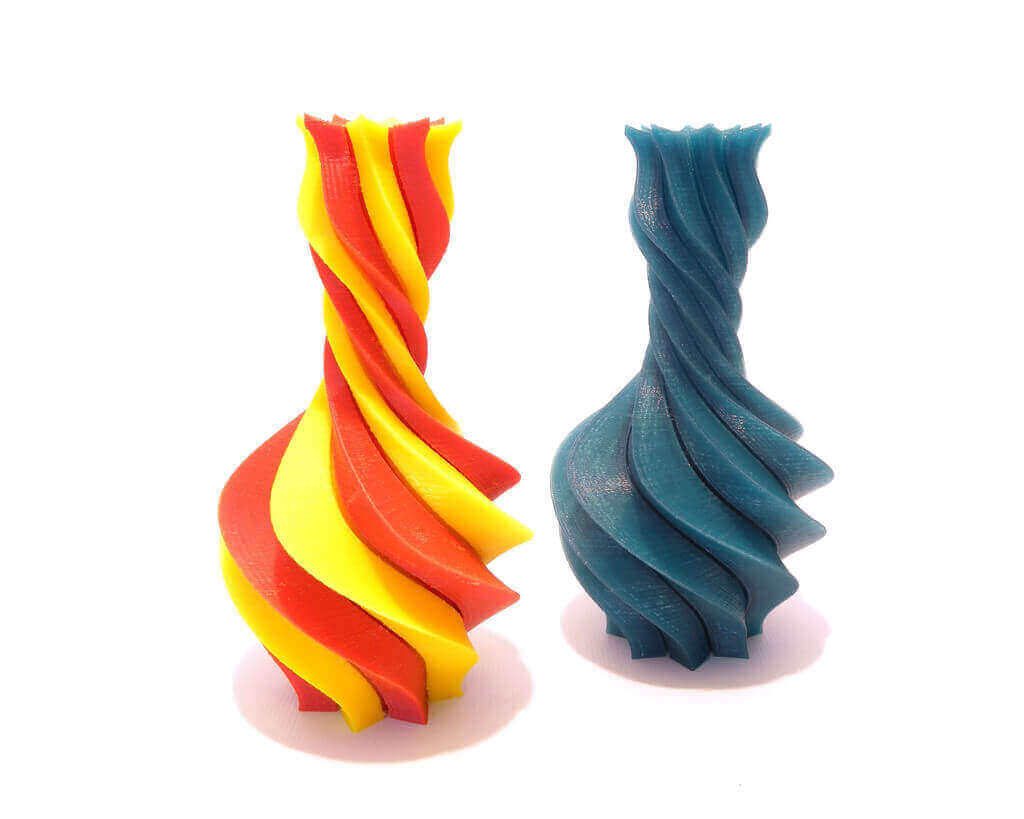 This elegant ornament can be printed in either one color or two. But it's much more striking when fabricated with dual extrusion in two contrasting shades.
Dual Extruder 3D Printer Models #27: Dual Draudi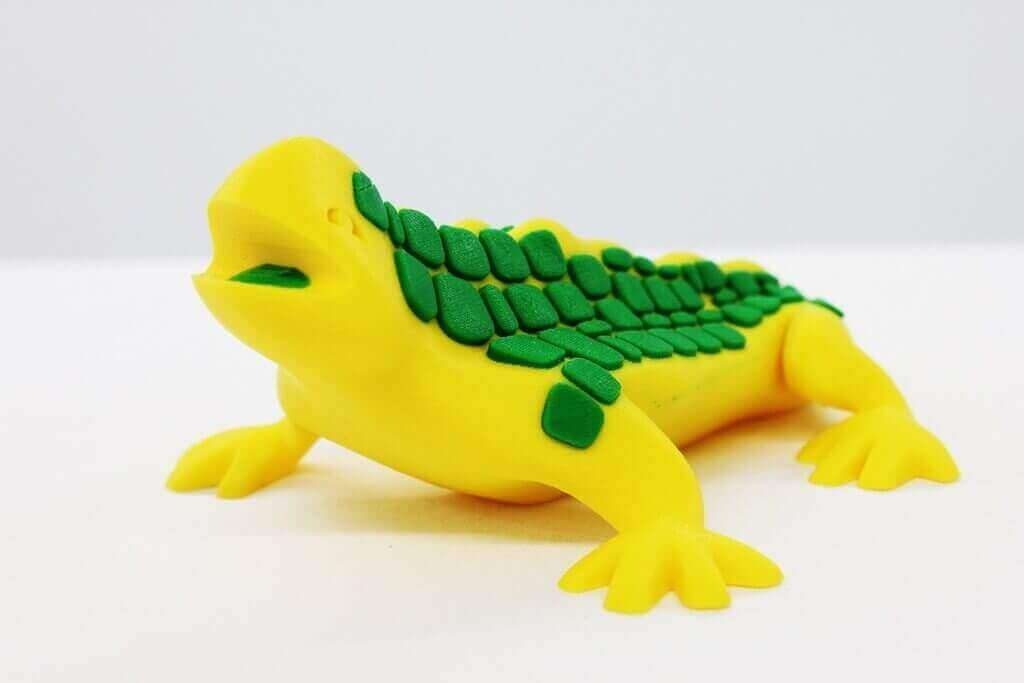 Like 3DBenchy, the Dual Draudi lizard is another test of the dual extrusion capabilities of your 3D printer. With contrasting scales (and tongue), plus multiple curves and overhangs, this model looks cute, but it's decidedly deadly to FFF machines. Approach with caution!
Dual Extruder 3D Printer Models #28: Puzzle Draudi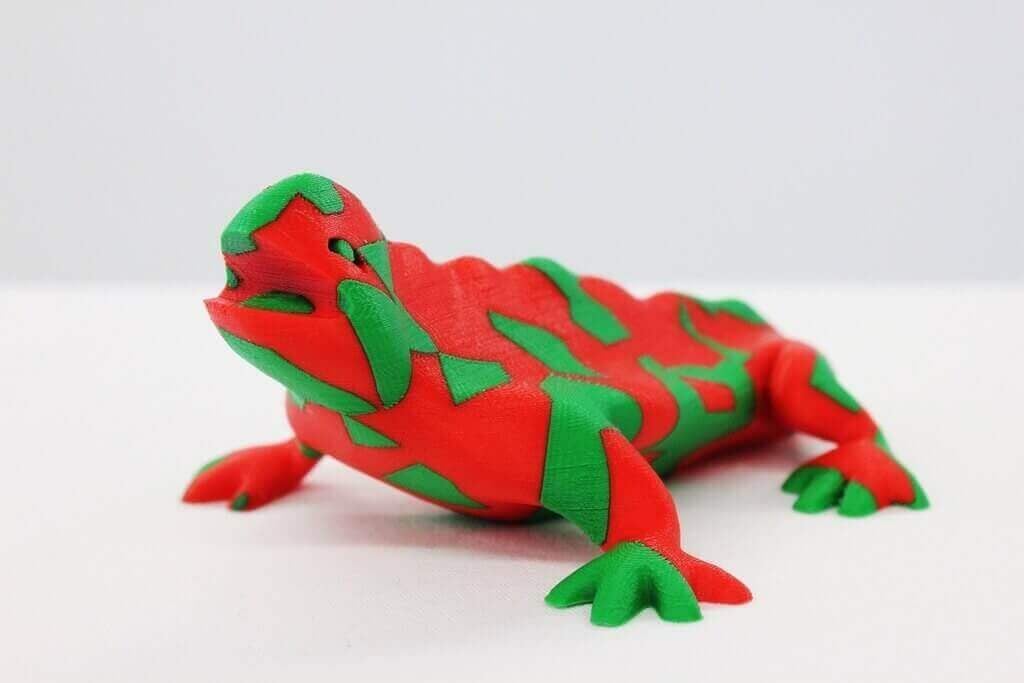 From BCN3D Technologies, the same folks who bought you the Dual Draudi, comes another lovable lizard in the shape of the Puzzle Draudi. This is a decidedly more abstract design, with crazy random shapes draped all over the poor creature. Again, a great test of dualstrusion capabilities.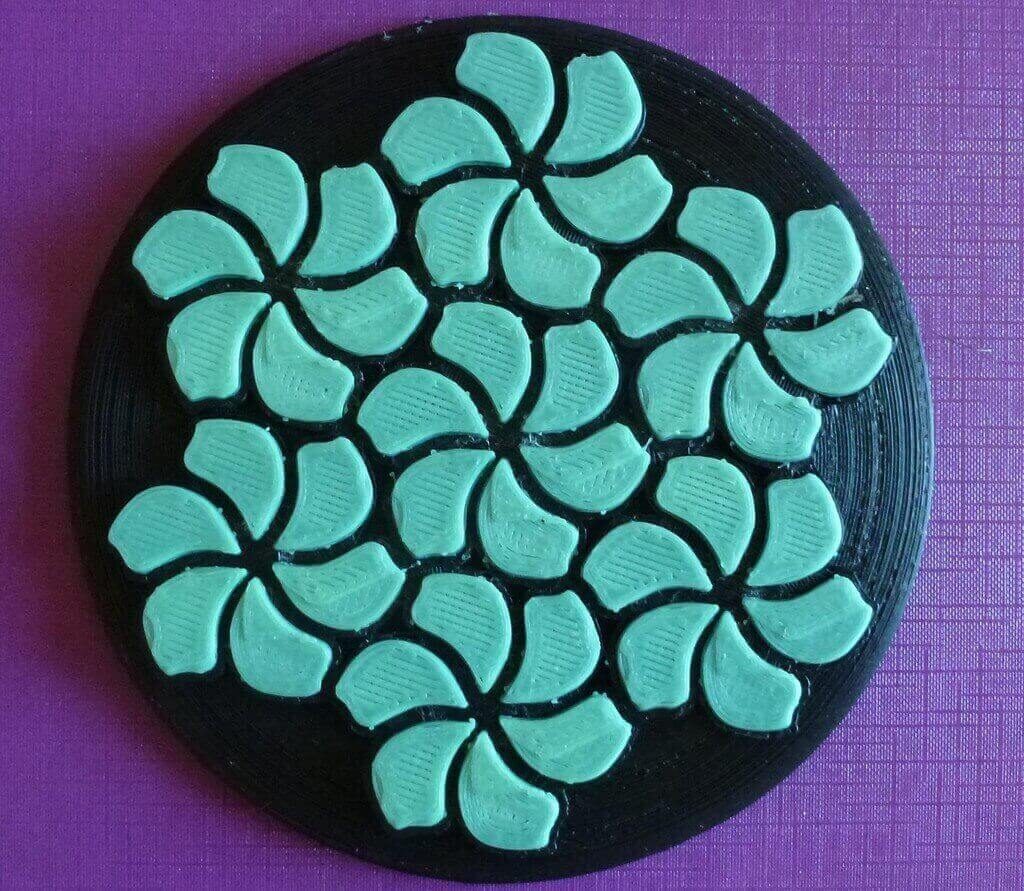 This beautiful little coaster makes creative use of the freedom to use two colors that are also two different types of filament. The green "petals" are fabricated from a heat-sensitive exotic filament, so that when a hot drink is placed on top, they change color. Whilst this model was originally designed for single extruders (using a laborious method), the STL files can easily be stacked for dual extrusion too.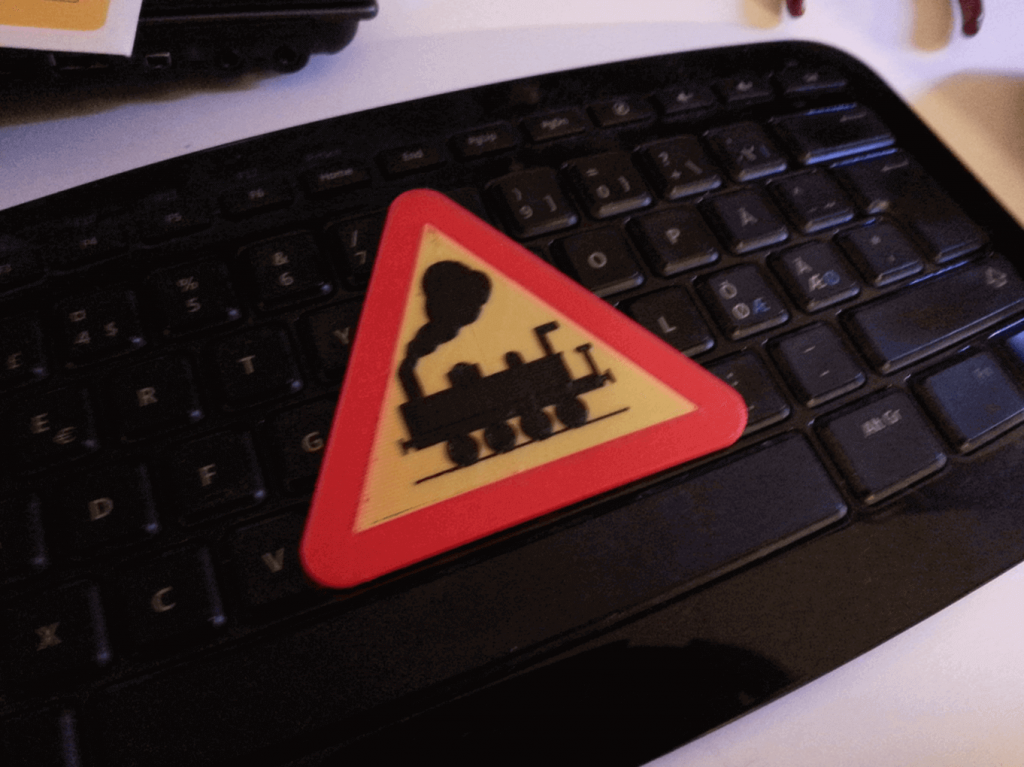 A-ha! Did you think that just because you had a dual-extrusion 3D printer, you were limited to only two color models? Think again! This design for a train-set starts out with a base design utilizing two different colors. But after a quick pause to switch the filament, a third color can be deployed to neat effect.
Dual Extruder 3D Printer Models #31: Pen Holder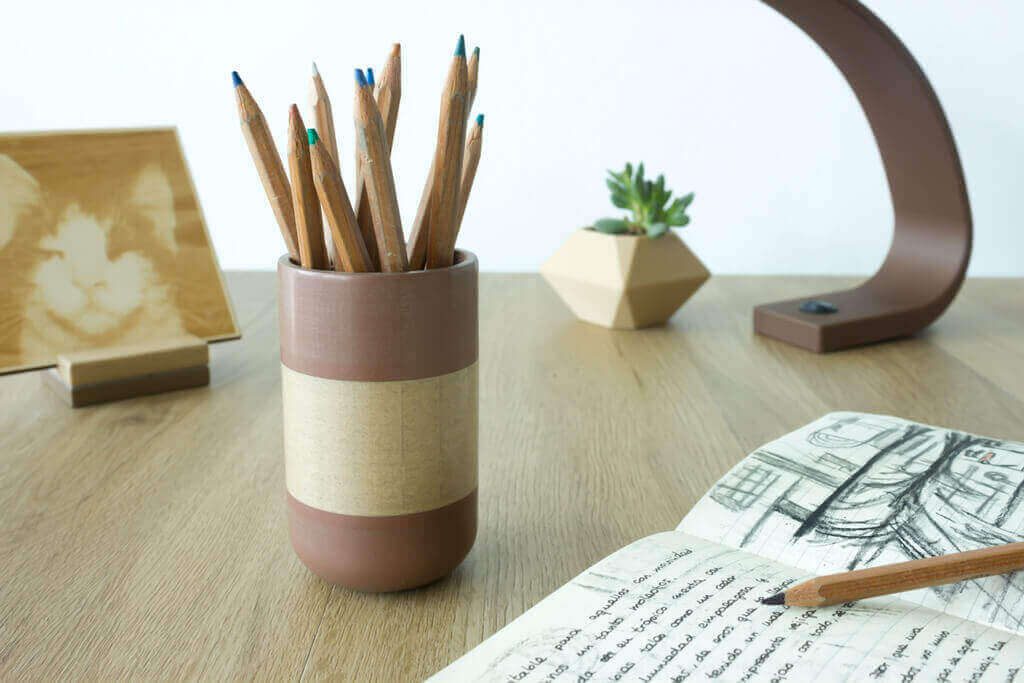 This is a simple design that could probably be made using a bog-standard 3D printer with a single extruder. But it does look nice on the desk (we have one ourselves) and offers scope for experimentation with different materials. The example above was made with bronze and wood filaments.
Dual Extruder 3D Printer Models #32: Easter Island Moai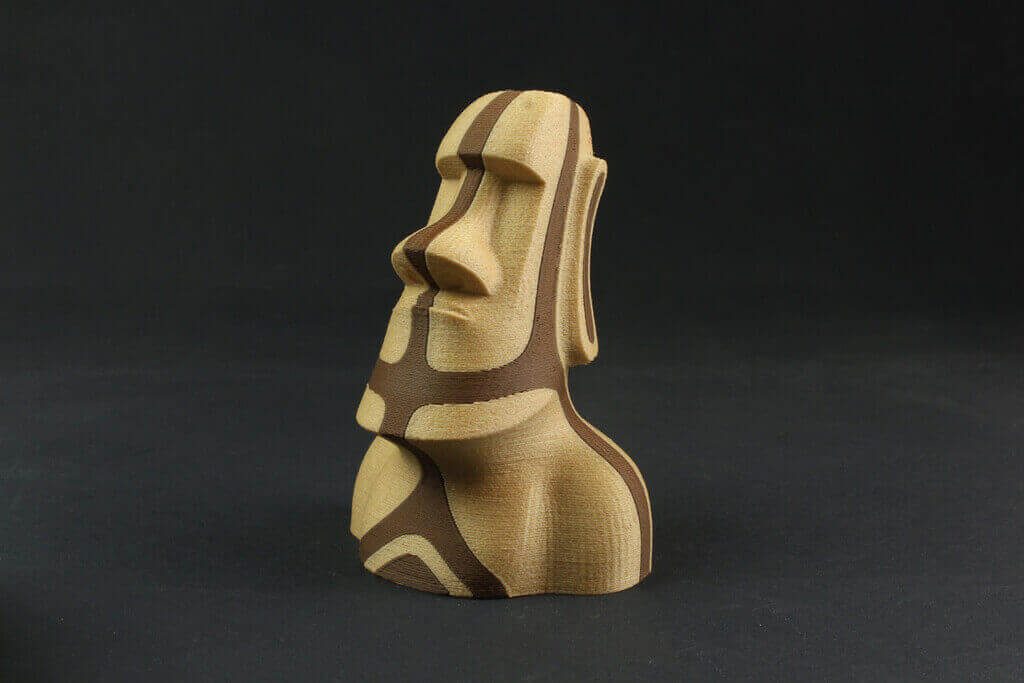 The Moai is a popular totem in 3D printing circles, frequently appearing as either "smooth" and low-poly versions. This model goes a step further with a design optimized for dual extrusion, with some tribal markings (we guess?) added for striking effect.
Dual Extruder 3D Printer Models #33: Robot On Ice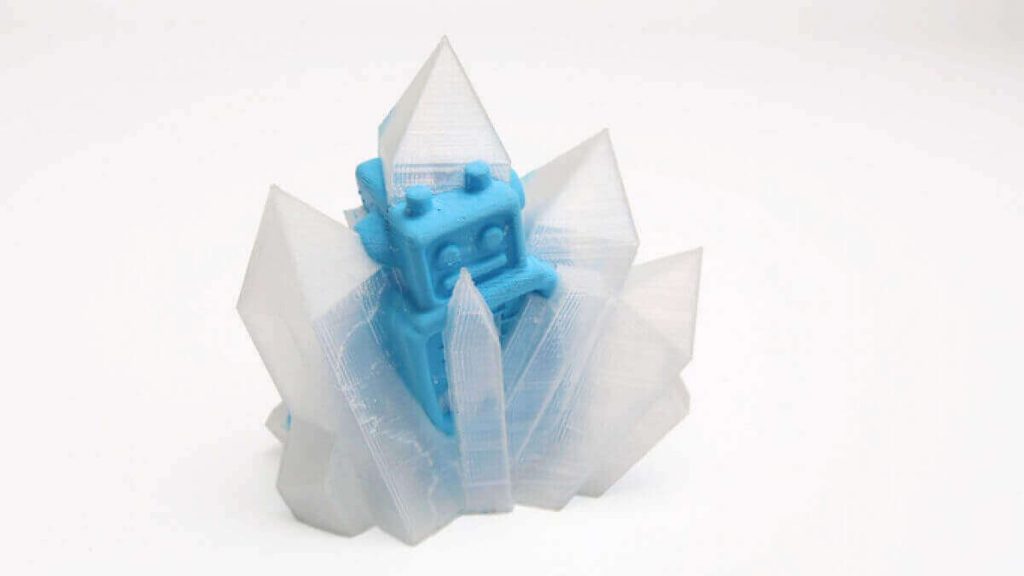 The little robot mascot from Ultimaker is literally put on ice in this nifty design, where it stands suspended in several blocks of frozen water. This particular model makes use of both solid color and transparent filaments to achieve the desired effect. Pretty coooooool, wouldn't you say…?
Dual Extrusion 3D Printer Model #34: Leyo Bust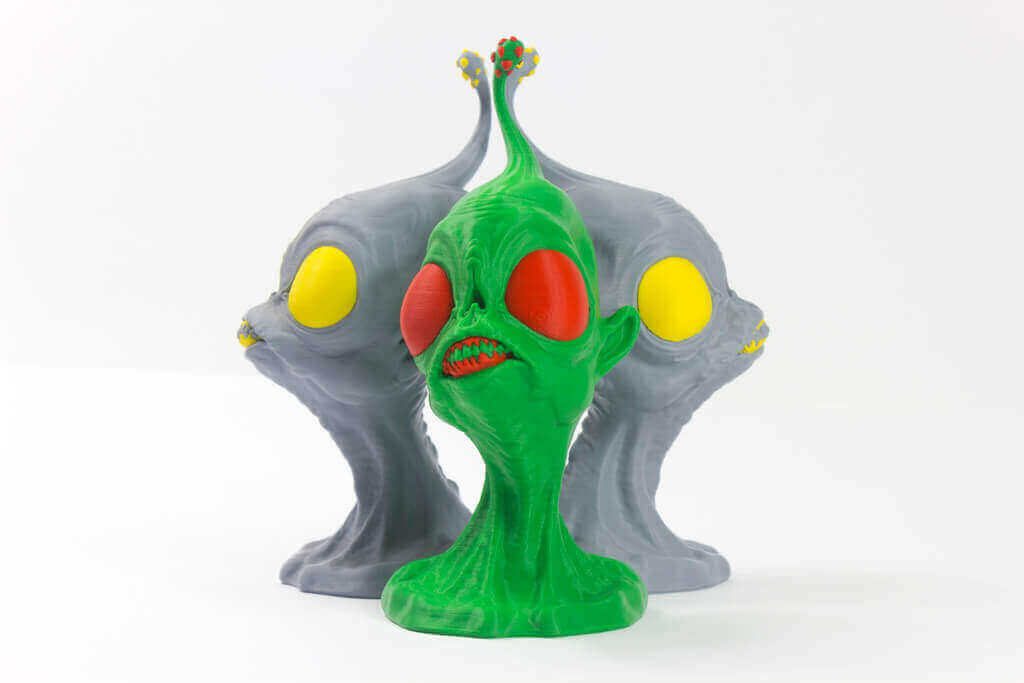 Crikey. Not sure what to say about this one. It's a bust. Let's start with that. It appears to be an alien creature with bulging eyes and nasty teeth. And it's been optimized for dualstrusion. So hey, a fun project to scare your nearest and dearest, just in time for the Halloween season.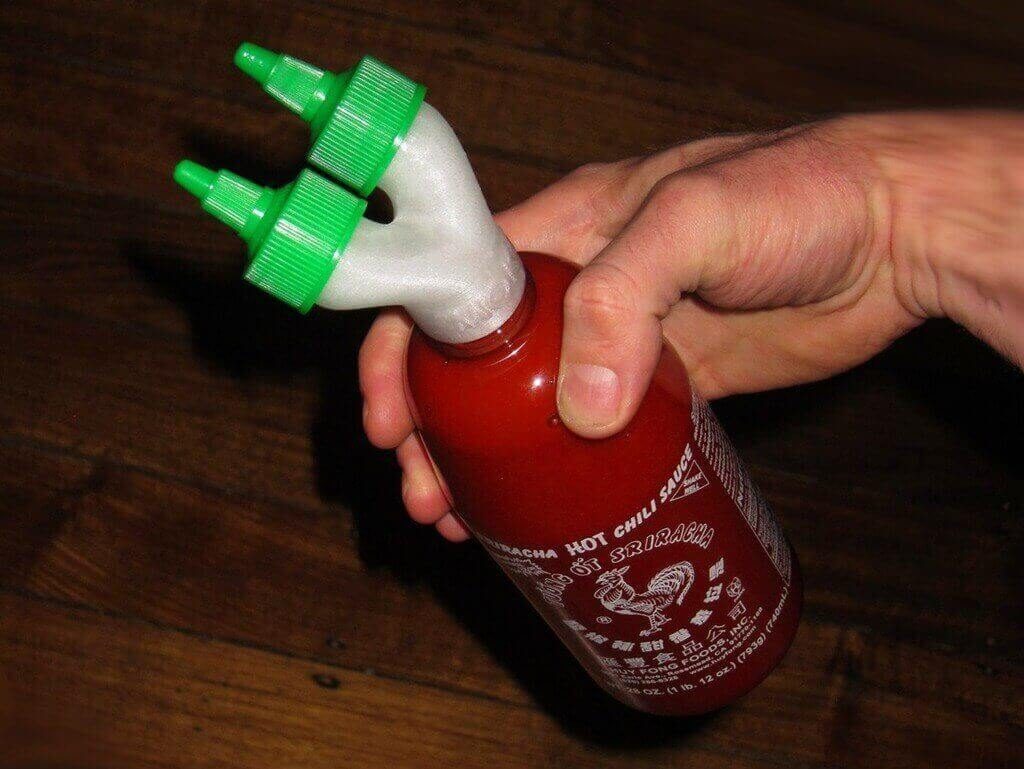 Okay, okay, this one's not actually a dual extrusion model for 3D printing, specifically. It's a hack so that you can convert your favorite bottle of chilli sauce into a dual extrusion device for a double dose of heat. But hey, before you go ahead and make one, make sure it's fabricated with a food-safe filament, mmmkay?
All images are copyright their respective owners
License: The text of "35 Challenging Dual Extruder 3D Printer Models (for Free)" by All3DP is licensed under a Creative Commons Attribution 4.0 International License.
Subscribe to updates from All3DP
You are subscribed to updates from All3DP
Subscribe
You can't subscribe to updates from All3DP. Learn more…