So you've found an exciting 3D printing Kickstarter campaign… but is it too good to be true? Here's a handful of tips to help you make an informed decision before parting with any cash.
It seems like there's an exciting new 3D printing Kickstarter every other day. Which may well be correct, given how many new campaigns we add to our 3D printing Kickstarter campaign roundup each week!
And as easy as it can be to get swept along with the optimism and hype of what may be, the ever present spectre of campaign failure (even if successfully funded) looms large. Indeed, for every positive story like Formlabs there are horror stories such as the Peachy printer.
It's unrealistic to expect every project to succeed, and so there's always a risk of stumping up money with no material reward at the end of it for you.
In fact we'd even go so far as to say this is the wrong attitude to take. You're backing an idea, pure and simple. The rewards can be undeniably cool, but you're setting yourself up for a potentially frustrating time if you outright expect a product from it.
And then on top of all this, there's the relatively recent phenomenon of marketing-driven 3D printing Kickstarter campaigns. These flip this traditionally known uncertainty on its head, instead pushing a virtually complete product through the platform in order to take advantage of it's inherent marketing possibility.
So without further ado, here are eight important factors to consider before backing a 3D printing Kickstarter project. 
1. Accountability vs. the Exotic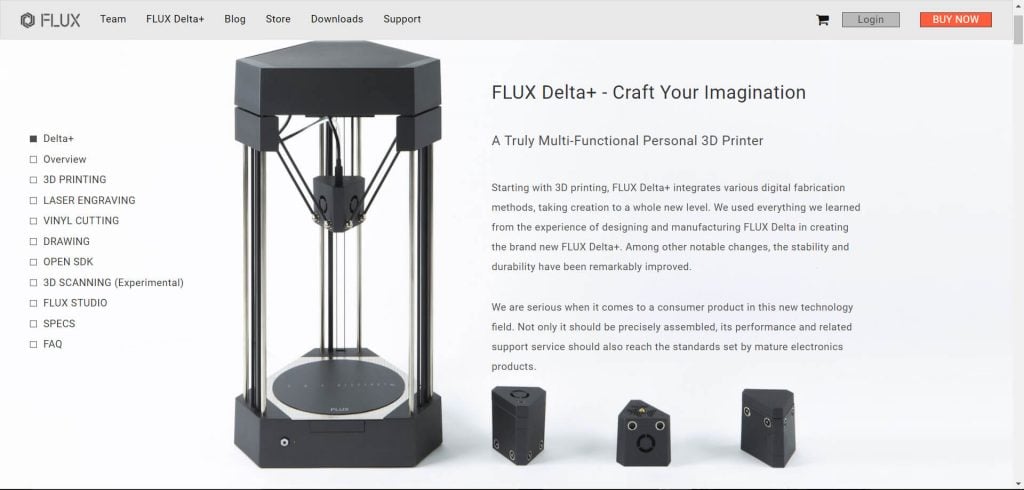 There are good reasons to buy your printer from an existing company instead of investing in a crowdfunding campaign.
First of all, existing companies have significant experience and a working product. Secondly they can deliver the 3D printer right now — you don't have to wait for what could be years of production chain issues getting ironed out. And lastly, the company is liable if something goes wrong. On Kickstarter, the money can just disappear.
But on the other hand, what you can get out of a 3D printing Kickstarter is something truly exotic. From a huge dual extrusion printer to a modular delta-style 3D printer that also offers laser engraving, vinyl cutting and other experimental functions, the possibility of envelope pushing tech is a tantalizing draw. Just be sure to weigh your needs right now against what is being offered.
Kickstarter campaigns offer up their (to begin with) non-existent products at cut-rate discounts to entice backers, but it is by no means a shop.
Rule of Thumb: If you want to buy a cheap 3D printer, don't go to Kickstarter. If your budget is tight there are better options.
2. Do They Know Their Stuff?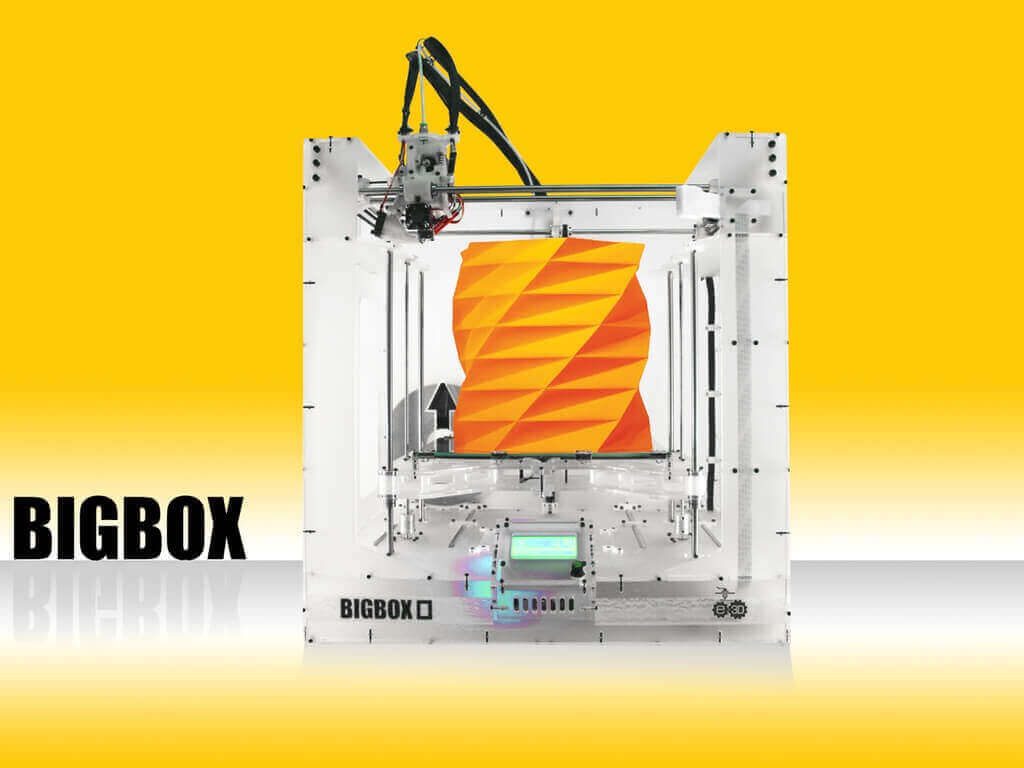 It's easy to have an idea, make renders and sketches and 3D print nice design studies.
But for any electronic product there first has to be a working prototype, or at least a solid proof of concept on a smaller scale. So if you see a 3D printing Kickstarter project without a video of the printer in action, you should dial the skepticism up a notch.
That's enough of a red flag, but if you're still a believer, you should do a little research on the folks running said Kickstarter campaign.
The folks behind the BigBox 3D printer Kickstarter certainly had the engineering chops to deliver a working printer. With British 3D printing parts maker E3D backing the project, the resulting printer was an eminently hackable 3D printer with a desirably large build volume. Unfortunately, as can happen to any project, runaway success scuppered the continued expansion of the printer with demand outpacing the project's ability to supply.
Nevertheless, from the get-go it was clear that the team behind BigBox could feasibly create the printer they detailed.
Do they have previous experience in 3D printing? How about engineering in general? Is the evidence presented on the campaign page viable and realistic? If the answer is no to any of these, then it's perhaps best to wait until you're presented with something that suggests otherwise.
Rule of Thumb: If they have a great design but no working prototype, forget it. If you suspect someone hasn't quite figured out how to turn their idea into reality, you shouldn't back their project.
3. Competency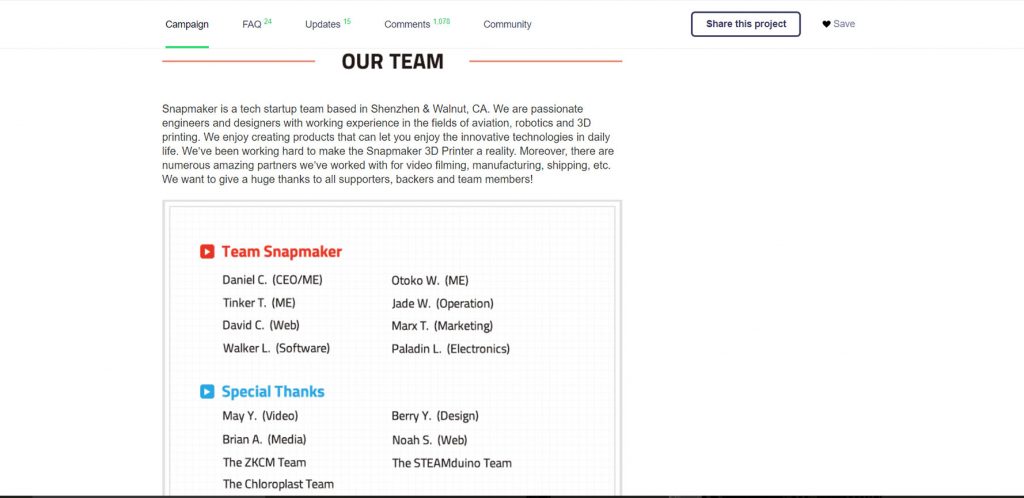 When a leader of a crowdfunding campaign states they are planning to do everything on their own – design, accounting, coding and distribution and so on… the alarm bells should be ringing.
One of the primary goals of every startup should be to hire the right people for the company and the product. And we're not talking about huge hires of 30 or more — the point is that there should be an apparent, scale-able plan for once that money hits.
If there is no team, the campaigner should be honest about it. Will they be hiring a team after the funding goals are met, or have they dramatically underestimated the amount of work involved?
Rule of Thumb: Building a 3D printer requires a lot of expertise, both in hardware and software. If the campaigner has never done this before and claims they will do it all themselves, forget it.
4. Communication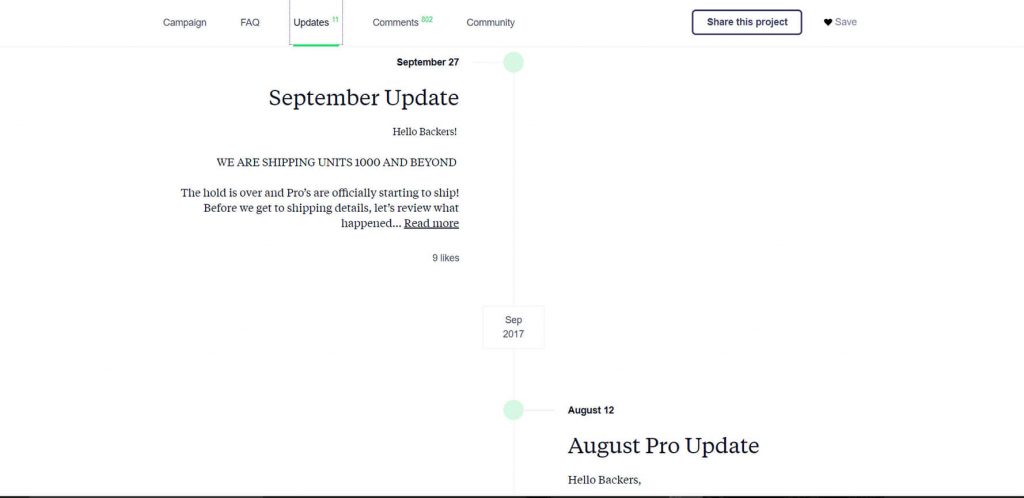 Difficult one to judge, this. But there are telltale signs of a more trustworthy 3D printing Kickstarter campaign than others.
The only evidence you're basing your investment on is a sales pitch. And so you must judge the campaign on how honest their marketing materials appear.
Does it provide full contact details and include a bio? Putting a face on the project and opening communication channels for queries and concerns are huge trust builders.
Regularly posting project updates and responding earnestly to backers' comments on the project page are also big winners in the trust stakes. Keep an eye on the project page for constant feedback throughout the duration of the funding campaign.
If these abruptly stop, that may be cause to reconsider your backing.
Rule of Thumb: Most companies start out with the good intention of building a 3D printer. Some sadly see the platform as a means to make a shady buck. Before investing, do your homework on the campaigner — try to build as full a picture as you can and know that you won't be left out in the dark.
5. Is it too Good to be True?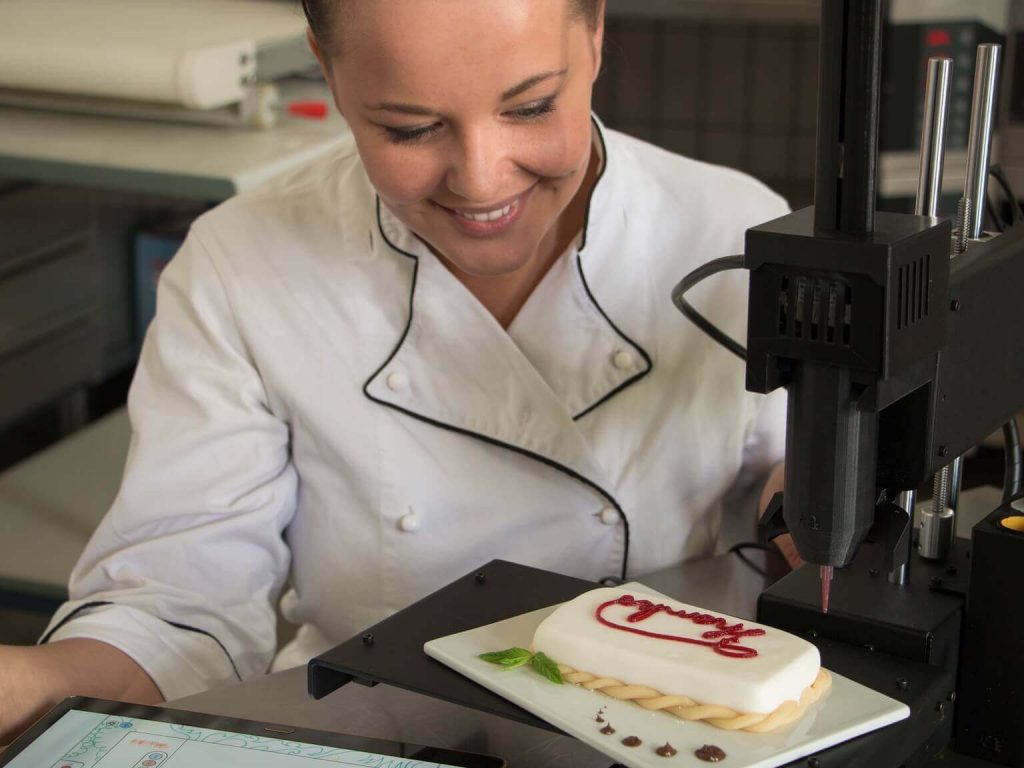 Ambition is great, but if the campaign claims to have an idea that's so groundbreaking it will disrupt whole industries and overthrow corporate giants, the chances are they have no need for Kickstarter. Such products would likely have little difficulty finding investors under ordinary circumstances.
Not that we're saying a 3D printing Kickstarter project can't shoot for the moon and actually get there, more that the old adage mostly rings true. If it's too good to be true, it probably is.
Rule of Thumb: Take the hypebole with a pinch of salt and, to play it safe, give it a wide berth.
6. Do They have Control of their Budget?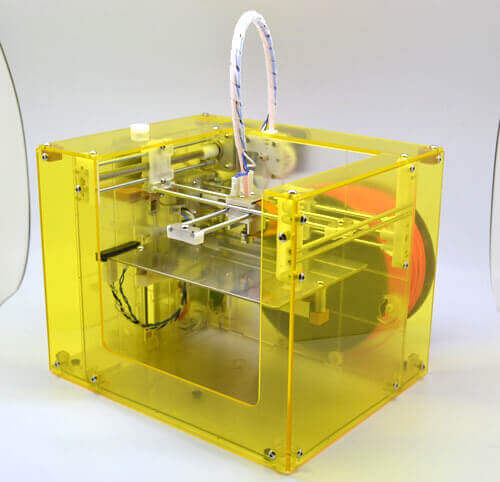 The number one reason a 3D printing Kickstarter campaign runs into trouble after funding is completed: getting the numbers wrong.
Makible, the company that tried to deliver a $200 3D printer, went from one financial issue to the next. They massively undersold the printer and tried to recover their losses by continuing to accepting pre-orders. The project soon ran aground.
Margins and overheads are slim in every business endeavor. If contingency planning is not factored in a company budget, even a simple, solvable problem can derail the whole business.
So take a look at the numbers (if they are available). Is the budget tight, or is there room to solve unexpected problems and expenses?
Rule of Thumb: If a project makes the price point its main sales argument, you should proceed with caution.
7. Manufacturing Partnerships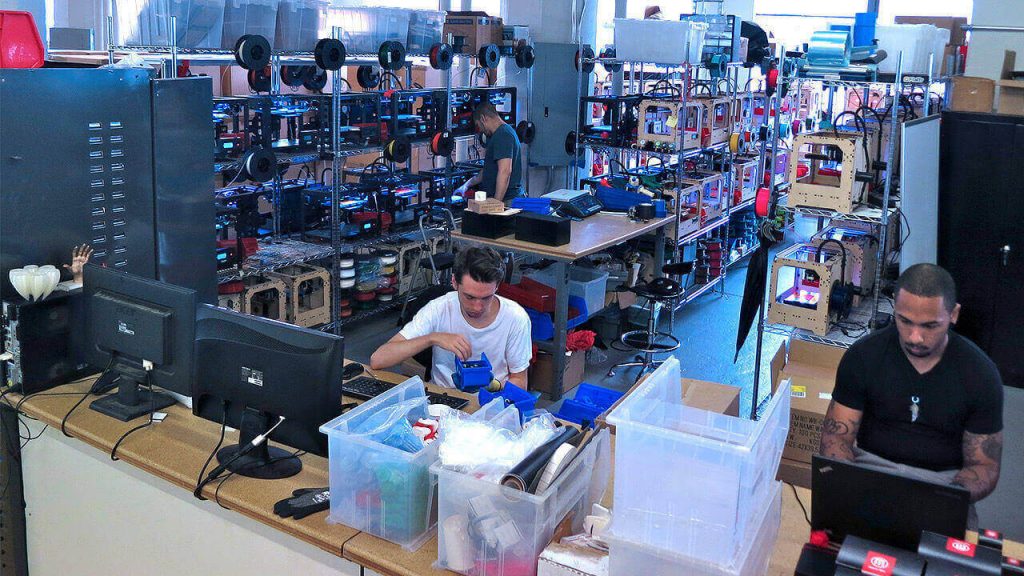 Many hardware startups on Kickstarter – not just those involved in 3D printing – rely on outsourcing their production to overseas manufacturers. And generally for good reason — it's significantly less costly.
But, for all the savings made with a manufacturing partner on the other side of the world, it can complicate the production pipeline.
For the average Kickstarter backer researching their next possible project, it can be good practice to check if a member of said project's team is on the ground in the country manufacturing will take place
Whilst cheaper, this approach can have disadvantages too. If every product iteration and every prototype has to be shipped across the globe, the project team will spend a lot of time going back and forth between shipping and customs. Plus, the delivery of your backed printer will likely take ages.
If the campaigners plan to keep manufacturing in their home country, they can keep a closer eye on what's happening. It saves time and increases the chance of efficient communication between different stages of the production process.
Rule of Thumb: Check if the project has established connections to the manufacturer, or if they have a dedicated expert in their team.
8. Do They Accept Failure?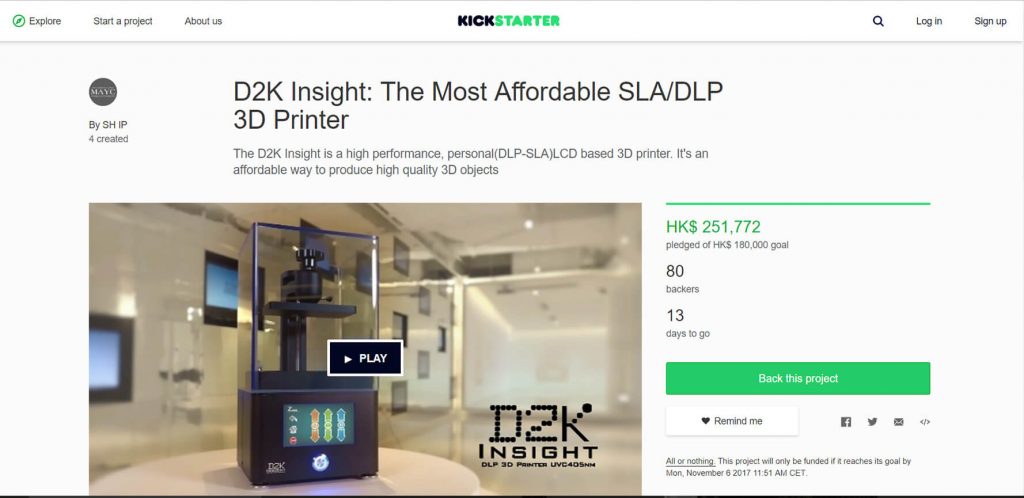 Even established players with the right skill sets, professional help from specialists, good communication, realistic expectations, a reasonable budget, and someone overlooking the production have to confront the fact that their awesome crowdfunding project failed.
When a campaigner opens up about these difficulties, and clearly explains what went wrong (while also accepting their share of responsibility), it helps to soften the blow to the backers. Such humility may even restore confidence for subsequent crowdfunding campaigns by the same folks.
Rule of Thumb: Does the team see the chances of failure realistically? If they talk about it in the campaign, that can be a good sign.
---
The real takeaway from this is really to learn as much as you can about the project before backing. Only then can you make an informed choice. Of course, Kickstarter is a fickle thing — some campaigns that look set for greatness can implode spectacularly. Take these tips as a loose guide, but remember that nothing is guaranteed.
You're backing a company's vision and gambling on them succeeding, not simply buying a 3D printer.
Have you experienced any crowdfunding disasters of your own? Any stories to share? Please let us know in the comments below.
License: The text of "8 Things to Watch for When Backing a 3D Printing Kickstarter" by All3DP is licensed under a Creative Commons Attribution 4.0 International License.
Subscribe to updates from All3DP
You are subscribed to updates from All3DP
Subscribe
You can't subscribe to updates from All3DP. Learn more…