Why you should read on: Anouk Wipprechts "Spider Dress" is fascinating. It responds to external stimuli and changes its appearance constantly.
If you attend CES 2015 in Las Vegas this year, you should definitely take some time to see this 3D printed dress. It was made by dutch designer Anouk Wipprecht. Ms Wipprecht designs techno-couture garments that have been worn i.e. by Fergie of The Black Eyed Peas at her 2011 "Super Bowl" halftime performance. The new "Spider Dress 2.0" will be showcased during CES alongside the Synapse dress for Intel, January 6-9th in Las Vegas.  3D printed sensor based animatronic/mechatronic dress enabled by the Intel Edison acts as the interface between the body and the external world using technology and the garment as a medium of interaction.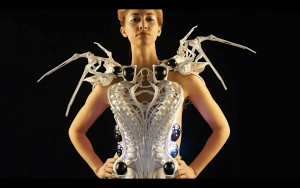 Aptly called the "Spider Dress 2.0", a piece of wearable tech features animatronic mechanical limbs that respond to external stimuli while defend the personal space of the wearer. The dress provides an extension of the wearers intuition: It uses proximity sensors as well as a respiration sensor to both define and protecting the personal space of the wearer. Approach the wearer too aggressively and the mechanical limbs move up to an attack position. Approach the system under calmer circumstance and the dress just might beckon you to come closer with smooth, suggestive gestures.
And you definitely need to watch the video!
License: The text of "The 3D Printed "Spider Dress"" by All3DP is licensed under a Creative Commons Attribution 4.0 International License.
Subscribe to updates from All3DP
You are subscribed to updates from All3DP
Subscribe
You can't subscribe to updates from All3DP. Learn more…