3D printing features in series pilot of CBS drama Pure Genius. But 3D printed hearts are not the stuff of fiction; they're being made already.
Don't Miss: Guide to 3D Bioprinting and 3D Printed Organs
In the pilot episode for the new TV show Pure Genius, a Silicon Valley billionaire turned hospital owner gives a cardiac surgeon the chance to practice his skills using 3D printed hearts.
The fictional Bunker Hill Hospital hosts many technological advances to treat rare medical conditions. The fictional billionaire has an enthusiastic outlook about additive manufacturing, but the creation of 3D printed hearts are not the result of his own "pure genius".
In fact, they're already made in hospitals and labs daily. All over the world, 3D printing is helping to create anatomically accurate models for physicians to practice and study with. Just like in the TV show.
However, the concept of the show is to pit the billionaire, who is not a medical professional, against the doctors who work at the hospital. Many disputes occur around what technology can do for the medical profession.
In the case of 3D printing, the answer could be a lot.

Pure Genius and 3D Printed Anatomical Models
To print an anatomical model, the 3D data from a patients' MRI and CT scans are used. This is then fabricated using resin and helps doctors to identify what exactly is wrong.
Currently, the National Institute of Health in the US is building a growing library for open-access 3D printing files. Surgeons can then access these files in the 3D Print Exchange and use them for discussions, research and teaching.
Although we're a while off from being able to 3D print whole organs, it's interesting that Pure Genius didn't stretch to this quite realistic yet seemingly futuristic option.
We've already seen cells used to print an ear — the ear of Vincent van Gogh, no less — and additive manufacturing is regularly used to create uniquely tailored implants. Surely, the technology can only improve.
But as of yet, a 3D printed organ has not been transplanted in the real world. Perhaps a transplantable heart in the show may have stretched credibility too far.
Let's see what other scientific innovations — 3D printing or otherwise — are featured in later episodes of Pure Genius.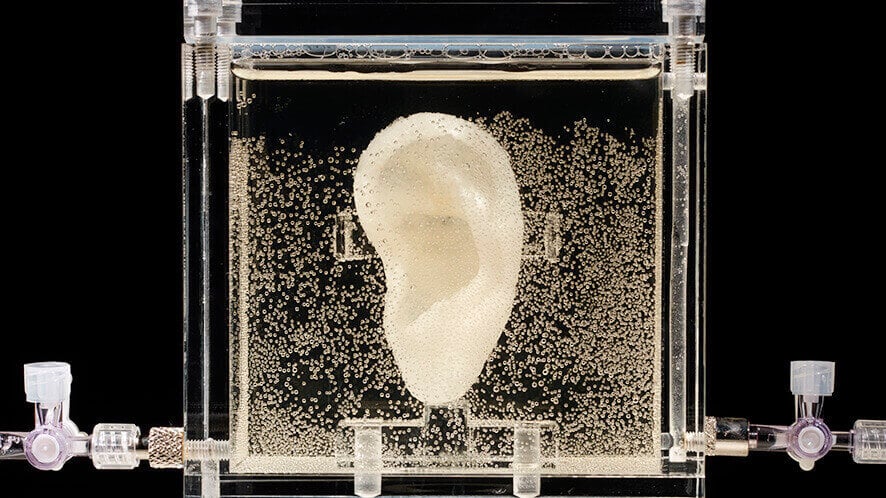 License: The text of "3D Printed Hearts on Pure Genius TV Show Reflect Reality" by All3DP is licensed under a Creative Commons Attribution 4.0 International License.
Subscribe to updates from All3DP
You are subscribed to updates from All3DP
Subscribe
You can't subscribe to updates from All3DP. Learn more…