To accompany its Migo 3D printer Kickstarter campaign, MakeX unveils the ultimate accessory — a stylish self-powering backpack.
Long-print anxiety is a very real thing. It's generally best to never stary too far from an operating printer, but for longer prints running across days, that's an impossibility.
Conbating just such a scenario is MakeX, which has developed a backpack carry system for its Migo 3D printer. With a careful hoist over your shoulder, the pocket-sized printer can come along for a picnic in the park or any other such ambulatory adventure.
Although this isn't the first time someone's put a 3D printer into a backpack, it's certainly a great marketing ploy for MakeX. The company is currently running a Kickstarter campaign for their compact 3D printer. At the time of writing there's less than 48 hours left until campaign completion. At the time of writing, the campaign has hit $137,937 of its $100,000 dollar goal.
The backpack is a recently added stretch goal at the request of backers. It will require the campaign to hit $700,000 for a fully standalone version to be possible ($500,000 for the backpack, $700,000 for a power pack).
A "minimalist" design, it measures out at 155 x 195 x 270 mm. A clear hard shell means you, and any passers-by, can keep an eye on your prints progress as you go. You can see the backpack in action in the video below.
Set a Trend with Your 3D Printing Backpack
The Migo itself is an intriguing proposition. It's a portable, internet-enabled plug in and play 3D printer. The super early bird package for the basic printer is already gone. But, pledge $219 or more and you can receive the Migo with OLED Screen, heated bed, built in camera and 500g spool of 1.75mm filament.
It has an aluminum shell and components and is the third desktop FDM printer from MakeX. The design is the company's first FDM 3D printer, slotting alongside two prior DLP machines.
MakeX promise creative apps, internet control and "no more complex cables". The printer weighs 2.5 kg and can also be turned into a laser engraver by changing the head.
Migo should be shipped to backers by mid 2018. It can print both ABS and PLA on a build envelope of 100 x 120 x 100 mm. You'll have to keep your prints pretty small, but Migo is aimed at families. Printing toys and models together could be a good use for the small design.
Source: Tech Crunch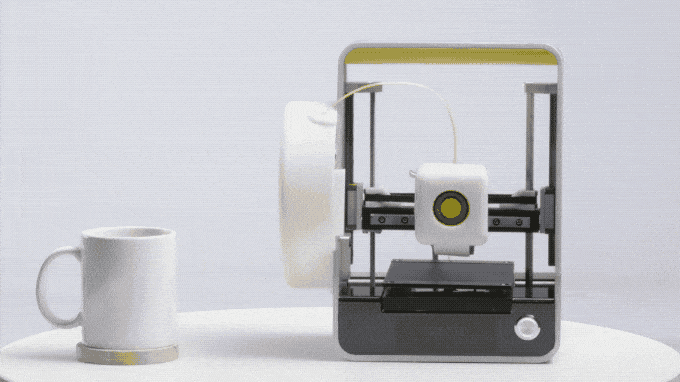 License: The text of "Carry On Printing: MakeX Teases 3D Printing Backpack" by All3DP is licensed under a Creative Commons Attribution 4.0 International License.
Subscribe to updates from All3DP
You are subscribed to updates from All3DP
Subscribe
You can't subscribe to updates from All3DP. Learn more…