"Recyclopath" fashion designer Jamela Law uses 3D printing in her latest honeycomb-inspired collection, Beeing Human.
Jamela Law is an "experimental fashion artist" who hopes to redefine fashion as a form of art. In her latest collection, called Beeing Human and sponsored by Takasago, Swarovski and Converse, many of the items are created using 3D printing.
Taking inspiration from one of nature's protectors – the honeycomb – Law has developed a number of designs incorporating geometric patterns and bee-inspired shapes.
The individual plastic pieces are 3D printed using the filament BioFila Silk, then manually sewn together. The resulting silhouettes suggest a delicate yet protective armor.
Law explains her designs, saying, "the fusion of geometric, architectural and biological forms coming together on a human body is to question: why are we not fighting for Mother Nature if we humans are so passionate about self-preservation and protection?"
With this philosophy in mind, Law hopes to redefine fashion and show that it can be "poetic, artistic and multi-disciplinary." Additionally, she claims to be a "recyclopath" so most elements of her designs will be reused, up-cycled and recycled.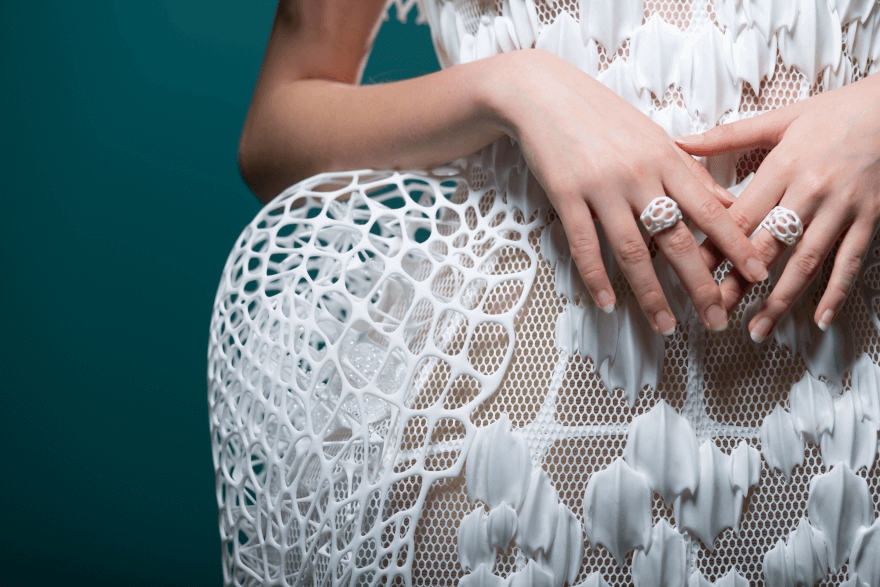 Would You Wear the Beeing Human Collection?
A major benefit of using 3D printing for this made-to-order collection is that it avoids waste. Additionally, 3D printing helps "push boundaries for aesthetics and culture as well as production and performance."
To develop the designs, Law uses Rhinoceros 3D, with plugins such as T-spines and Grasshopper. She then brings the designs to life using a range of innovative methods.
One example is gravity casting, which involves mass producing tiles of silicone using 3D printed negative molds. As in input material, Law uses a biodegradable 3D printing filament called BioFila Silk.
She adds:
"My choice of using 3D printing to fabricate my projects also aims to bring into awareness that these new technologies could be a sustainable alternative to conventional sweatshop practices and large scale industrial wastage. Not all plastics are harmful to the environment, as long as one recycles them correctly."
The final collection is a beautiful fusion of modern technology and nature. You can read more of Law's project submission over at Core77.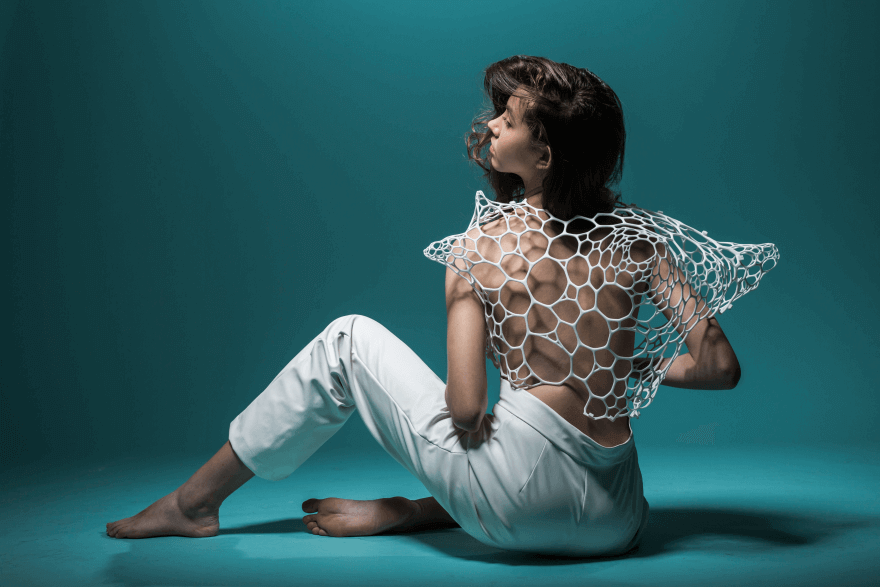 License: The text of ""Beeing Human": A 3D Printed Clothing Line Inspired by Honeycombs" by All3DP is licensed under a Creative Commons Attribution 4.0 International License.
Subscribe to updates from All3DP
You are subscribed to updates from All3DP
Subscribe
You can't subscribe to updates from All3DP. Learn more…