Apple Watch is coming! You know you want one…we all do. Though the release of this new and exciting tech is imminent, there are very few accessories (e.g., charging stations) available at this time. In a recent interview with All3DP, designer and tech insider Stephen Arsenault had this to say about the apparent vacuum in the accessories market:
"Based on the complete lack of details about a charging station on the Apple Watch website, I anticipate that there won't be an official charger at release."
This is good news for entrepreneurs looking to cash in on the inevitable popularity of Apple's new venture. It's great news for entrepreneurs with 3D printing capabilities because they can take advantage of the accessibility and relative ease of additive manufacturing to quickly fill the void left by an official Apple product.
And that's precisely what Mr. Arsenault did.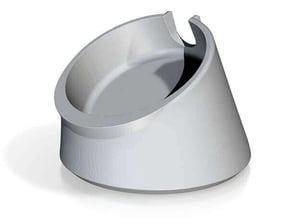 No stranger to design and 3D printing (you can see some of his other creations at Shapeways.com), Mr. Arsenault planted his flag firmly in the space left by Apple when, under the moniker BetterBit, he released his 3D-printed Apple Watch charging station late last year.
When asked why he chose to release his accessory so far in advance of the product for which it was designed, Mr. Arsenault summed it up nicely:
"Products that are available at launch have historically rode a wave of success… and gadget accessories is an area ripe for improvement and self-expression."
Mr. Arsenault obviously intends to be on the front of that wave.
At this point in the life of Apple's new offering, it may not be obvious to some users how this charging station works. Where does the watch go? How do you get power from the wall to the charging stand? These, and a host of other questions may be swimming around in your head but rest assured that there are answers. Apple has come up with a new method for charging the watch and gone are your "traditional" plug-in adapters found in iPods and iPads. Mr. Arsenault describes it thusly:
"The charging station I've designed is intended to encase the MagSafe-style charging adapter that comes with the Apple Watch at release (you can see the circular compartment for this at the top of the charger). The watch will sit horizontally against the surface of the charge station. The compartment that houses the adapter [is] snug enough to firmly hold onto the adapter and the enclosure (and base) heavy enough to support users lifting the watch from the charge station."
When asked how he came up with his design, Mr. Arsenault replied:
"The design took a little bit of time I knew I didn't want a traditional watch stand. The Apple Watch is by no means traditional so it's time to lay the weary watch stand design to rest. When a user adds this charge station to their room – whether on a night stand, dresser, or desk – I want it to compliment the design of their space. My goal was to create a design that is sculptural."
As Mr. Arsenault mentioned, with the announced release of the Apple Watch – and the sculptural design of his charging stand – tradition has gone the way of the Dodo. And nowhere is this more evident than in the method through which BetterBit has chosen to produce and distribute its design. Mr. Arsenault has circumvented the "normal" manufacturing and distribution chain by having everything done on Shapeways.com.
"For me, selling on Shapeways.com is a no-brainer. The materials available from Shapeways were an important factor [in my decision] – I want a premium finish for a premium product. [In regards to the distribution], if I were to sell on eBay, I would either have to maintain a stock of the product or ask buyers to wait while I order from Shapeways and reship OR…maintain inventory [on my own] and have a costly production contract with a manufacturer. Why would I do when Shapeways will accept orders on my product, manufacture it, and ship it? Shapeways even provides customer support."
The Apple Watch is set to drop sooner than later (the website says "Early 2015" and Apple has ordered safes for their stores) but why not do like everyone else? Throw tradition out the window. Put the cart before the horse and buy an accessory before the product for which it was designed.
Funny as it sounds, it's actually wiser than you think. Welcome to the 21st century! So navigate over to Shapeways.com where you can get BetterBit's unique charging station right now (in polished metallic plastic for €26.31) and be ready to go on release day.
License: The text of "3D Printed Apple Watch Charging Station" by All3DP is licensed under a Creative Commons Attribution 4.0 International License.
Stay informed with notifications from All3DP.
You get a notification when a new article is published.