Over the past few months, US President Donald Trump and the Chinese government have been busy exchanging verbal and economic barbs, resulting in an ongoing trade war between the two countries. The first round of tariffs imposed by the United States had a major impact on the cost of Chinese-made electronics, raising prices by 25 percent.
Since then, the Trump Administration has initiated another set of tariffs, one that will likely be felt by the 3D printing community to some extent. A recent article from Hackaday author Dan Maloney takes an in-depth look at the final tariff list posted by the Office of the US Trade Representative, and finds a potential financial snag for the 3D printing filament market.
Although the lengthy list of newly tariffed items doesn't mention "3D printing" or "additive manufacturing" by name, Maloney found a section that includes variations of "Monofilaments with cross-section dimension over 1 mm." This particular item only includes polymers of ethylene, acrylic, and vinyl chloride, which neither PLA or ABS is made from. However, the list also mentions "Monofilament nesoi , of plastics, excluding ethylene, vinyl chloride and acrylic polymers," which could refer to anything from PLA and ABS filament to fishing line.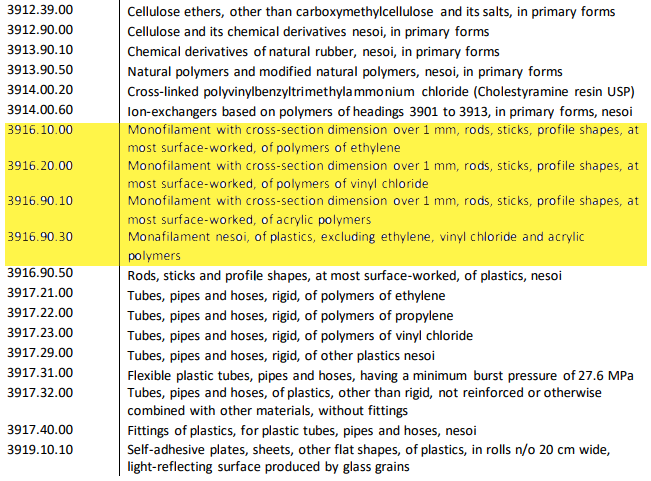 Will US–China Tariffs Have a Noticeable Impact on the 3D Printing Market?
As Maloney points out, his initial research suggests that finished filament manufactured in China will soon be slapped with the 25 percent tax. But he also found that raw polymers, including PLA and ABS, will also be covered in this round of tariffs. There's no mention about any certain modifiers or forms included with the item, giving free range to interpret the tariffs to encompass raw PLA and ABS material.
In turn, this will grant US Customs agents with the authority to implement tariffs on shipments of raw PLA and ABS. Therefore, US-based filament manufacturers that source raw polymer from China could also feel the brunt of the trade war.
Since the second round of tariffs are not scheduled to go into effect until August 23rd, there has been no immediate or noticeable impact on the consumer 3D printing market. There are many other countries to source PLA and ABS from outside of China, so it's possible that US manufacturers are able to circumvent most of the repercussions. On the other hand, placing a hefty tax on Chinese-made polymers could cause the price to rise across the entire industry.
The exact impact that the US and China trade war will have on the 3D printing market remains to be seen, but it's definitely something worth keeping an eye on as the tariffs are implemented in the coming weeks.
Source: Hackaday