VIP TIE is an Italian brand using 3D printing to develop fully custom tie designs which cannot be created through "conventional processes." It offers clients the chance to design a truly unique 3D printed tie or, for the less adventurous, a selection from the ready-to-wear collection.
The company is a sub-brand of ONUS, a fashion brand founded in 1927, which uses 3D printing to develop a range of clothing collections. Its latest collection of entirely 3D printed and handcrafted clothing was showcased in the company's 90th-anniversary fashion show.
Even with such high-tech options available, the process of developing a 3D printed accessory for VIP TIE starts with an initial idea discussed with a client and sketched on a piece of paper. Once a client approves the design, 3D modeling begins before being sent to the printer. The final step for both ONUS and VIP TIE is hand stitching the product to ensure fine artisan craftsmanship.
Fiordi Pernaska, the Chief Executive Officer at VIP TIE, also claims the resulting products are environmentally friendly and sustainable.
He told All3DP: "Sustainability is really important for us. More than 80% of the materials we use are 100% ecological and environmentally friendly as well as the sustainable technology and hand-crafting to make them. Furthermore, when you create such a unique creation for yourself, it is forever. It is a product that will remain with you during all your lifetime, which can be inherited to the coming generations as it is unique as the story behind it."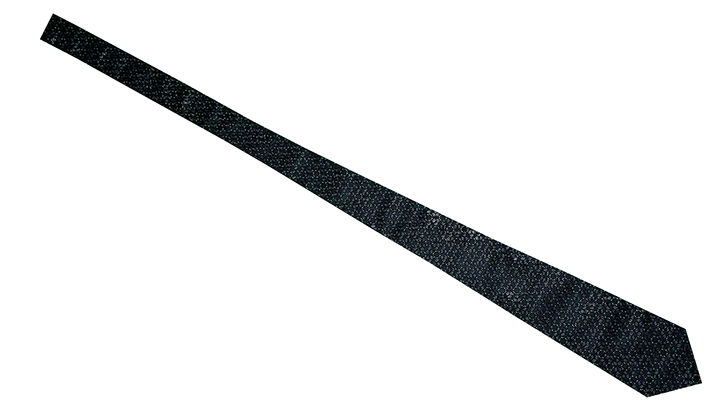 Would You Wear a 3D Printed Tie?
Of course, a 3D printed tie doesn't sound like the most comfortable of choices. However, supposedly a unique production process, different from other processes used by the industry, reduces any discomfort completely.
"The ergonomic conformability of our 3D Printed creations is due mainly to the Hand Crafting process associated which combines the elements with fine textiles. The materials used also play an important role," explains Pernaska.
Materials used to contribute to the luxury of the final creation include exotic leather, natural pearl, silver, gold, titanium and carbon fiber. The prices vary, but start at over $100.
So far, VIP TIE claims that every reaction to its products has been positive. The brand believes personalization to be the future of the fashion industry.
Pernaska explains: "We have a broad customer base because everyone has the option to customize their creation as much as they want to and also they are free to choose the materials used. This makes it accessible even for people that do not have the possibility to spend much and want create something unique."
As for what's next for VIP TIE, they hint that there may a new streetwear collection on the horizon.
For more on 3D printing in fashion, check out these stories: