Back in April, Michelle Bernhardt-Barry, an assistant professor of civil engineering at the University of Arkansas, was awarded a Faculty Early Career Development Program grant of $500,000 from the National Science Foundation (NSF).
She received this money for her research into using soil and 3D printers to bear loads and create structures. Ultimately, Bernhardt-Barry's goal is to use soils or sands to build structures and roads in areas which have no access to concrete or other current construction materials. Think, remote areas of the world or even outer-space.
To do this, she uses binder jet 3D printing technology which uses a "glue" or binder to create parts on a bed of gypsum powder. She was printing with gypsum-based powder to create synthetic materials similar to sand. However, its downsides include not being waterproof.
To conquer this, Bernhardt-Barry intends on applying for another grant for a 3D printer which can work with sand. The reason for using 3D printing technology is that it can be used to print structures which increase the sand's strength, for example, honeycomb shapes.
She also plans to develop a way of binding the materials without applying glue, but by using a bacteria instead. An option which Bernhardt-Barry is currently exploring is microbial induced calcium carbonate precipitation (MICP). Previously, this method has been studied for self-healing fractures in concrete. The bacterial process causes calcium carbonate to precipitate from the soil and could make the material sturdy for buildings.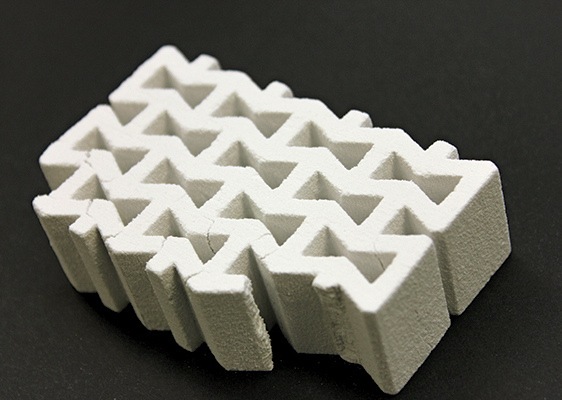 Spending $500,000 in 3D Printing Soil
Bernhardt-Barry's ultimate goal is to be able to 3D print layers of soil or sand using her own method for binding. This could be MICP or by using biopolymers or concrete. She will also be exploring the use of an extruder to dispense a mixture of glue and soil to bond together.
If Bernhardt-Barry can perfect this process, she hopes it will be possible for builders to gather soil on-site and feed it through a printer to produce a building material. Better yet, she adds that soil is better for the environment than concrete.
After the five years are up, the researchers will complete a life-cycle analysis. This will determine the material's longevity. If it is commercially viable, she hopes to partner with a company to market the product.
"I think the trick is figuring out the science part of it and sort of the shapes and the materials and so that it is cost-effective," Bernhardt-Barry said. "That's going to be the bigger piece. We can build anything, but it's got to be cost-effective."
Source: Talk Business