Siemens' gas turbine business in Finspång, Sweden, (which was acquired by the conglomerate in 2003), is working with another Swedish-based company to accelerate industrialization of metal additive manufacturing.
To do this, Siemens and software company Interspectral are working together to develop a 3D visualization tool, called AM Explorer.
"To improve and ultimately industrialize the process you need to capture, explore and understand large amounts of heterogeneous data from the manufacturing process and increase domain knowledge," said Andreas Graichen, the head of the Additive Manufacturing Center of Competence at Siemens. "There is a need for a tool that generates true insights and new knowledge from the data."
Siemens already uses 3D printing to prototype, produce and repair components for industrial turbines as it helps save time, resources and money. Furthermore, 3D printed parts can be more complex and aren't limited by traditional manufacturing methods.
But, the company believes there are still many barriers to push through before metal additive manufacturing reaches full industrialization because the process is not yet fully "mature or robust."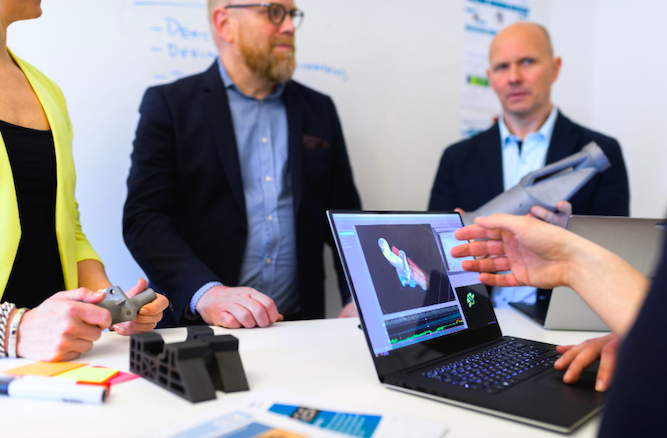 Enabling Engineers to Gain Easy Insights into Additive Manufacturing
Work on AM Explorer began in 2017 as an R&D project but it has since transitioned into a product development project.
In a press release, Interspectral explains that the main benefits of the 3D visualization tool are that it enables engineers to easily gain insights into the 3D printing process. By doing this, they can then communicate challenges and solutions with stakeholders.
"Based on our core visualization technology we are designing an intuitive tool that will support interactive exploration and collaboration," said Interspectral co-founder Thomas Rydell. "Using AM Explorer Siemens, will learn more from the data that they collect, increase domain knowledge and minimize trial and error."
With AM Explorer, it'll be possible to visualize data from CAD files, laser and CT scanners, simulations, sensors and cameras. Engineers can then filter and navigate this data in an "intuitive" way, enabling them to trace and understand anomalies.
"We believe 3D-visualization, including AR and VR, will be a key component in the industrialization of additive manufacturing and tools such as the AM Explorer will be one part of the solution in our additive manufacturing roadmap at Siemens," adds Graichen.
For more on innovations in additive manufacturing, check out these stories:
Source: Press release