The original PrusaPrinters.org was launched four years ago by Josef Průša, the Czech CEO and founder of Prusa Research. The destination for in-depth blog updates and community news, the website has secretly undergone a revamp, with two years' development on an all-new PrusaPrinters.org to replace it now live for all to see.
Not only is PrusaPrinters.org the best place for Prusa users to get the latest news from the company, but it is also now a destination for downloading printable models, mingling and hanging out as a community and sharing printable files. There are several main components to the beta version of PrusaPrinters.org including the blog, forum, model marketplace, and something new called the "World."
The blog is where you will find articles, announcements such as this, and guest posts. Users of the previous forum will find their accounts and content have migrated to a shinier new one.
Perhaps most intriguing of all is the model repository, which functions much like any other except for one big twist. In addition to STL and 3MF file downloads, users can also upload and share their pre-sliced G-code for others to download for direct printing — no slicer required. With a community of other Prusa owners all using the printers, it should be no time before verified G-codes surface for perfect prints time after time.
Then, arguably the most important part for Prusa himself is the World function. Intending to form local 3D printing communities and put like-minded Prusa owners in contact with one another, it works by taking the location of PrusaPrinters users that have elected to share their location on a map (pinpoint or approximate) and designating one of three criteria under which they'd like to chat with others. It could be people to offer printing as a service, to show and tell of their machines, or tech support. User communication happens through a chat client in baked into the new site.
Prusa explains in his announcement: "As I travel around the globe, I notice how vibrant and active our community is, but it is incredibly hard to connect locally. So we evolved the idea of the map we had on our website."
A New Home for Prusa Fans
PrusaPrinters is designed for, but not limited to, Original Prusa users. Not only will you find an online library with 3D models, but you'll also be able to "organize meetups, events, or just go for a beer and discuss 3D printing."
Prusa explains that grey circles on the map show you where all of the Prusa i3 printer owners in the world are, based on their ZIP code when ordering the printer. If you want to drop your location on the map, you can either choose exact, which is useful for business or workshops, or approximate, useful if you don't want to show your home address.
You can choose to engage with the community in four ways. For example, Share and Rate print files, offer Printing on Demand, offer Tech Support to other 3D printing enthusiasts, or Show and Tell to teach others about 3D printing.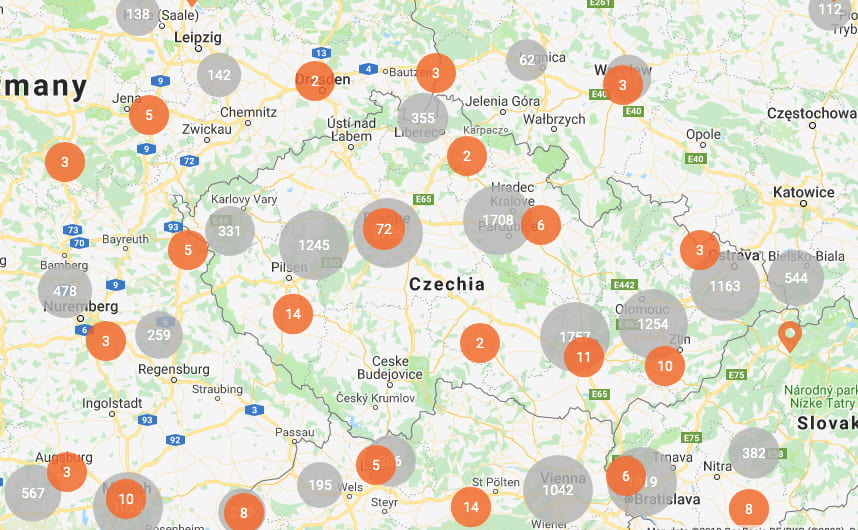 When using the library, it's possible to sort objects by printer type, nozzle diameter, weight and printing time. Prusa explains that more filters will be added in the future too.
The new model database launches with 3D models from a host of notable designers, including the likes of Fotis Mint, Dominik Císař, and Agustin Flowalistik. At the time of writing the vast majority of models are STL and 3MF, but we expect it's just a matter of time before G-code for each populates the site.
Prusa adds that ensuring PrusaPrinters is easy-to-use was a top priority and mentions that everything from the drag-and-drop project uploader to the G-code analyzer is straightforward. Although the current version of the website is still in beta, it's worth checking out, here.
Prusa ends his blog post promising that there is more to come. He said: "We will expand the messenger, add group chats and other functions. To further enhance the community engagement options, we plan to bring special programs for creators, or a little something called (for now) PrusaFactor that will enable you to turn your ratings (given and received) into useful points – we will share more info later."