#NewPalmyra is a community platform which is remodeling architecture and endangered cultural heritage for the virtual world. Now, the project is launching the Palmyraverse, its global building campaign.
This means that every month, the project will prompt artists, researchers, designers, and technologists to create designs for the virtual online universe. In this space, the ancient Syrian city of Palmyra will be reconstructed.
Judges on rotation from the fields of art cultural heritage, and technology will choose three works in the Palmyraverse for prizes every month.
If you're intrigued and would like to get involved, now's your chance. From October 1st, makers from all fields are encouraged to create works. This time around, they must be inspired by the Temple of Al-Lat. Submit your resulting creations on the New Palmyra website.
Barry Threw, Executive Director of #NewPalmyra, explains: "#Palmyraverse has produced five models monuments destroyed in Palmyra, Syria, starting with the Temple of Bel, Triumphal Arch, Roman Theatre, and Baalshamin… Most recently released was the Tetrapylon, made in collaboration with Creative Commons and re:3D, the largest 3D printed column structure in the world. #NewPalmyra also created the first 3D model added to Wikipedia, the Lion of Al-Lat. Our announcement today is a drive to complete the monuments from Palmyra, but a pledge to open up the possibility of a future space where all may collaborate, with incentives in cryptocurrencies to fuel work."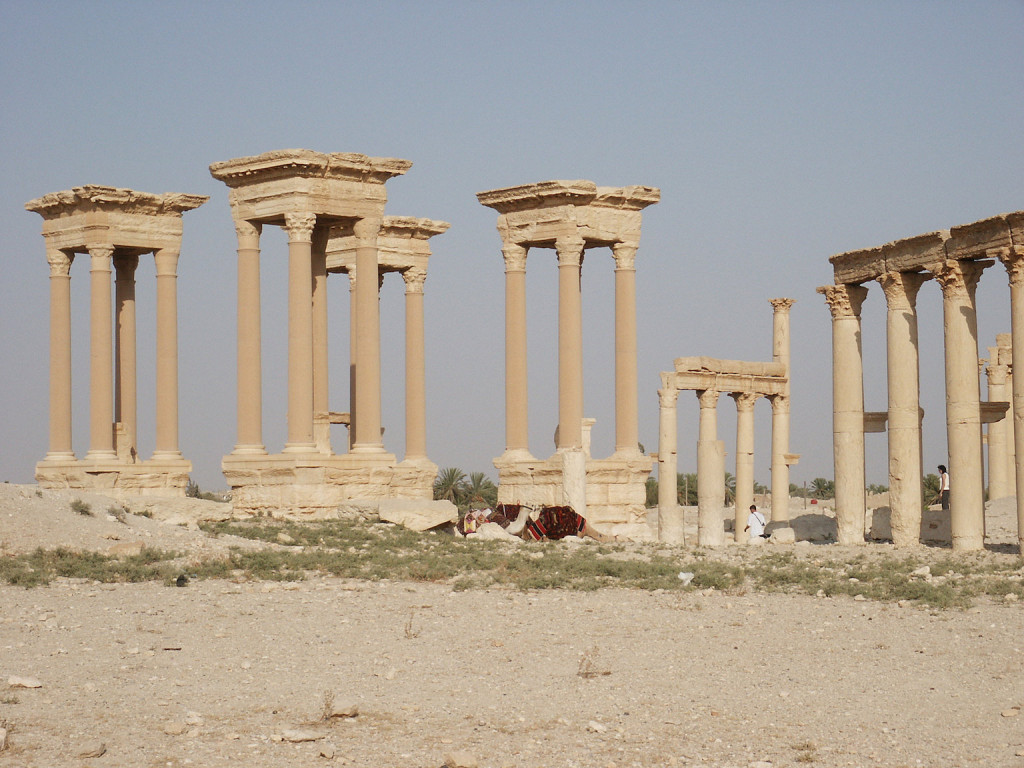 #Palmyraverse Provides Immersive Virtual Environment
NewPalmyra began as a way to reconstruct the ancient city of Palmyra in an immersive way online. Every aspect of the project is created just from clues. The current monuments in this online space come together "across time and space" thanks to technologies such as 3D modeling, Augmented Reality, and Virtual Reality.
Judging the works for October's entrants are Razan Al-Hadid, Public Lead at Creative Commons Jordan and Independent Art History Researcher, London based technologist and educator Mahmoud Max Wardeh, and Majd Al-shihabi, Palestinian-Syrian urban planning graduate, developer of Palestine Open Maps, and recipient of the first Bassel Khartabil Free Culture Fellowship.
The LikeCoin Foundation is supporting the Palmyraverse project by partnering with NewPalmyra to provide technology which will enable the community to offer feedback on submissions.
Kin Ko, co-founder of the LikeCoin Foundation, explains: "At LikeCoin Foundation, we are reinventing the like. We are proud to support the creators of #PALMYRAVERSE monuments – not just through technology support, but also our LikeButton, which rewards creators daily for their likes. Submissions to the #PALMYRAVERSE could receive LikeCoin incentives daily as users engage with monuments through our system and also larger rewards for selections made by judges."
At the 2018 Exhibit Columbus National Symposium, Threw will be presenting the current status of the project and announcing the #NewPalmyra #Palmyraverse news. As well as this, a 7.5-feet-tall Tetrapylon is also on special exhibition.
Learn more about the project and its freely available 3D models, educational workshops and exhibitions over on its website.
Source: Press Release